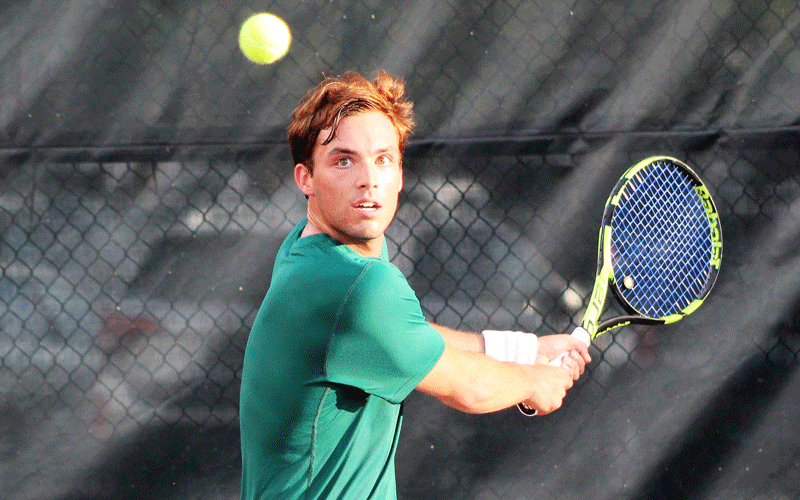 HUNTINGTON, Ind. - The Wildcats of Indiana Wesleyan University remained unblemished in league play with a 7-2 win over the HU men's tennis team Tuesday afternoon at Klopfenstein Courts. With his loss, Huntington drops to 5-3 overall, 4-2 in Crossroads League action.

Ignacio Poncio and Rodrigo Manzo were the Foresters' lone wins and they made sure they were convincing ones. Poncio disposed of Eli Steiner in straight sets, 6-1, 6-3, at the No. 1 spot. Manzo's win was equally impressive as he cruised to a 6-3, 6-1 decision over Daniel Zolnikov at the No. 2 spot.

IWU and Spring Arbor are the only two teams who still boast a perfect league record. Marian has just one loss while HU and Goshen each have two losses.

Next up for the Foresters is a trip to Bethel on Saturday for a 11:00 a.m. matchup with the Pilots.

SINGLES RECAP
#1 - Ignacio Poncio (HU) def. Eli Steiner (IWU) 6-1, 6-3
#2 - Rodrigo Manzo (HU) def. Daniel Zolnikov (IWU) 6-3, 6-1
#3 - Gavin White (IWU) def. Giovanni Martinez (HU) 6-0, 6-4
#4 - Jacob Rankin (IWU) def. Mariano Echevarria (HU) 1-6, 7-5, 6-3
#5 - Austin Christner (IWU) def. Brody Worl (HU) 6-1, 6-1
#6 - Tyler Abbott (IWU) def. Luke Buttermore (HU) 6-0, 6-1

DOUBLES RECAP
#1 - Steiner/Zolnikov (IWU) def. Poncio/Echevarria (HU) 8-2
#2 - White/Rankin (IWU) def. Manzo/Martinez (HU) 8-4
#3 - Joel Montgomery/Christner (IWU) def. Buttermore/Jacob Shelton (HU) 8-1

The Huntington University Foresters compete in 17 intercollegiate sports for men and women. In the past decade, Huntington has produced 38 NAIA All-America honors and 274 All-America Scholar Athlete honors. Huntington University is a comprehensive Christian college of the liberal arts offering graduate and undergraduate programs in more than 70 academic concentrations. U.S. News & World Report ranks Huntington among the best colleges in the Midwest.