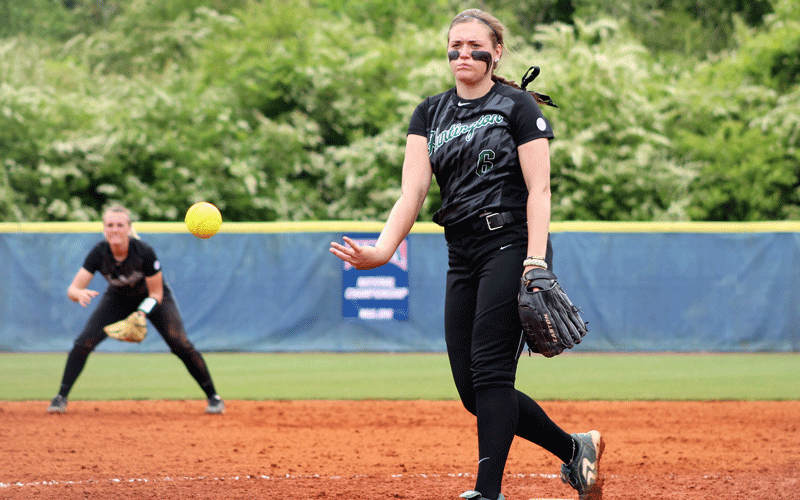 WALESKA, Ga. – The 4th-seeded Warriors of Webber International University (28-14) continued their tear through the Reinhardt bracket of the 2016 NAIA National Championship Opening Round, this time at the expense of the 3rd-seeded HU softball team (37-18).

WIU outlasted the Foresters 2-1 in eight frames Tuesday afternoon to advance to the championship game while HU drops into the loser's bracket where they will face #1 William Carey tonight at 7:30 p.m. in an elimination game.

Coach Gower's crew wasted little time jumping out to an early 1-0 lead in their first at bat. Katie DePew opened up the afternoon with a double to deep left-center, advanced to third on Audra Klopfenstein's sacrifice bunt and then tagged up on Alyssa Hiple's sacrifice fly for what proved to be HU's lone run of the game.

Even though Huntington wouldn't find home again, it looked like their lead might stick as Emily Puterbaugh was on track for a shutout through the first six frames before the Warriors finally mustered up some offense with one mighty swing of the bat. Junior Brandi Hazen smoked a shot over the right field fence, her ninth dinger of the year, on a 3-1 pitch to pull things even at 1-1 in the bottom of the seventh to force extra innings.

It didn't long for the Warriors to strike again as the hot-handed Hazen stepped back to the plate in the eighth and this time delivered the game-winner, a walk-off RBI-double, for the come-from-behind victory.

Puterbaugh took the loss for HU. She gave up four hits, two runs, only one of which was earned, and a walk while striking out five.

Offensively, HU finished with seven hits behind three from DePew while Sabrina Pickford added a pair of base pokes.

The Huntington University Foresters compete in 17 intercollegiate sports for men and women. In the past decade, Huntington has produced 39 NAIA All-America honors and 234 All-America Scholar Athlete honors. Huntington University is a comprehensive Christian college of the liberal arts offering graduate and undergraduate programs in more than 70 academic concentrations. U.S. News & World Report ranks Huntington among the best colleges in the Midwest.