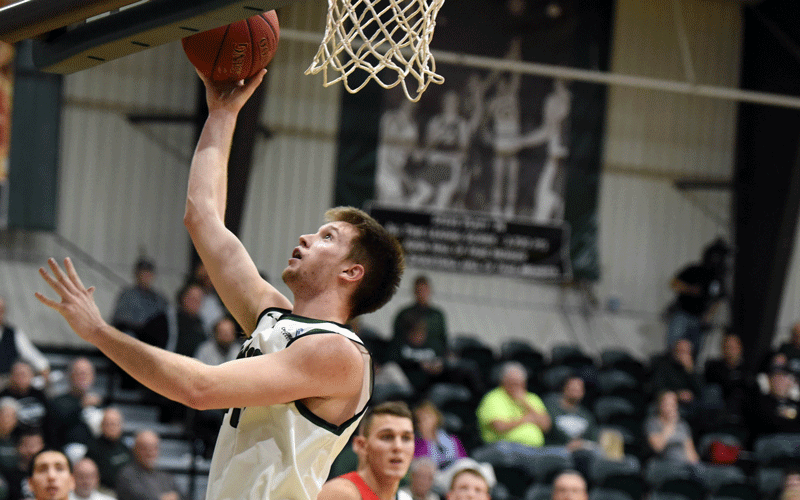 HUNTINGTON, Ind. – Daniel Woll posted the program's first ever triple double of 25 points, 20 rebounds and ten assists to lead the HU men's basketball team past Asbury University 110-95 Saturday afternoon at Platt Arena.

The win avenges a 104-94 loss to the Eagles (6-5) just a few weeks earlier over Thanksgiving break.

Woll had plenty of support from his teammates. Mason Coverstone poured in a career-high 20 points. Mike Bush also tallied some of his best stats of the year. The 5-7 playmaker handed out a career-best 16 assists, one shy of the program record, to go along with 13 points. Tyler Arens added 19 points and seven rebounds while Konner Platt tossed in a career-tying 15 and Austin Karazsia finished with 13.

The Foresters beat the Eagles at their own run and gun game. Asbury entered the contest having scored at least 100 points in all ten of their previous games but that streak ended today as HU held them to 95 points. 110 points is HU's highest point total of the year and their success was a result of pounding the ball down low.

Huntington outscored their visitors 66-34 in the paint and sizzled the nets for 62.7 percent (42-for-67) while limiting AU to 40.7 percent shooting (35-for-86).

Coach Platt's crew dominated play for all but a five-minute span near the end of the first half. The Foresters spent the first 11 minutes building a 17-point advantage of 35-18 before their five-minute hiccup. It started with turnovers as HU committed four within three minutes during which Asbury scored 12 of the game's next 14 points to trim the lead to just five at 37-32.

Two minutes later, the Eagles forced the day's only stalemate, 43-43, with 3:34 remaining in the half. But up stepped Woll on the next possession to give his team a permanent lead. He would go on to put an exclamation point on the period with an alley-oop dunk on a lob from Bush to cap off a 12-4 run for an HU halftime advantage of 55-47.

Asbury didn't go away. They battled back to within five by the 11:33 mark of the second half. This time several Foresters answered the call. Arens scored on the block after which Kyle Platt and Coverstone each buried one from long range to cushion the lead back to double digits at 83-73 by the midway point.

The Eagles went away after that as Huntington spent the final ten minutes pulling away from their visitors to lead by as many as 23 before cruising to the 15-point victory.

Trenton Thompson scored 22 points for Asbury in the losing effort. Tyler Smith added 20 while Daulton Peters tossed in 19.

HU (8-5) will host Wright State Lake on Saturday at 3:30 p.m.

The Huntington University Foresters compete in 17 intercollegiate sports for men and women. In the past decade, Huntington has produced 38 NAIA All-America honors and 254 All-America Scholar Athlete honors. Huntington University is a comprehensive Christian college of the liberal arts offering graduate and undergraduate programs in more than 70 academic concentrations. U.S. News & World Report ranks Huntington among the best colleges in the Midwest.