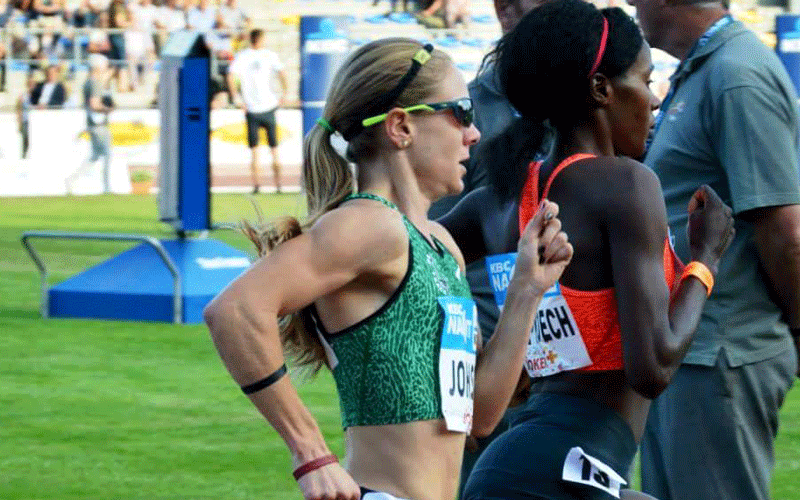 HUNTINGTON, Ind. - With the World Championships just days away, HU alum Lauren Johnson ('09) is eager to sport red, white and blue for the first time in her running career. On July 18 she officially punched her ticket to the Worlds by running a personal-best 4:04.17 in Huesden, Belgium to secure one of four American spots in the 1500 meters.

"Representing Team USA has been a goal of mine since I started focusing on running," said Johnson. "The World Championships is the highest level of international competition in track and field and I'm really excited to have reached this level and have the opportunity to compete."

After being plagued by injury for several years, this past year has been a breakout year for Johnson. "My training has been consistent this year. I still had an interruption due to injury but I've been healthy and training well since February. I think I've also got enough training in me now that I'm finally able to do the workouts I need to be doing in order to be competitive."

Johnson headed to Narita, Japan, on August 10 where she has trained for the last week. She leaves for Beijing tomorrow and between now and then, the 28-year-old won't be doing much more training in order to be fully rested for the prelims slated for August 22 at 11:15 a.m. (ET).

The rest of the schedule for the 1500 meters includes the semifinals on August 23 at 8:45 p.m. (ET) followed by the finals on August 25 at 8:35 p.m. (ET). NBC has the broadcast rights with coverage beginning on Saturday at 3 p.m. Powered by YouTube, live coverage and daily highlights will also be available through IAAF Live Stream. For more information on the live streaming, go to http://www.iaaf.org/competitions/iaaf-world-championships#.

The Huntington University Foresters compete in 17 intercollegiate sports for men and women. In the past decade, Huntington has produced 39 NAIA All-America honors and 234 All-America Scholar Athlete honors. Huntington University is a comprehensive Christian college of the liberal arts offering graduate and undergraduate programs in more than 70 academic concentrations. U.S. News & World Report ranks Huntington among the best colleges in the Midwest.