Nursing Career Academy
Calling all high school students interested in NURSING!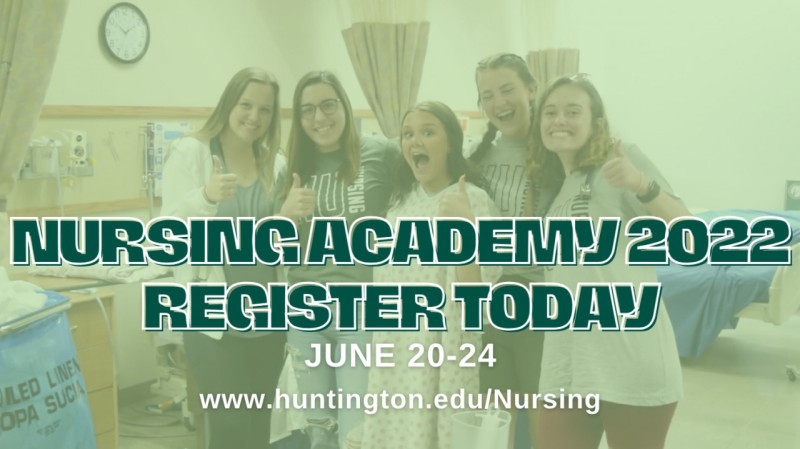 If you've ever wondered what it would be like to study nursing and become a nurse someday, this is the academy for you. This five-day up-close look at nursing will give you experience with the equipment, techniques, and heart of the nursing profession. You'll learn from and work closely with amazing Huntington University Department of Nursing faculty and immediately apply what you've learned in the lab and in the field.
High school students interested in earning college credit this summer have an opportunity to do just that at HU's Nursing Academy! To learn more, contact Professor Nancy Richison at nrichison@huntington.edu.
What you'll learn during Nursing Academy
Things to look forward to ...
Intro Nursing Fun!

Hand hygiene

Denture Care

Oral care of the patient

Shampooing patients

Shaving patients

Foot Care

Caring for hearing aids

Eye care

Turning, logrolling, and moving patients

Patient transfers – bed to bed, bed to chair, bed to cart

Ambulating patients and gait belt use

Bedpans!

Making occupied beds

Bed baths

Measuring blood pressure

Assessing pulse and respirations

Nursing Skills Stuff!

Intro to Injections

Wounds & dressings

Tubes and drains

Crutches, walkers and canes

And More! For example...

Hands on interaction with our High Fidelity Nursing Simulation mannequins

Open Lab Practice Hours in the Evenings – practice the skills learned throughout the day
When: June 20-24, 2022
Cost: $400
Where: Huntington University, Huntington, Indiana