COVID-19 Updates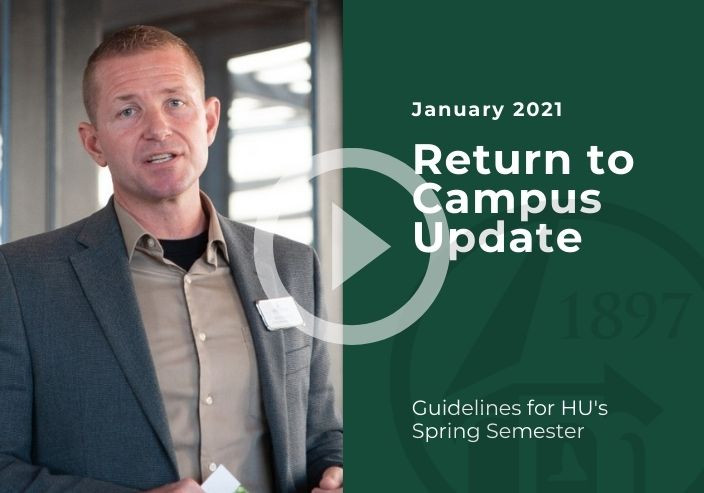 January 2021 Requirements and Recommendations
The opportunity to return to campus is a major blessing, but all students, faculty, and staff must remain diligent in their continued efforts to follow COVID-19 guidelines and best practices.
In this short video, COO Russ Degitz, Ed.D. provides some guidelines and requirements for ensuring we have a safe return back to the Forester community this upcoming spring.
According to the Centers for the Disease Control and Prevention, COVID-19 is an infectious disease caused by severe acute respiratory syndrome coronavirus 2, a virus closely related to the SARS virus. COVID-19 originated in China in December of 2019 and has migrated to over 80 countries. There is currently no vaccine for COVID-19. Recommended preventive measures include hand washing, maintaining distance from people who are sick, monitoring and self-isolation for fourteen days for people who suspect they are infected.
The virus primarily spreads between people in a similar way to influenza, via respiratory droplets produced during coughing or sneezing. The time between exposure and symptom onset is typically five days but may range from two to fourteen days. Symptoms may include fever, cough, and shortness of breath. (CDC).
Students:
If you are experiencing any of these symptoms, do not attend class or go to athletic practice. Instead, work with your professor and/or coach. Make sure they are aware of your health concerns and discuss how you can remain up to date with classes and/or turn in assignments. Additionally,
Review attendance policies
Practice social distancing when possible
Wash hands regularly
Don't greet others with a handshake or a high-five
Wash clothing and bedding regularly
Don't share food, drinks, or eating utensils
Faculty/Staff:
If you are experiencing any of these symptoms, do not attend class, come to the office, or lead practice. Instead, communicate with your students or co-workers and to your supervisor. Make sure they are aware of your health concerns and discuss how your responsibilities will be covered. Additionally,
Review sick leave policies
Make accommodations for students as necessary
Identify critical job functions and positions and plan for alternative coverage by cross-training staff and faculty
Video Transcript
00:01
Hello foresters, I hope this video finds you well and enjoying the holiday season. I wanted to provide a few additional details and some reminders, as we think about preparing to return to campus in January.
00:15
1 of all, I can't go any further without thanking you for all of your efforts. This past fall semester, I think we entered it
00:23
optimistic and hopeful, but none of us truly understood or knew what it would hold. So I want to thank you for helping to make our fall semester, a success.
00:33
We might have defined it a little differently. But we certainly in all three of our university locations were able to complete the experience and person as originally scheduled
00:44
So we thank you for your work and efforts and commitment to our protocols and to each other to make those things happen.
00:52
We are optimistic and excited to welcome you back for another safe return to our spring semester.
00:59
We need to remain diligent and committed to the same processes that we had last fall, but we know we can do it because we've proven at once already
01:08
When you return to campus in January, whether that is in Huntington Indiana Fort Wayne, Indiana, or Peoria, Arizona, we're asking for your help. Once again,
01:18
We're asking for our foresters to pull together and really show what that foster family is all about.
01:24
We certainly want the experience to be rich and full and exciting. We have some new opportunities that will be emerging
01:31
And Peoria. We're launching a new program with a TD and on our main campus here in Huntington, we are opening a couple of buildings reopening one with our hub and opening the DOM Strauss Animal Science Education Center.
01:45
So there will certainly be some additional opportunities for a more full and rich experience and we want to mitigate the negative impact that coven may have on that. So again, we're going to ask for your help.
01:56
That help starts by making sure that we have the safest possible return. We're going to ask of our undergraduate residential students on the main Huntington Indiana campus.
02:07
And of our Ott Fort Wayne students and the run daily a facility to return with a negative test result.
02:15
There was some communication sent out in November about this some follow up communications will be coming to those student populations.
02:22
In later December that outline some more details and specifically how to submit documentation to make sure that you can return safely and effectively.
02:33
Beyond that, we're going to ask of all of our students in all three campus locations that we continue to practice our best and big three.
02:44
When it comes to defense against coven our best practices and the big three include masking up
02:50
Making sure that we physically distance and washing our hands. I know that was something that probably became a theme that we were all tired of hearing during the fall semester.
02:59
And maybe we've become a little lacks during the time away from campus but we're going to have to really recommit ourselves to that when we come back together.
03:08
As a forester family in January, we started our fall semester strong we finished our fall semester strong and we are going to commit ourselves to doing the same in the spring semester.
03:18
So again, I asked for your help. As you return to make sure that you follow protocols that you reach out with questions and on any communications that you receive please make sure to pay attention to detail on those. We look forward to seeing you in January.