Tour
A picture is worth a thousand words, right? Well we've got pictures, sure, but we've got something even better... a virtual tour. Of course we want you to come and tour our site in person, meet people, and ask questions, but we realize that isn't always possible. That's why virtual tours exist!
This tour allows you to take take a walk through our 30,000 square foot facility, including our Foley booth, audio studio, control room, both film studios, editing suit, computer lab, and technology cage!
When you see this symbol, click on it to learn more about various aspects of the room you're in, and when you see this symbol, it allows you to move from one room to another! Or, if you want to jump directly to a specific room, simply use the navigation tool at the bottom of the image.
See something you like? Great! Fill out the short form below to schedule a visit!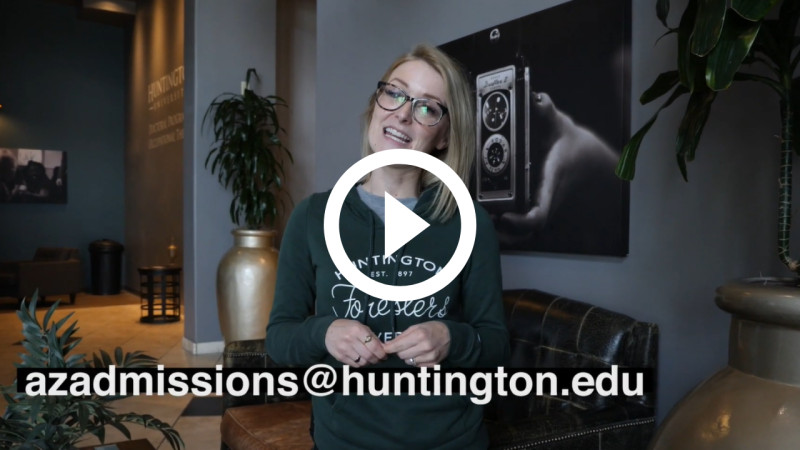 Tour HUAZ Virtually!
While we continue to deal with the COVID-19 situation, we realize that traveling to visit our campus in person may not be an option.
We welcome you to take this personalized guided tour of our campus and facilities to see where you will be learning, growing, and interacting during your Forester journey.
Schedule a Visit to HU Arizona!
Welcome to Huntington University Arizona, home of the #1 private digital media arts school in the nation! We look forward to showing you around our creative space. To schedule a tour, please email Tiffany Swartz at tswartz@huntington.edu with dates and times that work for you to tour our location. We look forward to seeing you soon!
Please note: Our Peoria, AZ location's hours are Monday-Friday, 8:00am-5:00pm. We do not offer tours on the weekends. All Huntington University campuses are mask optional. We continue to monitor COVID-19 and will update any changes if/as they are made.