An Established Reputation
Huntington University has a heritage of excellence in academics, and our first doctoral program reflects that heritage. Occupational therapy sits on the cutting edge of healthcare; our vision when so few other schools were offering doctoral programs in occupational therapy has made us a leader in OT education from the beginning.
We are an established program with a track record of quality graduates who are highly certified and competitively placed in the field. Our renowned faculty have professional experience in the field – many are still practicing occupational therapists as well as educators – and our facilities in Fort Wayne, Indiana, and Peoria, Arizona, are top-of-the-line.
Three Reasons to Choose Huntington University
One Degree: Benefit from Huntington University's stellar reputation in occupational therapy
Two Locations: Take face-to-face classes with faculty in Arizona in a curriculum that is built upon the Indiana curriculum and adapted to the specific needs for the Arizona geographic location.
Three Years: Study full-time, gain clinical experience, and graduate in three years
Talk to a graduate admissions representative for a pre-qualification review of your transcripts and test scores. The full application for Huntington University's Arizona location is available through the Occupational Therapist Centralized Application Service (OTCAS).
Contact us directly today to start your admissions process at graduate@huntington.edu or (800) 600-4888.
Our Facilities
Huntington University Arizona Building Map First Floor (PDF)
Huntington University Arizona Building Map Second Floor (PDF)
Huntington University Arizona Building Map Third Floor (PDF)
Practical Training through Clinical Experiences
Students in our program complete clinical experiences in Arizona, across the country, and internationally. As part of the program, you will design, develop, and implement an advanced practice project with faculty oversight.
Project examples:
Fitting wheelchairs in a developing country
Implementing program evaluations of a healthcare system
Working with an industry to address ergonomic work issues
Designing therapeutic apps for occupational therapy interventions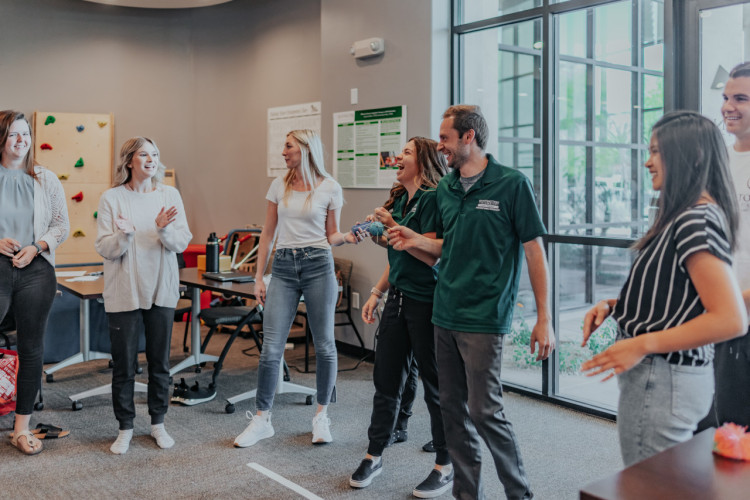 Forester Fridays
Huntington University Arizona invites you to check out our caring culture at Forester Fridays during fall 2023!
Join us on select Fridays from 3:00 p.m. - 4:00 p.m. to take a tour of our facility and learn more from our staff about admissions, our program, financial aid, etc. We can't wait to see you!
Available Forester Friday dates are:
September 8th and 22nd
October 20th
November 3rd and 17th
December 8th
RSVP to a Friday soon, future Forester!
ACOTE
Huntington University's Doctorate of Occupational Therapy Program in Arizona is accredited by the Accreditation Council for Occupational Therapy Education (ACOTE) of the American Occupational Therapy Association (AOTA), located at 6116 Executive Boulevard, Suite 200, North Bethesda, MD 20852-4929. ACOTE's telephone number, c/o AOTA, is (301) 652-AOTA and its web address is www.acoteonline.org. acote's email address is accred@aota.org
Arizona Location
8385 W Mariners Way
Peoria, AZ 85382
NBCOT
The program must have a pre-accreditation review, complete an on-site evaluation, and be granted Accreditation Status before its graduates will be eligible to sit for the national certification examination for the occupational therapist administered by the National Board for Certification in Occupational Therapy (NBCOT).
In addition, all states require licensure in order to practice; however, state licenses are usually based on the results of the NBCOT Certification Examination. Note that a felony conviction may affect a graduate's ability to sit for the NBCOT certification examination or attain state licensure.
NBCOT Outcomes
After successful completion of this exam, the individual will be an Occupational Therapist, Registered (OTR). National Board for Certification in Occupational Therapy (NBCOT) pass rates are available by visiting this link.
Students must complete 24 weeks of Level II fieldwork as well as an individual 14-week capstone experience within 24 months following the completion of the didactic portion of the program. The doctoral capstone experience must be started after completion of all coursework and Level II fieldwork as well as completion of preparatory activities defined in 2018 ACOTE OTD Standard D.1.3.
Arizona Location
8385 W. Mariners Way
Peoria, AZ 85382
The OTD program in Arizona will graduate its first cohort in August of 2023. Graduation data will be accessed on this link: https://www.nbcot.org/Educators-Folder/SchoolPerformance.
Retention
Huntington University OTD Arizona location Retention: 100%.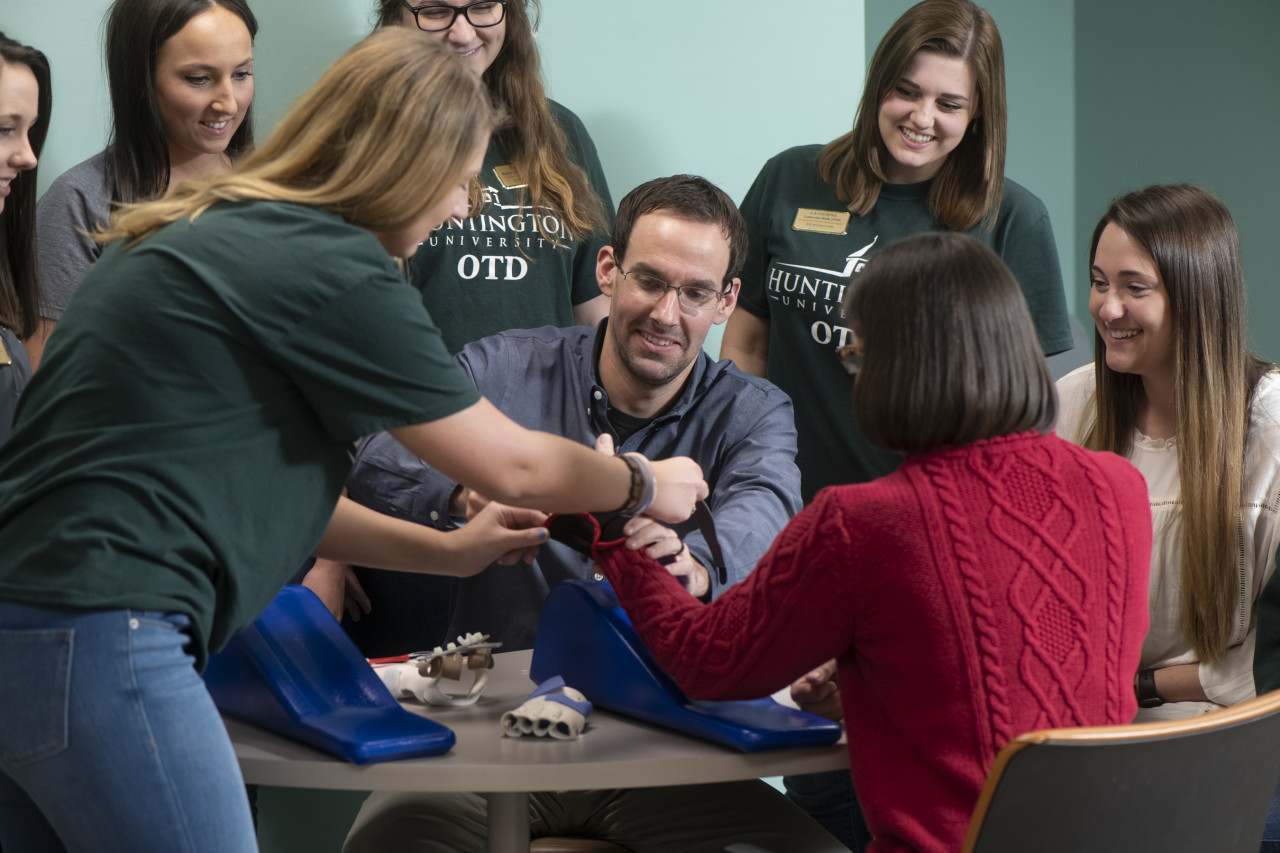 There's so much more we could tell you about Huntington University.
We would love to have a conversation with you about your goals and how we can help you reach them. To get started, tell us a little more about how our admissions team can contact you.
Interested in learning more?