Arizona
An Established Reputation
Huntington University has a heritage of excellence in academics, and our first doctoral program reflects that heritage. Occupational therapy sits on the cutting edge of healthcare; our vision when so few other schools were offering doctoral programs in occupational therapy has made us a leader in OT education from the beginning.
We are an established program with a track record of quality graduates who are highly certified and competitively placed in the field. Our renowned faculty have professional experience in the field – many are still practicing occupational therapists as well as educators – and our facilities in Fort Wayne, Indiana, and Peoria, Arizona, are top-of-the-line.
Three Reasons to Choose Huntington University
One Program: Benefit from Huntington University's stellar reputation in occupational therapy
Two Locations: Take face-to-face classes with faculty in Arizona in a curriculum that is identical to our Indiana location
Three Years: Study full-time, gain clinical experience, and graduate in three years

Talk to a graduate admissions representative for a pre-qualification review of your transcripts and test scores. The full application for Huntington University's Arizona location will be available through the Occupational Therapist Centralized Application Service (OTCAS) in summer 2020.
Contact us directly today to start your admissions process at graduate@huntington.edu or (800) 600-4888.
Our Location
Huntington University
OTD Program Arizona
8385 W. Mariners Way
Peoria, AZ 85382
Our Facilities
HUAZ Building Map First Floor (PDF)
HUAZ Building Map Second Floor (PDF)
HUAZ Building Map Third Floor (PDF)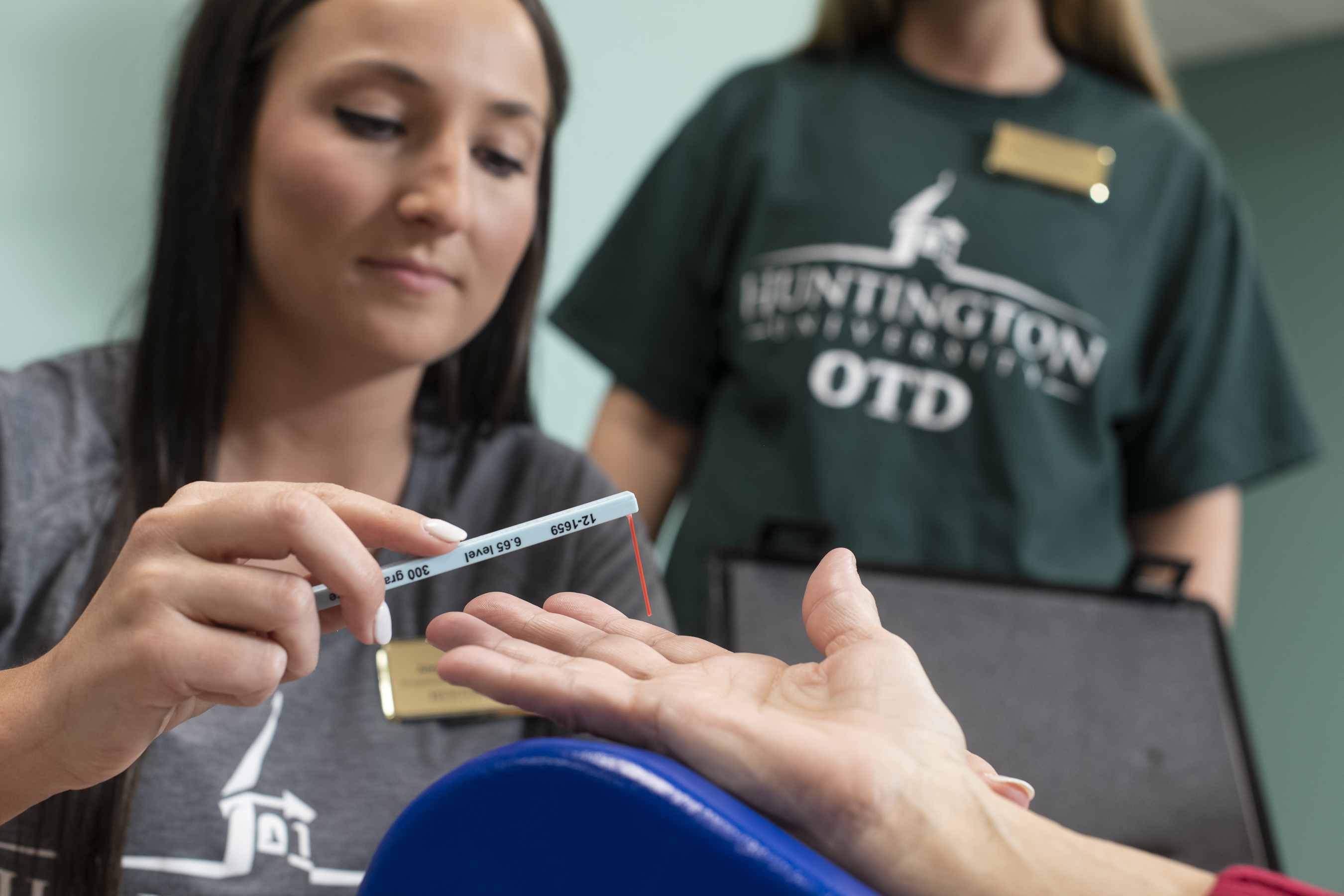 There's so much more we could tell you about Huntington University.
We would love to have a conversation with you about your goals and how we can help you reach them. To get started, tell us a little more about how our admissions team can contact you.
Interested in learning more?
Preview Your Future
Join us during one of our Doctoral Program in Occupational Therapy Preview Days. The Preview Day is designed to be an opportunity for you to meet the OTD faculty, current students, other prospective OTD candidates, and tour the facility. Applicant interviews are also conducted by invitation during Preview Days.
Learn More
Practical Training through Clinical Experiences
Students in our program complete clinical experiences in Arizona, across the country, and internationally. As part of the program, you will design, develop, and implement an advanced practice project with faculty oversight.
Project examples:
Fitting wheelchairs in a developing country
Implementing program evaluations of a healthcare system
Working with an industry to address ergonomic work issues
Designing therapeutic apps for occupational therapy interventions
Become a Forester
Accreditation
Huntington University completed Step 1 of the Accreditation Council for Occupational Therapy Education (ACOTE) Letter of Intent for the Doctorate of Occupational Therapy Program in Arizona. Submission of Step 2 Candidacy Status Application was completed in April 2020.
The self-study will be submitted to ACOTE by March 1st, 2022 for the next level review. Candidates and students have an opportunity to have this further explained by phone or in-person during an onsite visit.