Doctor of Occupational Therapy
Why Study Occupational Therapy at Huntington University?
Huntington University has a heritage of excellence in academics, and our first doctoral program reflects that heritage. Occupational therapy (OT) sits on the cutting edge of healthcare; our vision when so few other schools were offering doctoral programs in occupational therapy has made us a leader in OT education from the beginning.
We are an established program with a track record of quality graduates who are highly certified and competitively placed in the field. Our renowned faculty have professional experience in the field – many are still practicing occupational therapists as well as educators – and our facilities in Fort Wayne, Indiana, and Peoria, Arizona are top-of-the-line.
Huntington University's doctoral program in occupational therapy (OTD program) is a three-year, full-time degree program. Classes take place in person at our two locations.
We will promote your development in
Faith
Health and wellness
Leadership skills
Advanced practice
Research
Professional service
Graduates of the program are eligible to sit for the National Certification Examination for the Occupational Therapist that the National Board for Certification in Occupational Therapy (NBCOT) administers.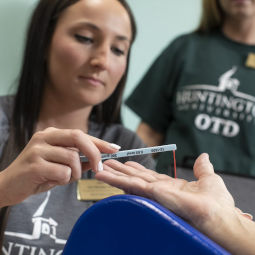 Interested in learning more?
Accreditation
Huntington University's Doctorate of Occupational Therapy Program in Indiana is accredited by the Accreditation Council for Occupational Therapy Education (ACOTE) of the American Occupational Therapy Association (AOTA), located at 6116 Executive Boulevard, Suite 200, North Bethesda, MD 20852-4929. ACOTE's telephone number is 301-652-AOTA and its web address is www.acoteonline.org. The OTD program is also accredited by the Higher Learning Commission (HLC), the regional accreditation body.
Huntington University completed Step 1 of the Accreditation Council for Occupational Therapy Education (ACOTE) Letter of Intent for the Doctorate of Occupational Therapy Program in Arizona. Submission of Step 2 Candidacy Status Application will be submitted by April 15, 2020.
Indiana Location
1819 Carew St.
Fort Wayne, IN 46805
Arizona Location
8385 W. Mariners Way
Peoria, AZ 85382
| Current Cost | OTD Program 2020 Summer Semester | OTD Program 2020 Fall Semester | OTD Program 2020-2021 Academic Year | Total Cost of Program (3-yr Program 2020-2022 |
| --- | --- | --- | --- | --- |
| Tuition | $12,991 | $13,315 | $39,945 | $101,930 |
| Student Fees | $200 | $200 | $600 | $1,450 |
| Books & Supplies | $725 | $725 | $2,175 | $4,350 |
| Loan Fees | $109 | $109 | $327 | $872 |
| Distance Ed Fees | $0 | $0 | $0 | $0 |
| Total | $14,025 | $14,349 | $43,047 | $108,602 |