Huntington University's doctoral program in occupational therapy (OTD) is a 3-year, full-time degree program that will promote your development in faith, health and wellness, leadership skills, advanced practice, research and professional service.
The OTD program at Huntington University is fully-accredited and graduates of the program will be eligible to sit for the National Certification Examination for the Occupational Therapist, administered by the National Board for Certification in Occupational Therapy (NBCOT).
Students in our program will complete clinical experiences in Indiana, across the country, and internationally. You will design, develop and implement an advanced practice project with faculty oversight. Examples of these projects include fitting wheelchairs in a developing country, implementing program evaluations of a health care system, working with industry to address ergonomic work issues or designing therapeutic apps for OT interventions.
Our program is located in Fort Wayne, Indiana, on the Parkview Hospital Randallia campus, which provides a rich, educational environment where you will learn to address community and global issues in a health care setting.
Students with a bachelor's degree in any discipline from a regionally accredited institution are eligible to apply for this program. Applicants must also meet the minimum admission requirements and complete prerequisite classes. The application process is outlined here.
OTD Preview Days
2018: September 14, November 9, December 7
2019: March 1
Full schedule
Please RSVP for the preview day in advance.
Questions?
Frequently Asked Questions
graduate@huntington.edu
800.600.4888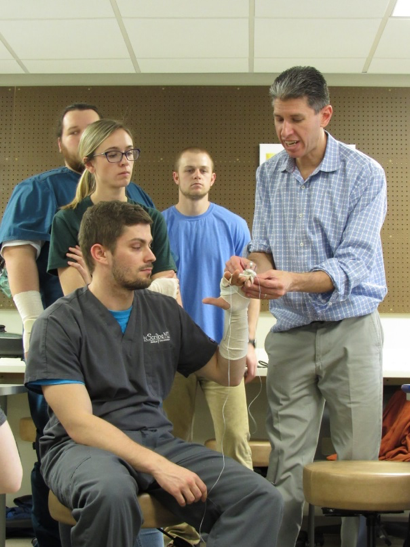 Custom orthotics are used across the spectrum of occupational therapy practice for many purposes, including immobilizing joints after surgery or injury, mobilizing stiff joints to increase function, and compensating for loss of motion due to nerve injury. Occupational therapy curricula typically include a degree of custom orthotic fabrication, but exposure is limited due to the broad range of content.
The Huntington University OTD Program recently hosted Gary Solomon, past president…
Featured Faculty
Beth O'Rourke
Dr. Beth O'Rourke, OTD, OTR/L, BCPR joined Huntington University in 2014 as an assistant professor. In 2016, Dr. O'Rourke was promoted to the Assistant Director of Academics and is currently serving as the Residency Coordinator.