Huntington University's doctoral program in occupational therapy, ranked the #1 OT school from graduateprograms.com (over 450 OT schools), will promote your development in faith, health and wellness, leadership skills, advanced practice, research and professional service.
Students in our program will complete clinical experiences in Indiana, across the country, and internationally. You will design, develop and implement an advanced practice project with faculty oversight. Examples of these projects include fitting wheelchairs in a developing country, implementing program evaluations of a health care system, working with industry to address ergonomic work issues or designing therapeutic apps for OT interventions.
Our program location on the Parkview Hospital Randallia campus provides a rich, educational environment where you will learn to address community and global issues in a health care setting.

Students with a bachelor's degree in any discipline from a regionally accredited institution are eligible to apply for this program. Often, undergraduate students major in areas such as health science, biology, exercise science or psychology in preparation for a doctorate program in occupational therapy. In addition, applicants must meet other requirements and complete certain prerequisite classes to gain acceptance into the program.
At Huntington University, our doctoral program in occupational therapy can help you impact our world for Christ. Contact our Admissions Counselor and visit our Frequently Asked Questions page today to learn more about how you can earn a doctoral degree in occupational therapy.

Accreditation & NBCOT Eligibility
Huntington University's Doctorate of Occupational Therapy Program is accredited by the Accreditation Council for Occupational Therapy Education (ACOTE) of the American Occupational Therapy Association (AOTA), located at 4720 Montgomery Lane, Suite 200, Bethesda, MD 20814-3449. ACOTE's telephone number is 301-652-AOTA and its web address is www.acoteonline.org. The OTD program is also accredited by the Higher Learning Commission (HLC), the regional accreditation body.
Graduates of the program will be eligible to sit for the National Certification Examination for the Occupational Therapist, administered by the National Board for Certification in Occupational Therapy (NBCOT). After successful completion of this exam, the graduate will be an occupational therapist, registered (OTR). In addition, all states require licensure to practice; however, state licenses are usually based on the results of the NBCOT certification examination. A felony conviction may affect a graduate's ability to sit for the NBCOT certification examination or attain state licensure.
2016-2017 OTD Preview Days
October 21, February 20, & March 6
The Preview Days are designed for you to explore the dynamic curriculum and meet OTD faculty, current students, other prospective OTD candidates, plus tour the amazing facility. Curriculum overview will be provided along with financial information. For current applicants, interviews will be conducted by invitation only. Anyone interested in pursuing a career in OT is welcome to attend, including high school students, current undergraduate students, and those who have already obtained a bachelor's degree. Parents and friends are welcome to join as well. Please RSVP for the preview day ahead of time.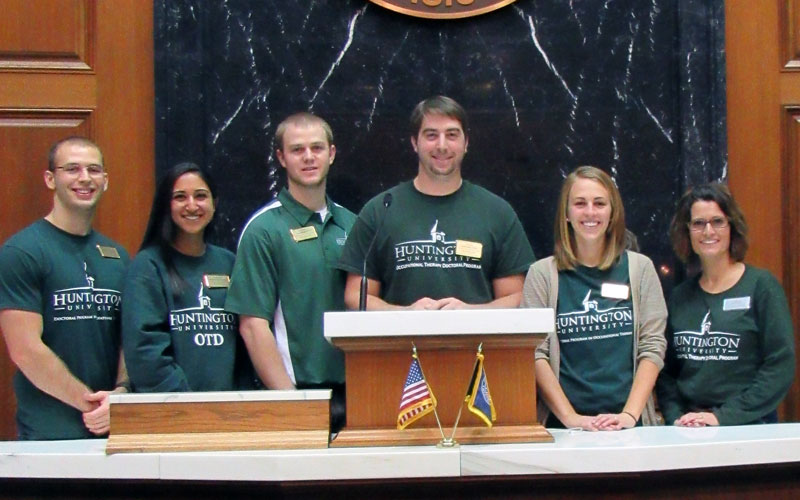 Huntington University's Doctor of Occupational Therapy students Roheen Virani (Atlanta, Georgia), Zack Bolton (Butte, Montana), Morgan Morrison (Wellington, Ohio), Kyle Fiorito (Waverly, Illinois) and Kalin Hale (Whitefish, Montana) organized a "Telehealth Lobby Day" in Indianapolis.
On December 5, the students were granted a meeting with the office of Cindy Kirchhofer, Indiana State House Representative, to discuss the inclusion of telehealth practice for occupational therapy.…
Featured Faculty
Sara Diehl
Sara Diehl began working at Huntington University in 2008. She now serves as the Occupational Therapy Program Recruiter.