Huntington University's doctoral program in occupational therapy (OTD) is a 3-year, full-time degree program that will promote your development in faith, health and wellness, leadership skills, advanced practice, research and professional service.
The OTD program at Huntington University is fully-accredited and graduates of the program will be eligible to sit for the National Certification Examination for the Occupational Therapist, administered by the National Board for Certification in Occupational Therapy (NBCOT).
Students in our program will complete clinical experiences in Indiana, across the country, and internationally. You will design, develop and implement an advanced practice project with faculty oversight. Examples of these projects include fitting wheelchairs in a developing country, implementing program evaluations of a health care system, working with industry to address ergonomic work issues or designing therapeutic apps for OT interventions.
Our program is located in Fort Wayne, Indiana, on the Parkview Hospital Randallia campus, which provides a rich, educational environment where you will learn to address community and global issues in a health care setting.
Students with a bachelor's degree in any discipline from a regionally accredited institution are eligible to apply for this program. Applicants must also meet the minimum admission requirements and complete prerequisite classes. The application process is outlined here.
2017-2018 OTD Preview Days
September 22, November 3, & December 1, 2017
Full schedule
Please RSVP for the preview day in advance.
Questions?
Frequently Asked Questions
graduate@huntington.edu
800.600.4888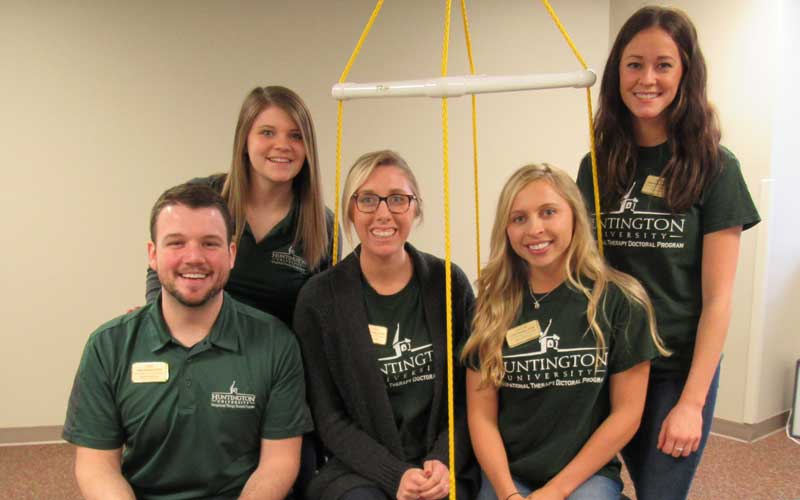 Huntington University's second year Doctor of Occupational Therapy students Caroline Hesterman (Fort Wayne, Indiana), Mallory Coleman (Milford, Ohio), Cody Zimmer (Peru, Indiana), Danielle Brenner (Lima, Ohio), and Caitlin Hansen (Indianapolis, Indiana) collaborated on a video project that was selected as one of 10 videos by the American Occupational Therapy Association (AOTA) to represent the Student Centennial Video project. The student's video was titled "Celebrating 100 years of…
Featured Faculty
Patricia Henton
Patricia Ann Henton, OTD, OTR/L, ICA, has over 25 years of clinical experience as an occupational therapist and joined HU's OTD faculty in 2017.