Huntington University's Alpha Chi Garners Academic Awards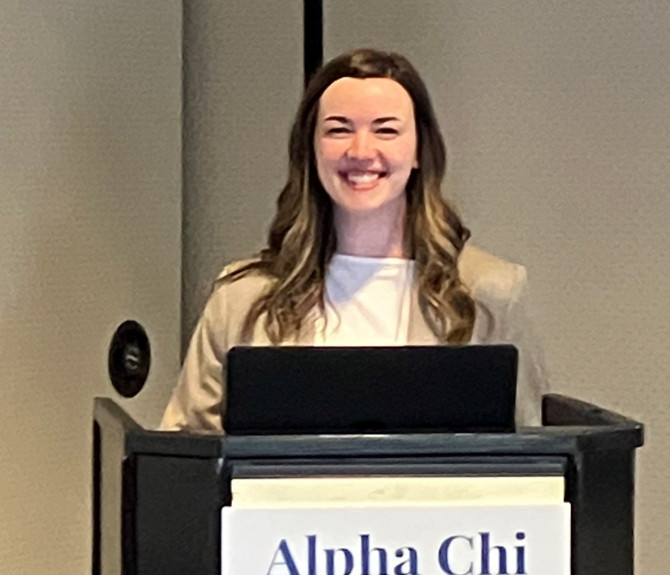 FOR RELEASE: Tuesday, April 12, 2022
Huntington University's Indiana Beta Chapter of the Alpha Chi National College Honor Society garnered awards for student scholarship at the Alpha Chi National Convention held in Austin, Texas, on March 24-26. The chapter has received recognition as a Star Chapter of Alpha Chi for 2020-2021, one of only two out of the more than 300 Alpha Chi chapters to have received this award every year since the honor was launched in 1996.
Erika James, a history and political science major from Huntington, Indiana, and student president of the Huntington University chapter, won a regional fellowship and a national fellowship for her paper "The Shadow Docket: Leaving Americans and Courts Under a Veil of Ignorance." She plans to make good use the fellowship funds in law school next year.
James was accompanied to the Convention by two Huntington University faculty sponsors. Dr. Tanner Babb, associate professor of psychology and associate academic dean, was elected as a regional president to replace Dr. Ruth Nalliah, professor of chemistry, as her term as regional president expired. Babb also serves as an editor of the organization's scholarly journal, Aletheia.
"After two years of not being able to attend the Convention in person due to the pandemic, it was a joy to be able to accompany a student to the Convention, and especially to see her scholarship rewarded on the national level," said Nalliah. "Huntington University students do very well in garnering both regional and national awards for their academic work."
Election to Alpha Chi is the highest academic honor at Huntington University.