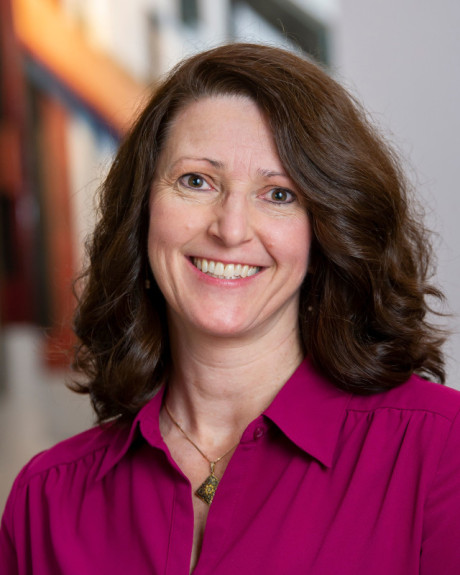 Patricia Henton
Assistant Professor
(260) 702-9624
phenton@huntington.edu
Dr. Patricia Henton, OTD, OTR/L, ICA, CEIM joined the Huntington University faculty in 2017 as an assistant professor and has over 25 years of clinical experience as an occupational therapist. She completed her entry-level occupational therapy degree through the University of Western Ontario in London, Canada. She worked at several teaching hospitals in the United States and Canada where she gained experience in acute care, physical medicine, and hand therapy. Her practice shifted to pediatrics in 1996 through employment with the Department of Defense Educational and Developmental Intervention Services in Wuerzburg, Germany. She worked with the Livingston Educational Service Agency in Howell, Michigan for 13 years and has extensive experience in early intervention and school-based practice. Dr. Henton completed a post-professional Doctor of Occupational Therapy degree, with emphasis in Pediatric Science, through Rocky Mountain University of Health Professions in Provo, Utah. Her doctoral capstone on relationship-based feeding addressed a gap in occupational therapy knowledge involving the relational aspect of feeding and the importance of family-centered feeding practice.
Dr. Henton was awarded the Interdisciplinary Certificate in Autism (ICA) by the Michigan Department of Education and Oakland University in 2016, as a special recognition for her expertise in autism spectrum disorder. She became a Certified Educator of Infant Massage (CEIM) in June 2020. She developed several evidence-based workshops on relationship-based feeding and presented her work at the Michigan Occupational Therapy Association state conference (2016), the American Occupational Therapy Association Centennial conference (2017), and the Canadian Occupational Therapy Association national conference (2017). Additional collaborative, peer-reviewed presentations included: Holistic Feeding & Lil' Snackers at the Michigan Early On® Conference (2017), Perceived Gaps in Breastfeeding Services and the Role of Occupational Therapy, Generalizing Outcomes through Parent Coaching: A Transformational Process at the Indiana Occupational Therapy Association fall conference (2018), Cross Cultural Service Learning & Student Development: Providing Mobility & Receiving Much More at the American Occupational Therapy Association national conference (2019), Basic Activities and Anxiety Reduction in the Care of Canines (BAARCC) Protocol for Adults with Autism Spectrum Disorder at the Indiana Occupational Therapy Association fall conference (2019), and COVID-19 IOTA Roundtable - Telehealth in Early Intervention: An Evolving Service Delivery Method at the Indiana Occupational Therapy Association fall conference (2020).
Dr. Henton is passionate for teaching and serves as a faculty advisor, assisting students with scholarship and research. Her research interests include cross cultural service learning, early intervention, family-centered practice, parent coaching, pediatric feeding, eating, and swallowing, and autism spectrum disorder. She actively supports students in attaining advanced pediatric practice skills through the Huntington University Pediatric Specialty Pathway and coordinates advanced professional development opportunities for students, OT practitioners, and local community partners. Since 2017, the university has hosted pediatric conferences with national and international OT speakers, including Marsha Dunn Klein's Get Permission Approach to Mealtime Challenges I (April 2018), and Gwen Wild's Facilitating Self-Regulation in Toddlers to Teens (March 2019), as well as an Infant Massage USA Certification Course (August 2019). Dr. Henton also serves as a faculty advisor for the Neonatal Intensive Care Unit / Early Intervention student specialty club and is a faculty mentor for 3rd year student capstone projects involving advanced pediatric practice and research. She is committed to the spiritual growth and development of the OTD students, serves as a faculty advisor for the student-led OTD Christian Fellowship Bible club, and provides leadership and mentoring to students during cross-cultural mission projects locally and abroad.