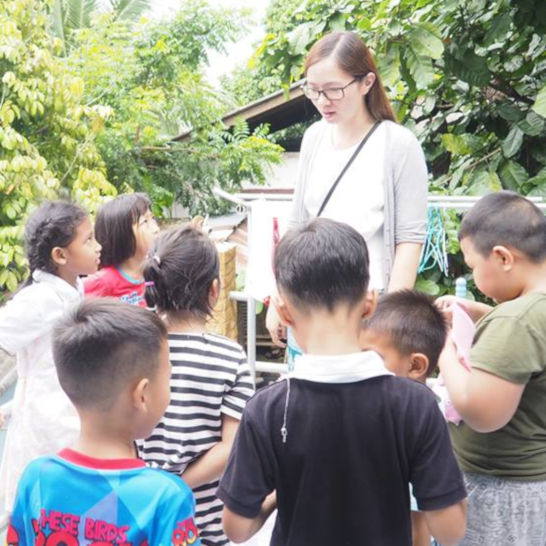 Are you ready to add value to your degree and make an invaluable impact on students across the globe?
Consider receiving your TESOL Certificate from HU. You'll earn an internationally-recognized qualification to teach English anywhere in the world. (Yes, anywhere!) Our TESOL certification program can be completed in as few as 9 months. If you have time for 15 credit hours, you can join a competitive field of English educators working in schools, non-profits, social organizations, and ministries around the world.
HU's TESOL/EL Certificate requires 4 main courses, plus a TESOL practicum. You'll cover the foundations of TESOL, intercultural communications, listening and speaking, and reading and writing instructional methods – all while getting hands-on teaching time with 60+ hours of direct teaching during your practicum.
Contact us today — a new cohort begins every August.
Traditional TESOL/EL Certificate — 15 hours
TE233 — Foundations of TESOL/EL
TE234 — Instructional Methods for TESOL/EL: Listening and Speaking
TE235 — Instructional Methods for TESOL/EL: Reading and Writing
CO322 — Intercultural Communication
TE395/396 — TESOL Practicum
Online Undergraduate and Graduate TESOL/EL Certificate — 15 hours
TEx233/TE533 — Foundations of TESOL/EL
TEx234/TE534 — Instructional Methods for TESOL/EL: Listening and Speaking
TEx235/TE535 — Instructional Methods for TESOL/EL: Reading and Writing
COx322/TE522 — Intercultural Communication
TEx396/TE596 — TESOL Practicum
Admission Requirements
A completed graduate program application
A non-refundable application fee

$30 for graduate applicants.
$20 for undergraduate applicants.
Waived for Huntington University alumni.

Official transcripts

Transcripts must arrive via mail or electronic submission directly from the college/university sending them.
Graduate certificate applicants: Request official transcripts from the college/university awarding the highest degree you have completed.

An undergraduate cumulative GPA of 3.0 is required for full acceptance (Students with a lower GPA may apply for provisional admission based on additional documentation and Program Director approval)

Undergraduate certificate applicants: Request official transcripts from any college/university you have attended

For applicants with fewer than 24 previously completed college credits, an official high school transcript is required