Office of Advancement
Investing in Foresters - past, present, and future.
That simple statement sums up the entire mission of the Huntington University Office of Advancement. We believe in the impact Foresters have in this world and we want to do everything we can to empower that impact.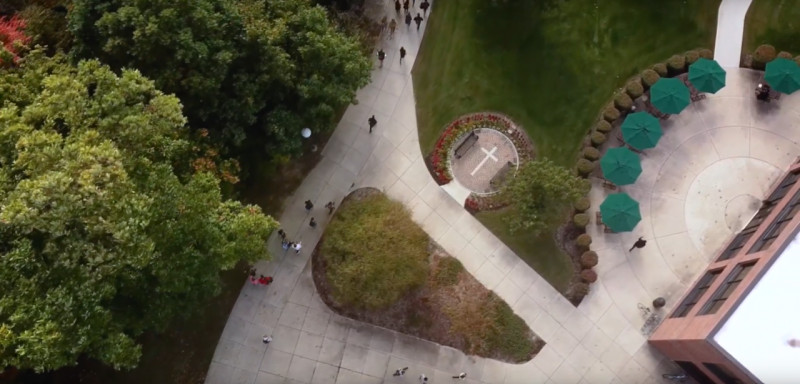 Impact on HU
Every dime received. Every dollar pledged. Every gift given furthers Huntington University's God-given mission of:
"assisting students to understand all areas of human knowledge from the perspective of a Christian worldview and preparing them to impact their world for Christ."
"I am so excited to see where these experiences lead me in life and hopefully help me impact others' lives as well." - Megan, Huntington University Student
Merillat Society
The Merillat Society is the highest honor a donor can receive. Reserved for those who have lifetime contributions to Huntington University of $250,000 or more, the Merillat Society is named after and honors the largest contributing family to the University.
1897 Society
The 1897 Society is established for those who have given between $100,000 and $249,999 to the University over their lifetime. Named after the year of the University's founding, this society is emblematic of the dedication of longevity and perseverance.
Milton Wright Society
The Milton Wright Society, also known as the Wright Society, is reserved for those who have given between $50,000 and $99,999 over their lifetime. This society is named after and honors United Brethren in Christ Bishop Milton Wright, who helped lay the cornerstone for what we know today as Becker Hall. He also offered the prayer of dedication on September 21, 1897.
Heartwood Society
The Heartwood Society distinguishes those who have given between $25,000 and $49,999 to the University over their lifetime. The heartwood of a tree is the central core of that tree, giving it strength and stability to grow. Members of the Heartwood Society are the heart and soul of the University, giving her financial stability and academic permanence.
EverGreen Society
The EverGreen Society is a society created specifically for those who create an endowed scholarship of $25,000 or more. Individuals, families and companies who create an endowed scholarship help guarantee the future of Huntington University. Just as Foresters "bleed green," members of this society are Ever Green.
Pacesetter Society
The Pacesetter Society, which was developed as part of the Faith Forward 2022 Strategic Plan, is a society for those who commit to gifting $1,000 or more annually to the Forester Fund. More than 90% of HU students receive some kind of financial aid. Much of that aid comes in the form of scholarships provided by the Forester Fund. Generous gifts to the Forester Fund help make the Huntington University experience an affordable reality for tomorrow's leaders.
Baker Society
The Baker Society pays homage to Dr. E. DeWitt Baker, HU president from 1965-1981, and his wife, Evelyn Baker, for significant momentum in academic success and new campus facilities. Members of this society, like the Bakers, have faithfully given to Huntington University for 30 years or more and ensure the University's longevity.
Forester Legacy Society
The Forester Legacy Society is a new society established to honor those who have remembered Huntington University in their legacy planning, including those who have remembered HU as a beneficiary, as part of a bequest or trust, in a life insurance policy or in gifts of property.
Foresters for Life
Huntington University alumni have planted themselves all around the globe, impacting their world for Christ in incredible ways.
Once you become a Forester, you are a Forester for life. We are here to come alongside you on your journey and work with you to make the HU experience available to new generations of Foresters.
If you are an HU alum, your alma mater wants to hear from you! Learn more about alumni gatherings and connections through the Office of Alumni Relations.
Help Us Have a Greater Impact
Your generous gifts help make the Huntington University experience an affordable reality for tomorrow's leaders.
Give Today