President's Office
Welcome to Huntington University!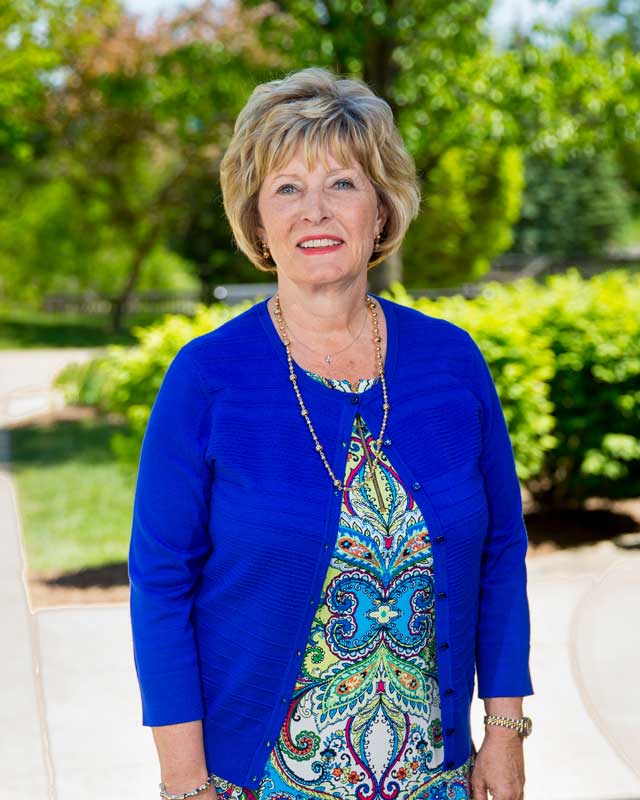 My name is Dr. Sherilyn Emberton, and it is my honor to serve as the 13th president of this great institution. Huntington University celebrates a rich history of faith in Jesus Christ, scholarship, and service.
Faith Forward 2022 encourages us to integrate our faith, scholarship, and service in many ways. I chose my five favorite examples from our most recent academic year to share with you:
#5: Huntington University hosted its 121st Commencement, honoring an undergraduate, graduate, and doctoral class of over 300 graduates, including our first class of four-year graduates from the Haupert Institute for Agricultural Studies and our first HU Arizona graduating class!
#4: Annual donors to the University reached 2,368, with a total giving of 4.5 million dollars going to support the goals of Faith Forward 2022.
#3: Forester athletics experienced a phenomenal year, with four sports' athletes earning berths in national competition: baseball, bowling, men's soccer, and track and field.
#2: Huntington University's chapter of Alpha Chi was recognized for the 23rd consecutive year as a Star Chapter, one of only four in the country to have achieved that recognition. In addition, HU digital media arts students from both our home campus and our Arizona location placed 2nd in overall national awards from the Broadcasting Educators Association. Two recent HU alums later took home HU digital media arts' first regional Emmy!
#1: Huntington University celebrated its sixth straight year of record enrollment with 1,355 students enrolled for fall 2018!
As president, it is a joy to serve such an incredible institution. The 2019-2020 academic year promises to be one of our most exciting yet as we reimagine the Huntington Union Building and Step Forward through our relentless pursuit of Christ, scholarship, and service.
Blessings,
Dr. Sherilyn R. Emberton, President
Full bio
Faith Forward 2022
Faith Forward 2022 launches a strengthened focus for Huntington University and highlights its legacy of commitment to Christ, Scholarship and Service.
Learn More
The President's Staff
Peg DeBolt
Administrative Assistant to the President
Peg DeBolt joined the Huntington University staff in 2015. She came to HU from iAB Financial Bank where she has worked for the three years.
Peg brings a wealth of experience from MarkleBank where she was the executive assistant from August 2001 to October 2012. Peg earned her Associate Degree in Accounting from Huntington University.
Peg lives in Bluffton with her husband, Larry. She has two sons, Jeff and Adam. Both are graduates of Anderson University.
Dr. Ann McPherren
Assistant to the President for Program Development
While finding her joy teaching students, Dr. Ann McPherren has served Huntington University in various academic and administrative endeavors serving as department and division head, Vice President for Strategy, Vice President for Graduate and Professional Programs, Interim University President, and now as the Assistant to the President for Program Development. She has also been instrumental in the launch of several academic initiatives including HU's first doctoral program (Occupational Therapy) and the University's expansion to Peoria, Arizona. In this expanded role, Dr. McPherren continues her leadership in the conceptual design and exploration phase of new initiatives for the University.

A longtime resident of Huntington County, Dr. McPherren graduated with a BA in Business and Economics from Huntington College. She returned to her alma mater to join the business department faculty in 1981 after working in industry and receiving her Master of Science degree in management science from Ball State University. She earned her EdD in Educational Administration from Ball State University.