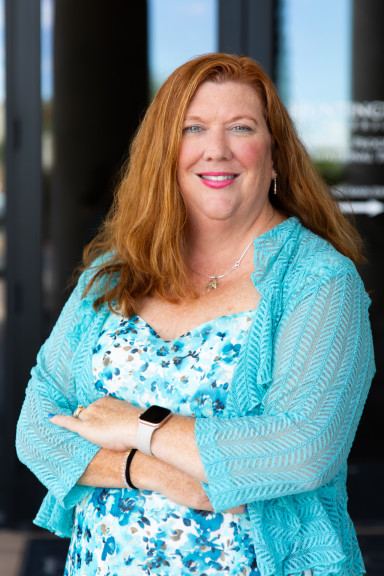 Tina M. Sauber
Assistant Professor for the Doctoral Program in Occupational Therapy, Arizona
Joined the Huntington University faculty in 2023.
Tina M. Sauber, OTD, MOT, OTR/L, BCPR is an assistant professor for the Doctoral Program in Occupational Therapy in Arizona. with a specialization in Practice Administration and Management, master's degree in occupational therapy and a bachelor's degree of Science in Occupational Therapy. Dr. Sauber brings over 30 years of clinical experience in acute care, acute rehabilitation, outpatient, emergency room, primary care, and skilled nursing settings as well as 15 years' experience in leadership and management and 10 years' experience as faculty, adjunct faculty and guest lecturer at Arizona State University, Northern Arizona University, Midwestern University, and the Mayo Clinic School of Health Sciences.
Dr. Sauber is board certified in physical rehabilitation (BCPR) through the American Occupational Therapy Association (AOTA) and has as served on AOTA's committees for advanced board and specialty certifications and presents at both state and national conferences. Her areas of specialty in the clinical arena include neurological conditions, concussion, balance and vestibular impairments, organ transplants, intensive/critical care, and chronic conditions. Dr. Sauber has served in both clinical and leadership roles for 25 years at the Mayo Clinic where she continues to work as a consultant in Physical Medicine and Rehabilitation as an OT in acute care, emergency room, and primary care.
Dr. Sauber is a Senior Fellow in the Mayo Clinic Academy of Education Excellence in Administration and Leadership, an Assistant Professor in the Mayo Clinic School of Health Sciences & has achieved a certification in Change Management using the Prosci methodology She is bronze, silver and gold level certified in quality improvement in Mayo Clinic's Quality Academy.
Education
· Doctor of Occupational Therapy with specialization in Practice Administration & Management, Rocky Mountain University of Health Professions
· Master of Occupational Therapy, University of North Dakota
· Bachelor of Science in Occupational Therapy, University of North Dakota
Published in books and peer reviewed journals
Involvements
· AOTA's Board and Specialty Certification committee member
· Board Certification in Physical Rehabilitation exam item writer
· Course Developer & Instructor for MedBridge
· Journal Editor; Sage Publications
· ArizOTA member
· AOTA member