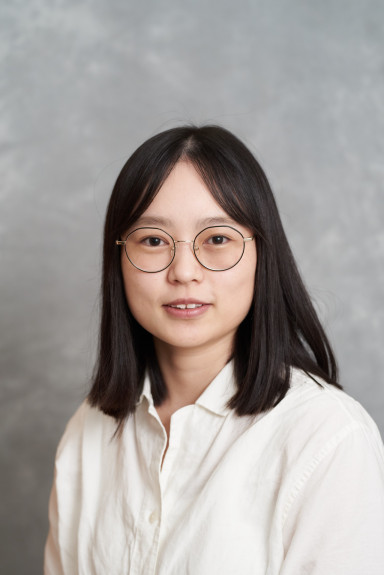 Yue Wang
Visiting Instructor of Graphic Design
(260) 359-4272
ywang@huntington.edu
Joined the Huntington University faculty in 2023.
Yue Wang is a visiting instructor of visual arts at Huntington University, specializing in graphic design. Yue has designed numerous sets of graphics for websites, logos, and marketing promotions. She is proficient in Adobe programs and UX/UI, and has curated typography expeditions, developed product mockups, and prototyped designs with these tools. In addition to design, Yue enjoys traditional drawing and illustration.
Her goal as an educator stems from the Chinese proverb "Giving a fish is not as good as teaching how to fish," which conveys the idea that providing someone with the knowledge and skills to do something for themselves is more valuable than simply giving them the end result. Teaching someone how to do something empowers them to be self-sufficient and independent, rather than relying on others for assistance. The proverb emphasizes the importance of education, learning, and self-reliance. This is what she wants for her students in computer graphics, visual communication, web design, drawing, computer illustration, and photography.
From Hefei, China, Yue enjoys spending time with family members and traveling. She once took a road trip from New York City to Vancouver, Canada.
Education
Master of Fine Arts degree in visual communication design; Purdue University
Bachelor of Fine Arts degree in graphic design; University of Bridgeport
Bachelor of Fine Arts degree in visual communication design; Anhui Polytechnic University, Anhui, China
Notable Experience
Graphic design intern at New Thinking Culture Co. Ltd, Heifei, Anhui, China
Teaching assistant at Anhui Polytechnic University, Wuhu City, Anhui, China
Art tutor mentor, Independent Contractor, Wuhu City, Anhui, China
Mural painting intern, Wuhu City Public Transportation, Wuhu City, Anhui, China
Publications and Awards
Graphis New Talent Awards 2023, Award Silver: Explore Dunhuang Everyday Poster Design
Graphis New Talent Awards 2023, Award Silver: The Journey From Cocoon to Silk: An Infographic Exploration
2015 First Annual Design Student Exhibition Merit Award at Anhui Polytechnic University
2015 First Annual Design Student Exhibition Merit Award at Anhui Polytechnic University