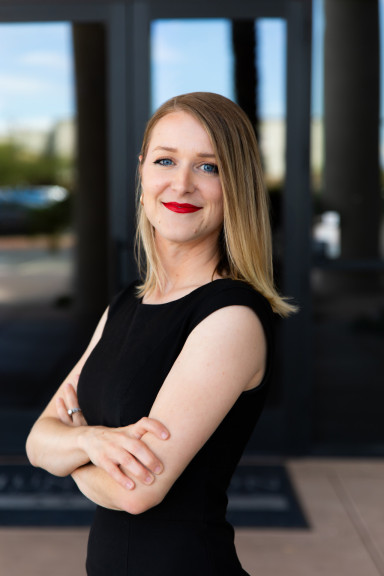 Jamie Sanfilippo
Dean, Huntington University Arizona
(480) 939-5009
jsanfilippo@huntington.edu
Joining Huntington University in 2016, Jamie Sanfilippo is part of the inaugural team at Huntington University's Peoria, Arizona campus.
In 2012 Sanfilippo graduated from Greenville College, a Christian college located in Greenville, Illinois, with a communications degree. While in college, she played varsity soccer for four years and was a part of Lambda Pi Eta's Communication Honor Society. After graduation, Sanfilippo pursued her master's degree at Saint Louis University in St. Louis, Missouri, at the School for Professional Studies. During her studies, she was a graduate assistant for the associate dean at SPS. In 2015 she graduated with her MS in leadership and organizational development.
After graduation, Sanfilippo and her husband, Ryan, an air traffic controller in the Air Force, moved to Arizona, where she pursed an opportunity to work in Christian higher education. Now she has the privilege of being a part of this exciting venture with HU as the coordinator of student services. In this role, she will serve students each step of the way through enrollment, financial aid, advising and more, as they become a part of HU in Arizona. Sanfilippo is currently pursuing her Ph.D. at Azusa Pacific University in Higher Education.
Being a product of Christian higher education and seeing how it has shaped her life and career, Sanfilippo is excited to share this journey with students.
Sanfilippo loves going on adventures with her husband, spending time at the park with her dogs, Archie and Harley, playing soccer and cooking meals for her friends.