Ag Expert Mike Pearson at HU Ag Breakfast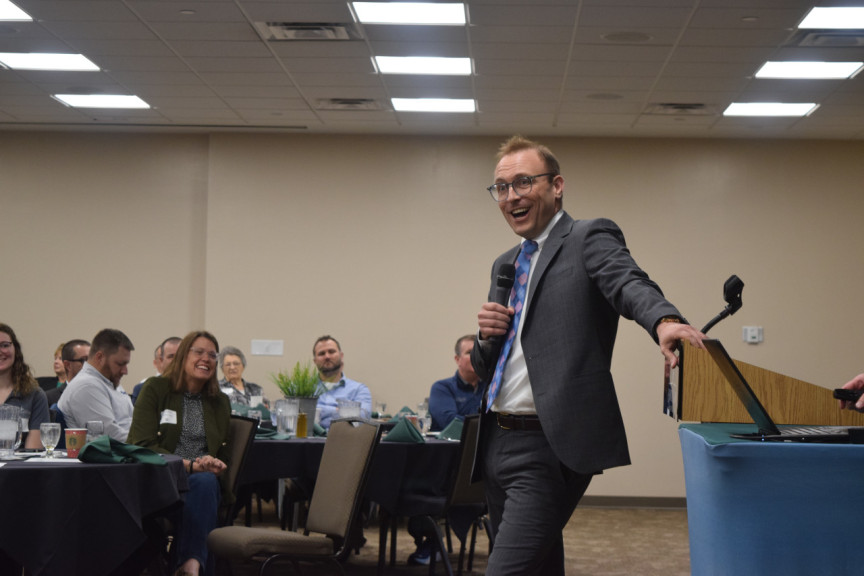 FOR RELEASE: Friday, March 24, 2023
For the past decade, Huntington University has hosted Feed a Farmer, now called the National Ag Week Celebration and Breakfast, as a way to celebrate, honor, and thank the farmers and supporters of agriculture in the region. This year the event took place on March 22 with keynote speaker Mike Pearson and was sponsored by Farm Credit Mid-America and Williamson Crop Insurance.
An Iowa native, Pearson has hosted "Market to Market" on Public Television and the Ag News Daily podcast. Currently, viewers can find him behind the anchor desk on "This Week In Agribusiness" with Max Armstrong and Orion Samuelson, which can be found on RFD TV or hundreds of local stations each weekend.
Pearson's topic was "What's Driving Agriculture?: The fed, markets, and policy," and his expertise and insight took his audience from historical analysis to current climates to predictions of what's next. With an acknowledgment that now is a "generally good time in farm country," Pearson was quick to point out that 2022 was a "wild year." Three major factors directly and indirectly impacted agriculture in the United States: inflation rates at 8.6%, one of the worst droughts in history, and Russia's invasion of Ukraine. The same three factors are already impacting 2023, but according to Pearson, there is reason to be optimistic.
"We are going to see increased corn acres this year. Beans still look okay. We still expect to see a drop in bean acres and 92-87 corn to beans, 90-90, that's roughly where the trade is at right now as we start to put together our outlooks for the 2023 growing year," he states. "Now the good news is, for you corn growers, the picture is still tight. The fundamental factors in the corn market are still, I don't want to say largely bullish, but I do want to say largely favorable."
Pearson's advice for those in the ag industry were straightforward: Keep your head on a swivel and be aggressive and remain optimistic.
"A number of our students were able to meet Mike during his time on campus," said Nate Perry, managing director for the Haupert Institute for Agricultural Studies. "I greatly appreciate his interest in our students and how he encouraged them as they prepare for their careers in agriculture. He was very impressed with these students and was excited about what the future holds for these students and how they will have a positive impact on agriculture."