And the Emmy Goes to…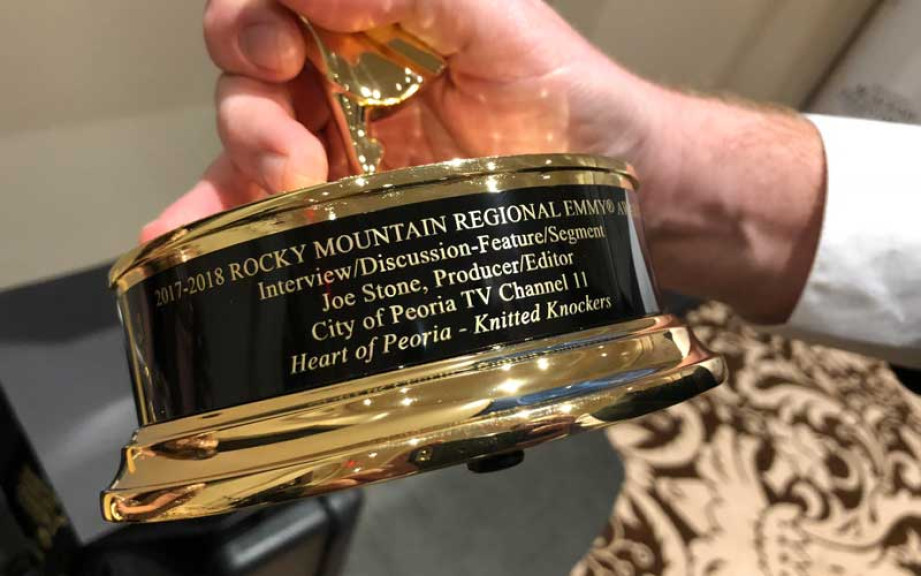 FOR RELEASE: Tuesday, October 9, 2018
Huntington University Arizona showed up in a big way at the 2018 Rocky Mountain Emmys. Congratulations to Huntington University Arizona student Joe Stone and Director of Broadcast Media Sean Gates for their 2018 Emmy wins, given by the Rocky Mountain Southwest Chapter of the National Academy of Television Arts and Sciences, and to our two Student Production Award Recipients, Matthew Torres-Gomez and Lisette Perez.
"We are honored and overjoyed by the nomination and Emmy award for 'Heart of Peoria: Knitted Knockers,'" said Kristina Perez, Peoria's digital media manager and Joe Stone's former supervisor. "[Joe] has such a great attention to detail, cinematic eye and thoughtful approach that showed up in every project he worked on for us, no matter the scope. What made this piece particularly special is that he uncovered the story, felt compelled to tell it and did so beautifully. I'm so proud of what Joe accomplished in his time at the city of Peoria."
Peoria was the only city in the Valley to receive the distinguished Emmy award, and this marks the first time Peoria has won an Emmy. This is also the first HU Arizona student nomination and win for the prestigious Rocky Mountain Emmy Awards for professional broadcasters.