Conrad Named 2019 Barlow Book Prize Winner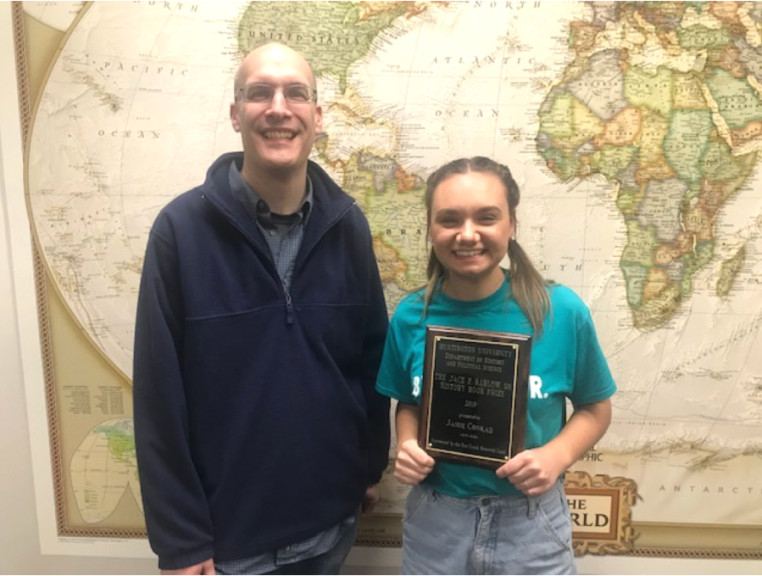 FOR RELEASE: Wednesday, June 26, 2019
The Department of History and Political Science at Huntington University is pleased to announce that Jamie Conrad is the winner of the 2019 Jack P. Barlow, Sr., History Book Prize.
Conrad, of Whitestown, Indiana, is pursuing a Bachelor of Science degree in entrepreneurial small business management and a Bachelor of Arts degree with a dual major in international & development studies and history. She intends to graduate in May of 2020.
"Jamie has produced an exemplary analysis of British decolonization in Malaya," said Dr. Tim Smith, professor of history at Huntington University. "In doing so, she has had to analyze the multilayered motives for British-Malay economic and political development. Jamie wrestled with these issues with panache, which resulted in a sophisticated, highly lucid and scholarly research paper."
Each year, the Department of History and Political Science presents the book prize to an outstanding student or students in the department's advanced research seminar. Smith's seminar "Britain and the End of Empire" focused on the unraveling of the British Empire after the Second World War and the process of decolonization.
The Jack P. Barlow, Sr., History Book Prize honors the memory of Professor Barlow, who served for over three decades as professor of American history at Huntington University. Prize recipients also receive a cash award made possible through the Ron Frank Fund, which rewards academic achievement and student participation at professional academic conferences. The fund was established in 1973 in honor of Ron Frank, who passed away unexpectedly in the spring semester of his senior year at Huntington University.