HU Arizona Announces New Hire, Promotion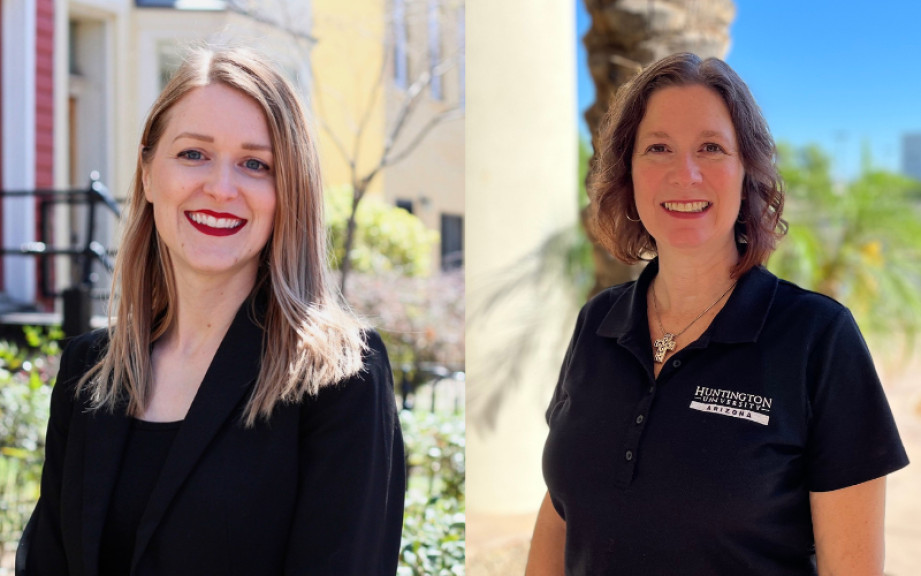 FOR RELEASE: Thursday, June 1, 2023
Huntington University Arizona is pleased to announce the hiring of Dr. Jamie Sanfilippo and the promotion of Tiffany Glazier.
Sanfilippo returns to HU Arizona after spending the past few years working for the CCCU (Council for Christian Colleges & Universities) in Washington, D.C. She returns to the University in a brand-new role: dean of Huntington University Arizona.
"Huntington University Arizona holds a special place in my heart, and I am beyond thrilled to return to this exceptional institution in a new leadership capacity," said Sanfilippo. "Working alongside such dedicated professionals who are deeply committed to making a lasting impact on Christian higher education is an honor. I am eager to contribute my skills, knowledge and unwavering dedication to help shape the future of Huntington University Arizona and build upon its already stellar reputation."
In this role, Sanfilippo, who holds a PhD in higher education administration from Azusa Pacific University and a master's degree in organizational leadership from Saint Louis University, will be responsible for assessing target student markets, hiring and directing campus personnel, and providing oversight for student recruitment, marketing and student learning. Sanfilippo will begin this new role effective July 1.
"We are extremely excited to launch the next stage of HU Arizona by adding a dean to oversee our work in Peoria," said Dr. Sherilyn Emberton, president of Huntington University. "Dr. Jamie Sanfilippo, returning to us from her role in the national CCCU office, has agreed to serve as the first dean of Huntington University Arizona. We are blessed to have her talent and enthusiasm as we strategically grow our footprint there."
Glazier, currently the coordinator of student support services at HU Arizona, will take on the role of director of Arizona operations when the current director, Jeff Berggren, transitions back to Huntington University's home campus in Indiana.
"I can't begin to replace Jeff, but I am looking forward to continuing the mission of Christ, scholarship and service to the next generations of students at HU Arizona," says Glazier.
"Tiffany brings a high level of knowledge, experience and connectedness to her new role as director of Arizona operations," said Dr. Russ Degitz, Huntington University's chief operating officer. "Tiffany's previous work and engagement at HU Arizona will be a tremendous asset as she supports students, faculty and staff in this role. We are excited for her to step into this new opportunity and use her skills to serve Christ and serve others."