HU Arizona Claims Student Awards in Regional Emmys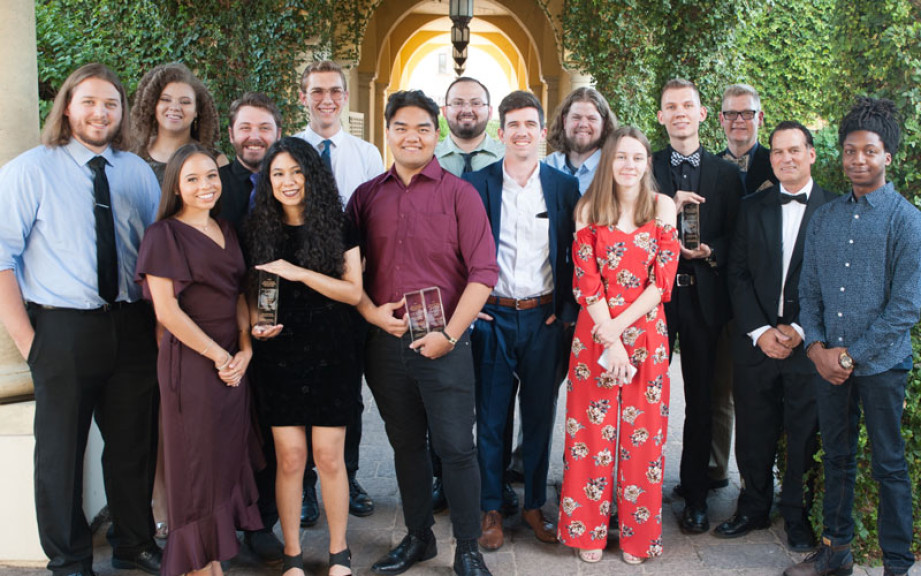 FOR RELEASE: Monday, October 7, 2019
A record-breaking Emmy nomination year for Huntington University Arizona got even better on Saturday, September 14, when the University took home four Student Production Awards from the Rocky Mountain Southwest Chapter of the National Academy of Television Arts and Sciences.
Prior to the awards presentation, Huntington University Arizona student projects had received 11 total award nominations in seven categories for 2019: College Short Form Fiction, College Short Form Non Fiction, College Animation/Graphics/Special Effects, College Audio/Sound, College Director and College Photographer.
On September 14, six HU Arizona students and one 2019 alum claimed awards for College Audio/Sound, College Music Video, College Photographer and College Short Form Non Fiction.
"I think this is a direct reflection of the quality of our current programs and the hard work of our students," said Phil Wilson, program director & assistant professor of film at Huntington University Arizona. "I am grateful to Lara Gates and the Rocky Mountain Emmys for continuing to offer this opportunity to validate our students and their work – many of whom have put in many, many hours on these projects."
"Huntington's broadcast media students worked as a team using audio production and storytelling techniques to craft a unique story. Being acknowledged for their craft is a great way for students to gauge their work against that of their peers," said Sean Gates, director of broadcast media at Huntington University Arizona.
Award Winners:
College Audio/Sound: "Road Trip" – Olivya Bryant, Janet Rashell, Samantha Halvorsen and Madelyn Benavidez
College Music Video: "Will He" – Kenny Gondales and Jayson Miller College Photographer: "Kenny Gondales – Photography" – Kenny Gondales
College Short Form Non Fiction: "Hollywood Don Yates" – Joseph Stone
Huntington University Arizona opened its doors in 2016, welcoming students seeking a degree in digital media arts. The facility, a 30,000 square-foot building, houses bachelor's degree programs in animation, film production, broadcast media and graphic design. The facility features film and TV studios, high-end computer classroom/labs, private editing suites, a state-of-the-art TV control room, Foley pit, a host of EFP and cinema cameras, and lighting gear for student production work.