HU Arizona receives Peoria chamber award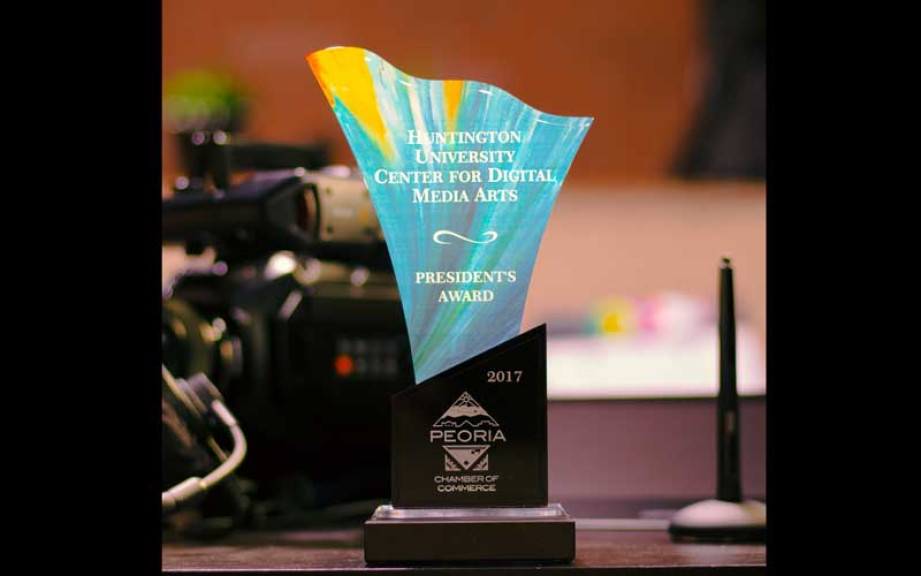 FOR RELEASE: Friday, July 14, 2017
Huntington University Arizona (HUAZ) has received the President's Award from The Peoria Chamber of Commerce at its annual Anniversary & Awards Dinner on June 28. The President's Award recognizes a local business or organization that has best helped the Chamber achieve its mission during the past year.
"The Peoria Chamber has been a great partner for Huntington University well before they took up residence in our building so having them as neighbors on a daily basis is really a bonus. As I looked around the room at the awards banquet I saw people at every table that either have partnered or are in the process of partnering with Huntington students on digital media projects to assist those Chamber member's businesses or organizations," said Jeff Berggren, Director of Arizona Operations. "A key contributor to many of those connections has been Guy Erickson and his staff at the Chamber. They are a great asset to the community and an excellent partner for Huntington University."
Each June the Chamber's Anniversary & Awards Dinner celebrates the successes of the past year by honoring the best of Peoria and looks ahead to the future, recognizing new leadership. The Peoria Chamber of Commerce brings together businesses, non-profits, and academic leaders throughout the community to celebrate those who strive to advance their business and honor those who have made significant contributions to the community. This year marks the 98th annual awards celebrated by the chamber.
"In over 30 years of being in business, I have never worked with anyone or any organization who was more fair, honorable and ethical in their lease negotiations. Once becoming a tenant, I have had the privilege to deal with the nicest most helpful staff of people you could ever imagine, who go out of their way to offer assistance whenever it is needed," stated Guy L. Erickson, President/CEO, The Peoria Chamber of Commerce. "The chamber is very proud to be part of an exceptional collaboration with Huntington University and look forward to many years of a strategic partnership."
The Huntington University Arizona location just completed its first year of operation with a cohort of 47 students. The facility, a 30,000 square-foot building, houses bachelor's degree programs in animation, film production, broadcast media and graphic design. The facility features film and TV studios, high-end computer classroom/labs, private editing suites, a state-of-the-art TV control room, Foley pit, a host of EFP and cinema cameras, and lighting gear for student production work.
Huntington University is a comprehensive Christian college of the liberal arts offering graduate and undergraduate programs in more than 70 academic concentrations. U.S. News & World Report ranks Huntington among the best colleges in the Midwest, and Forbes.com has listed the university as one of America's Best Colleges. Additionally, Princeton Review has named the institution a "Best Midwestern College." Founded in 1897 by the Church of the United Brethren in Christ, Huntington University is located on a contemporary, lakeside campus in northeast Indiana. The university is a member of the Council for Christian Colleges and Universities (CCCU).