HU Arizona Welcomes Doctoral Cohort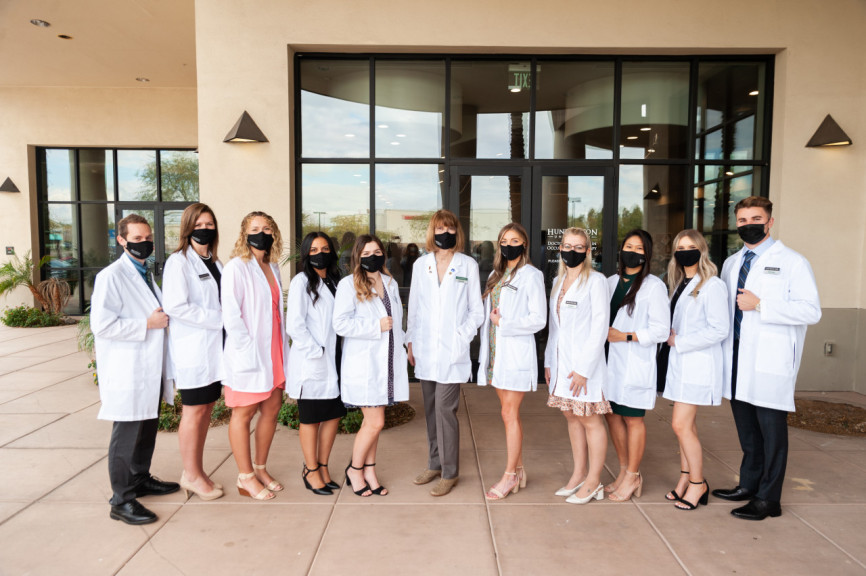 FOR RELEASE: Thursday, February 4, 2021
PEORIA, AZ. — Huntington University's Arizona location welcomed its first cohort of Doctoral Program in Occupational Therapy students on January 22 with a White Coat Ceremony. This event was a joint experience for HU's Fort Wayne-based doctoral program in occupational therapy cohort and the inaugural HU Arizona doctoral program cohort. To see the full event, visit huntington.edu/whitecoat_January2021.
The inaugural class includes:
Hannah Benson, Woodinville, Washington
Kristin Carr, Phoenix, Arizona
Lucas Godwin, Ramona, California
John Hancock, Clay Springs, Arizona
Kennedy Kelly, North Barrington, Illinois
Megan Law, Scottsdale, Arizona
Amber Ocampo, Los Angeles, California
McKenna Scheldt, San Tan Valley, Arizona
Caroline Soliman, Gilbert, Arizona
Shannon Ware, Beaverton, Oregon
The White Coat Ceremony signifies each student's commitment to deliver the best care to their patients, with compassion and empathy as the hallmark of their clinical practice. HU's occupational therapy program equips students for professional service, promoting the development of skills in leadership, advanced practice and research while encouraging growth in faith.
Huntington University's OTD program was one of the first of its kind in the country, and HU's occupational therapy assistant program is the first bachelor's-level program in the country. Occupational therapy was the first doctoral program offered at Huntington University and has been graduating impressive cohorts of students since May 2017.
Huntington University Arizona opened its doors in 2016, welcoming students seeking a degree in digital media arts. Since that time, students have created regionally and nationally awarded work, including ADDY awards, BEA Best of Fest awards, and Emmy Student Production Awards. The 30,000-square-foot building houses bachelor's degree programs in animation, film production, broadcast media, and graphic design. The facility features film and TV studios, high-end computer classroom/labs, private editing suites, a state-of-the-art TV control room, a Foley pit, a host of EFP and cinema cameras, and lighting gear for student production work.
Huntington University is a comprehensive Christian college of the liberal arts offering graduate and undergraduate programs in more than 70 academic concentrations. U.S. News & World Report ranks Huntington among the best colleges in the Midwest, and Forbes.com has listed the university as one of America's Best Colleges. Founded in 1897 by the Church of the United Brethren in Christ, Huntington University is located on a contemporary lakeside campus in northeast Indiana. The nonprofit university is a member of the Council for Christian Colleges and Universities (CCCU).