HU student film receives "Best of Fest" and "Best Actor"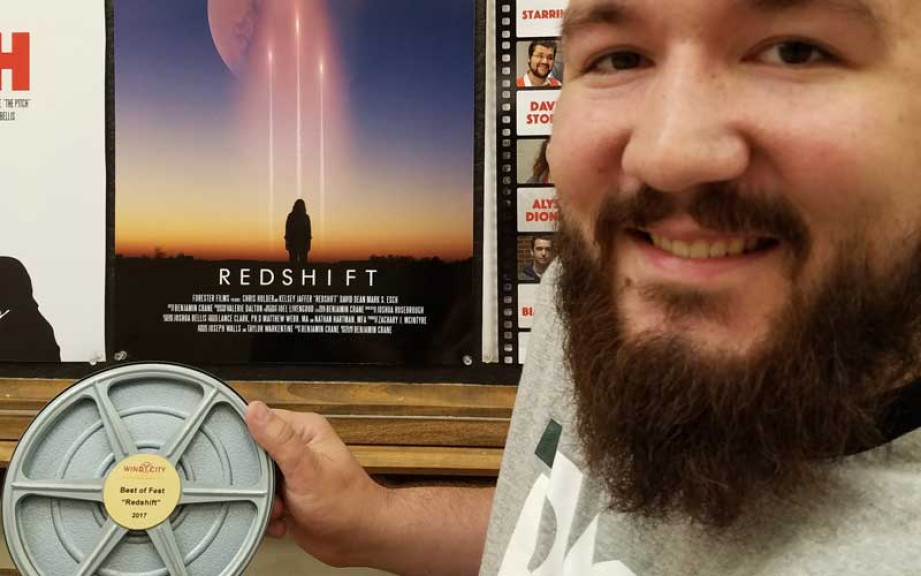 FOR RELEASE: Wednesday, July 19, 2017
Redshift, a film produced by Huntington University students, took home "Best of Fest" and "Best Actor" at the Windy City International Film Festival on June 30 in Chicago, Illinois.
Writer, director and editor Benjamin Crane; producers Zachary McIntyre and Joseph Walls; and actors Chris Holder and Kelsey Jaffer represented the film at the festival. The first-year festival showcased 76 films, both short and feature length, and had over 100 filmmakers and actors in attendance.
"It was very humbling receiving this award," Crane said. "No one in our team expected our film to be called up. Family is something I deeply care about, and it's exciting to know that this story is hitting a chord with people. As artists and storytellers, that's the ultimate reward you can receive for your work."
Redshift is the story of a world-weary miner who is faced with the choice of remaining on earth with his sister and dying father or transferring to Mars to create a better life for them. Redshift finished production this past spring and has been submitted to over 30 international and domestic festivals.
"Redshift stands out at the festival level due to the wonderful story and Midwest landscapes and terrain that so many west coast films lack," said Dr. Lance Clark, professor of digital media art. "We are so thrilled that this film did so well in Chicago and are very hopeful that it will have a very long and successful festival run this next year. Seeing your student work compete so well is one of the great joys of teaching."
The following worked on Redshift:
HU Alumni: Payton Dorothy, Corvallis, Oregon
HU Seniors: Benjamin Crane, Richmond, Indiana; Zachary McIntyre, Fort Wayne, Indiana; Taylor Warkentine, Angola, Indiana; Joel Livengood, New Haven, Indiana; Joshua Bellis, Hollister, Missouri; Joshua Rosebrough, Grand Forks, North Dakota; and Aaron Hamilton, Columbus, Ohio
HU Juniors: Joseph Walls, Franklin, Indiana; Valerie Dalton, South Bend, Indiana; Olivia Ranz, Fishers, Indiana; and Steven Turk, Murrieta, California
HU Sophomores: Caleb Kanagaratnam, Perrysburg, Ohio; Shelby Price, Logansport, Indiana; Otto Bjartmarz, Iceland; Daniel Carpenter, Arlington Heights, Illinois; Rachel Blauert, Rochester, Minnesota; Samantha Creager, Yoder, Indiana; Charles Lowery, Fort Wayne, Indiana; and Zach Snyder, Hudsonville, Michigan
Watch Redshift's trailer.
Visit Redshift on Facebook.
Redshift on IMDB.
Complete list of film festival winners.