HUAZ nominated for Arizoni Awards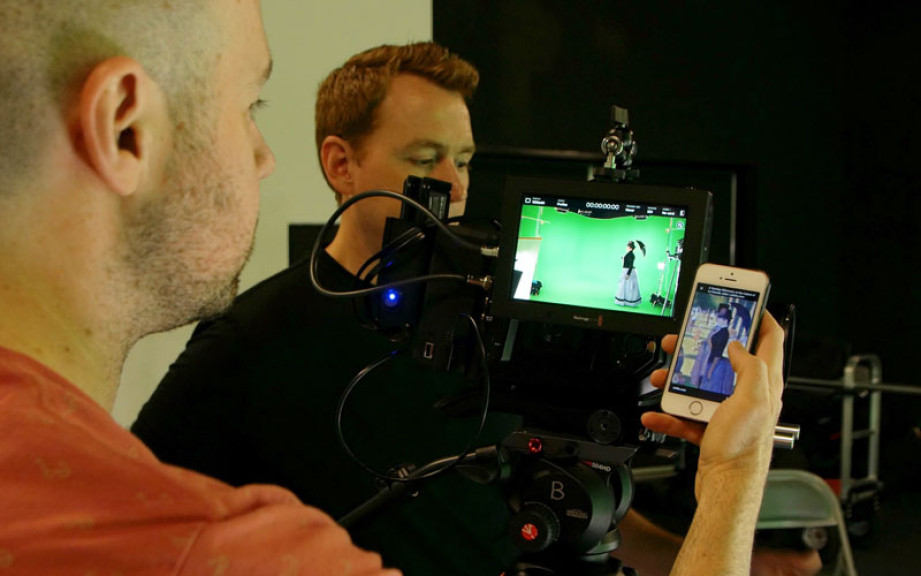 FOR RELEASE: Friday, September 1, 2017
Huntington University Arizona (HUAZ) announced that three students and two faculty have been nominated for the 2016-2017 Arizoni Awards. The Arizoni Awards celebrate Excellence in Theater in Arizona and will be presented at an evening ceremony in Phoenix on September 25, 2017.
Josiah Duka (North Phoenix, AZ), Sarah Wickenhauser (Sun City West, AZ) and Joe Stone (Glendale, AZ), along with Phil Wilson, Arizona Digital Media Arts Program Director, and Dan Sidler, Adjunct Professor of Graphic Design, were nominated for video elements and projection design in the Artistic Specialization category. The HUAZ team created video graphics of George Seurat's work to be used as part of a play, Sunday in the Park with George.
HUAZ has been collaborating with Theater Works of Peoria since the university opened its doors in August 2016. Chris Hamby, Theater Works' Producing Artistic Director, contacted Huntington University to inquire if they had an interest in forming a partnership on creative projects. Along with Sunday in the Park with George, HUAZ has used Theater Works and its orchestra pit as a location for the award-winning short film The Amazing Mortimer. The university also commissioned a Theater Works designer to help build the set in Studio A, a film and broadcasting production stage.
"Theater in Phoenix is of a high caliber. You're talking about the fifth largest city in the United States, so to be nominated for our collaborative efforts with Theater Works is huge honor," stated Wilson. "I am so proud of our students and grateful to have been asked by the team at Theater Works to help bring Sunday in the Park with George to life. I'm thrilled with this response from the Arizona theater community and very happy for our students to receive this recognition."
HUAZ just began its second year of operation in August with a cohort of 80 students after opening with 18 students in the fall of 2016. The facility, a 30,000 square-foot building, houses bachelor's degree programs in animation, film production, broadcast media and graphic design. The facility features film and TV studios, high-end computer classroom/labs, private editing suites, a state-of-the-art TV control room, Foley pit, a host of EFP and cinema cameras, and lighting gear for student production work.