HUAZ students win Academy of Television Arts & Sciences awards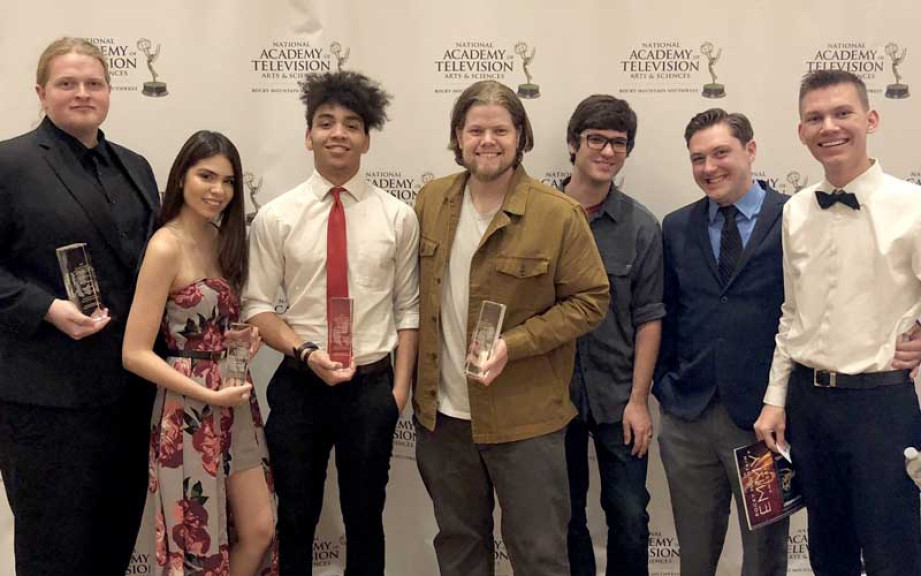 FOR RELEASE: Thursday, October 19, 2017
Huntington University Arizona (HUAZ) announced that five students won Student Production Awards given by the Rocky Mountain Southwest Chapter of The National Academy of Television Arts & Sciences. The 40th annual awards ceremony was held on October 14 in Phoenix, Arizona.
"The Rocky Mountain Emmy Chapter recognize excellence in television in Arizona, Utah, New Mexico, and part of California. I am delighted that in our first year of operations our students competed at the multi-state level and took home top honors in four separate categories," stated Phil Wilson, Huntington University's Arizona Digital Media Arts Program Director. "It is validating to us as a center and myself as a faculty member, but more importantly, it rewards our HUAZ students for the long hours they put in crafting and honing these projects."
The second-year HUAZ students who were recipients of the 2017 Student Production Award included:
Writing – Sarah Wickenhauser, an animation major from Sun City, Arizona for "My Journey Thus Far"
Music Video – Lisette Perez, a film production major from Goodyear, Arizona and Joe Stone, a film production major from Glendale, Arizona for "Run to You" by To the Hills
Director – Josiah Hunt, a film production major from Tucson, Arizona for a compilation of projects
Photographer – Ryan O'Grady, a film production major from Peoria, Arizona for a compilation of projects
To view the complete list of winners, please visit http://rockymountainemmy.org/wp-content/uploads/2017/10/student-production-awards.pdf
The Rocky Mountain Southwest Chapter of the National Academy of Television Arts and Sciences is dedicated to excellence in television by honoring exceptional work through the prestigious Emmy® Award. It is the only professional association representing television professionals from all disciplines of the industry, serving as the common meeting ground for individuals dedicated to advancing the art and science of television.
HUAZ began its second year of operation in August with a cohort of 80 students after opening with 18 students in the fall of 2016. The facility, a 30,000 square-foot building, houses bachelor's degree programs in animation, film production, broadcast media and graphic design. The facility features film and TV studios, high-end computer classroom/labs, private editing suites, a state-of-the-art TV control room, Foley pit, a host of EFP and cinema cameras, and lighting gear for student production work.