OTD student video selected in national AOTA contest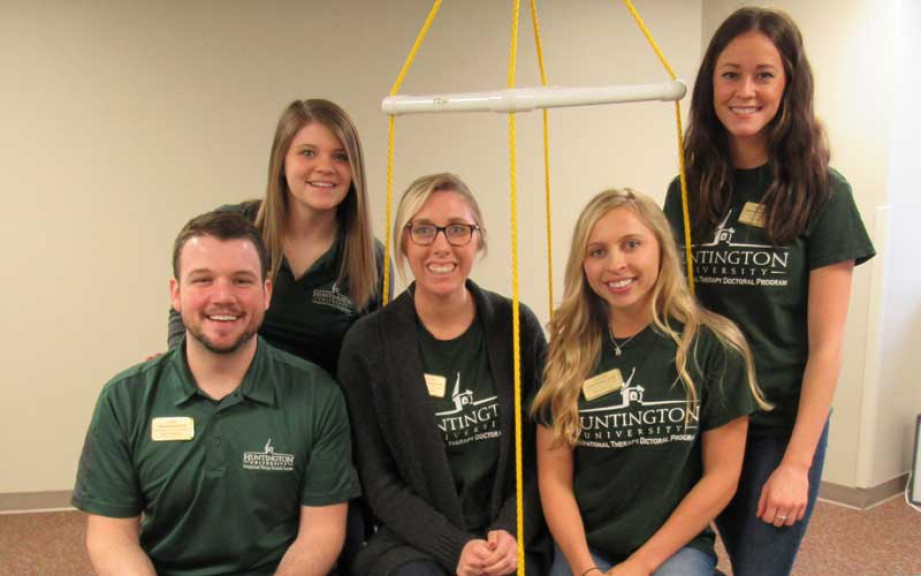 FOR RELEASE: Wednesday, May 10, 2017
Huntington University's second year Doctor of Occupational Therapy students Caroline Hesterman (Fort Wayne, Indiana), Mallory Coleman (Milford, Ohio), Cody Zimmer (Peru, Indiana), Danielle Brenner (Lima, Ohio), and Caitlin Hansen (Indianapolis, Indiana) collaborated on a video project that was selected as one of 10 videos by the American Occupational Therapy Association (AOTA) to represent the Student Centennial Video project. The student's video was titled "Celebrating 100 years of Occupational Therapy."
The call for student videos was held to celebrate occupational therapy's 100th anniversary this year as a profession and was an assignment for one of HU's semester education classes. The call for videos was a national student AOTA delegate opportunity offered to all occupational therapy and occupational therapy assistant programs. There were a total of 67 videos submitted by students.
"It was truly inspiring to see the student's dedication, understanding and passion for occupational therapy while representing HU on a national level," stated Dr. Denise Hoffman, Assistant Professor of Occupational Therapy.
The AOTA believes the true impact of occupational therapy is inherently seen through the eyes of its clients. Therefore, an occupational therapy practitioner's influence is not only expressed through a client's physical or cognitive improvement, but also in his or her ability to live life to its fullest—the power of occupation.
To inspire and educate others, the AOTA asked occupational therapy students and practitioners to submit 45- to 75-second videos that capture "the power of occupation." This was not a contest, and the goal was not to determine the best video, but rather to create a gallery of experiences. The selected videos illustrate the depth and variety of how occupational therapy practitioners have an impact on individuals' lives.
The 10 chosen videos received recognition at the AOTA's National Conference on March 31st and have been posted on its centennial website, www.aota.org. The videos were also be featured during the Assembly of Student Delegates Annual Meeting.
Huntington University's OTD program began in 2014 and has been ranked #1 out of 450 OT schools in the United States by GraduatePrograms.com. The OTD program has been granted full accreditation by the Accreditation Council for Occupational Therapy Education of the doctorate degree for the next seven years. This year marks the first graduating class of Huntington University's Doctor of Occupational Therapy program with 32 students.