OTD Students Make Life More Accessible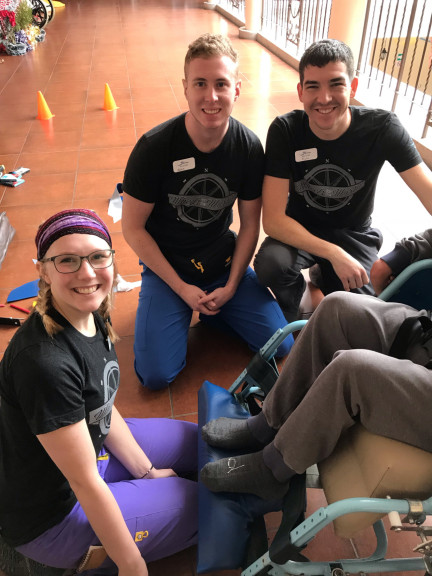 FOR RELEASE: Thursday, February 7, 2019
Huntington University Occupational Therapy doctoral (OTD) students spent J-Term in Guatemala working with Wheels for the World to provide seating and mobility services for individuals with disabilities.
"By the end of the week, more than 150 individuals were served and 35 began a relationship with Jesus Christ through partnership with local pastors and churches," said Nathan Short, assistant professor of occupational therapy and assistant director of operations. "The students did an amazing job and we hope this is only the beginning of their combining faith and calling to serve the Lord through their profession."
Students that went on this trip included first-year students Natalie Bozett, Liz Britton, Adam Horty, Molly Lovasko, Katheline Melei, Kaelie Nedrow, Audrey Post, and Maddie Waldfogel, and third-year students Kyle Menchoffer and Casey Hobbs, who served as mentors.
The students worked closely with licensed occupational therapists to provide the aids that the individuals needed. Because of the mobility that the given aids provide, the individuals are able to be more independent and can participate within the community more than before.