Quad-Major Receives History Award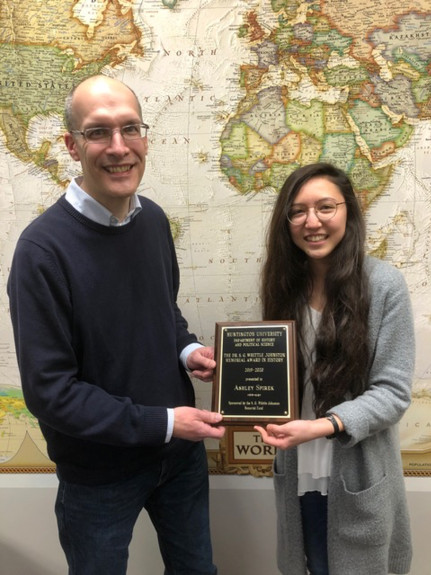 FOR RELEASE: Thursday, March 19, 2020
Huntington University's Department of History & Political Science has presented the 2020 S.G. Whittle Johnston Memorial Award in History to Ashley Spirek.
The S.G. Whittle Johnston Memorial Award in History was established by a Huntington University history alumna to honor the memory of this alum's graduate school mentor. By funding the award, the donor wishes to encourage upper-level history students in their undergraduate study of history. The award goes to a junior or senior history major who submits the most outstanding work of original scholarship. Each year the recipient receives a plaque and a cash award.
Spirek, from Kyiv, Ukraine, is a quadruple major in history, philosophy, political science, and international & development studies. Upon graduation in May 2021, she hopes to pursue further study in history. Spirek received the award for her paper about the Vietnam War from a prompt: "Assess the view that from 1949 to the Tet Offensive America 'chose war' and that after Tet America 'chose peace.'"
"Ashley has produced an exemplary research paper. In doing so, she has demonstrated a highly felicitous and coherent understanding of one of America's most contested Cold War episodes. This was achieved through a sophisticated use of examples and a highly lucid academic writing style. The result is a most dynamic and engaging paper," stated Dr. Tim Smith, professor of history.
Huntington University's Department of History & Political Science offers a broad program of study that is research-led and taught by professors who are dedicated to their students. Students develop abilities in literary and oral communication, argument analysis, teamwork, independent research and presentation skills that equip them for careers in law, political science, not-for-profit sectors, business, media and government.
Huntington University is a comprehensive Christian college of the liberal arts offering graduate and undergraduate programs in more than 70 academic concentrations. U.S. News & World Report ranks Huntington among the best colleges in the Midwest, and Forbes.com has listed the university as one of America's Best Colleges. Additionally, Princeton Review has named the institution a "Best Midwestern College." Founded in 1897 by the Church of the United Brethren in Christ, Huntington University is located on a contemporary, lakeside campus in northeast Indiana. The non-profit university is a member of the Council for Christian Colleges and Universities (CCCU).