How May We Serve You?
The Business Office strives to provide top-level service to allow students to focus on their Top-Value Education rather than financial matters.
Conveniently located on the first floor of historic Becker Hall, the Business Office offers services relating to student accounts as well as the financial affairs of the University. Our goal is to provide students and their families convenient online access to important information. We are also always happy to assist you in person, by phone, or by email.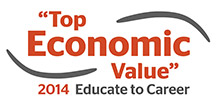 Huntington University has been ranked as the top school in Indiana for its economic value by Educate to Career's recent college rankings. Huntington was named No. 39 out of more than 1,200 schools nationwide.
We are here to serve you!
Academic Year Hours
Monday-Friday 7:30 AM to 5:00 PM
Cashier Window: 9:00 AM to 4:00 PM
Summer Hours
Monday-Thursday 7:30 AM to 5:00 PM
Friday 7:30 AM to 12:30 PM
Students may view available statements and records anytime on the Student Portal.