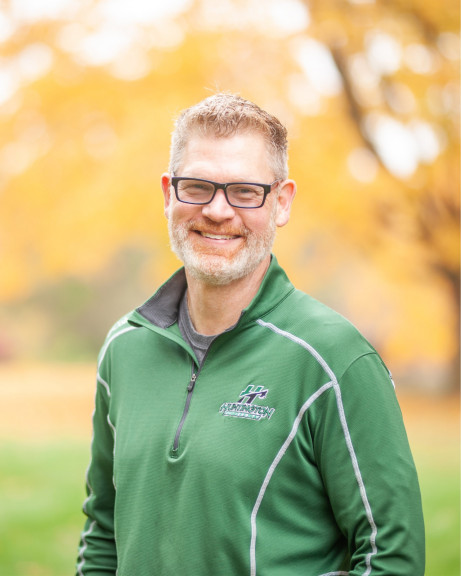 Lance Clark
Dean of the Arts, Professor of Digital Media Arts / Film
(260) 359-4281
lclark@huntington.edu
Since joining the faculty in 1993, Dr. Lance Clark has helped to grow the Digital Media Arts Department at Huntington University into one of the truly outstanding programs within the 100+ member CCCU Colleges and Universities. His radio, television and film students have earned top honors at the Broadcast Educators Association convention year after year. They also regularly land top awards at the Indiana Association of Student Broadcasters and the Fort Wayne chapter of the Advertising Federation.
Dr. Clark has produced television commercials, corporate videos, and overseas mission documentaries in Asia, Central America, Africa, and Eastern Europe. He has also served as Executive Producer over 100 student films many of which have gone on to screen in festivals and win top awards. In 2016, his film "The Gift of Hope" took national honors as a Best in Show Faculty film at the BEA's King Foundation Festival of Media Arts. He has also received the top recognition in the best videography category since 2012 in the Fort Wayne Reader's Choice Awards and has earned two Telly Awards for his nonprofit films "Father Solanus" and "United Way of Huntington County".
Clark runs his own media production company LC Media, Inc. where he hires current students and alumni as crew. He specializes in nonprofit and corporate media storytelling. In addition to his teaching responsibilities, Clark serves as the Dean of the Arts helping to give academic oversight to the various programs in our School of the Arts both in Huntington and our Arizona Center for the Arts.
For his Ph.D. in communication from Regent University (Virginia), he conducted a narrative analysis of the television series The X-Files. He earned his M.A. in Radio, TV & Film from Regent University and his B.A. from Huntington College.
Lance and his wife, Mary, have two daughters and sons-in-law. They attend and serve at Life Church in Huntington, Indiana.