$100K Gift Toward Athletics Facility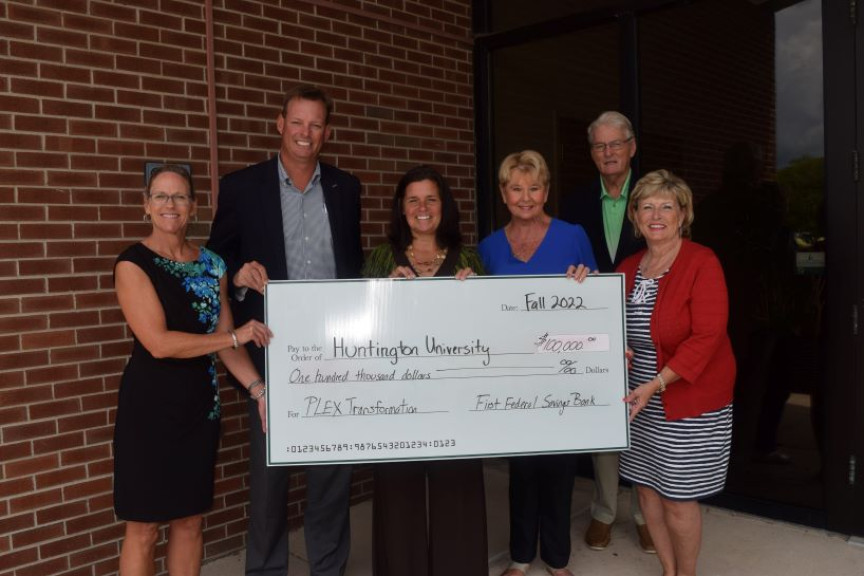 FOR RELEASE: Wednesday, September 21, 2022
Huntington University has received a $100,000 gift toward the transformation of the PLEX from First Federal Savings Bank and the Zahn family.
"Huntington University is a wonderful asset to have in our community. First Federal Savings Bank and the Zahn family are dedicated to help make Huntington the best version of itself. By supporting the University, which has been a pillar of Huntington for 125 years, that fits into the Bank's and family's mission," said Michael Zahn, president/CEO of First Federal Savings Bank. "We are fortunate to be able to support the University and look forward to the next 125 years."
Work has officially begun on the PLEX transformation. This $18.7 million project will upgrade the 90,000-plus-square-foot facility to a best-in-class venue. Once complete, the PLEX will feature three large arena and gym spaces, substantially expanded weight and cardio areas, a large entry lobby, hospitality suites, a pro shop, a hall of fame, and larger classrooms.
"First Federal Savings Bank and the Zahn family have been incredible community partners for the University for many years," said Stephen Weingart, vice president for university advancement. "The Forester Family is grateful for their continued support, and we look forward to seeing how this gift will impact home campus and the community."
To learn more about the PLEX project or to be a part of the PLEX campaign, visit huntington.edu/PLEX.
Huntington University is a comprehensive Christian college of the liberal arts offering award-winning graduate and undergraduate programs in more than 70 academic concentrations. Founded in Huntington, Indiana, in 1897 by the Church of the United Brethren in Christ, Huntington University has over a century of experience educating graduates who are ready to impact the world for Christ through scholarship and service. The nonprofit university operates at three academic locations, including the original home campus in Huntington, a doctoral program in occupational therapy location in Fort Wayne, Indiana, and an undergraduate and doctoral program location in Peoria, Arizona. Online programs are also available. Huntington University's home campus offers 17 men's and women's athletic programs, and the university is a member of the Council for Christian Colleges and Universities (CCCU).