Aquaponics Makes a Splash at HU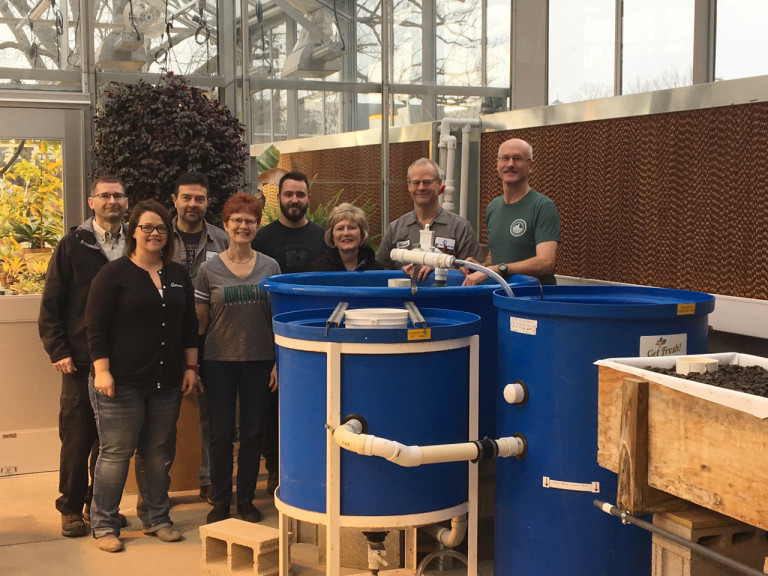 FOR RELEASE: Monday, June 17, 2019
The Ware Plant Science Production Facility at Huntington University is expanding its production from soil-grown flora and fauna to plants grown in water, thanks to the addition of an aquaponics system this semester.
"Huntington University continues to look for ways to strengthen the presence of food and agriculture in the northeast Indiana regional economy," said Dr. Sherilyn Emberton, president of Huntington University. "Having an educational aquaponics system located in HU's Ware Plant Science Production Facility allows faculty and students hands-on experience with the integration of the two."
The aquaponics system will provide opportunities for students of the natural sciences to learn more about plant life, aquatic life such as fish and bacteria, aquatic agroecosystems and innovations in food production. Students will also be involved in the care and maintenance of the system, planting and harvesting plants and feeding fish.
An aquaponics system replicates what happens in nature when plants grow on the surface of a pond. Each system contains water, fish, naturally-occurring bacteria and plants. Plants grow in a media bed that keeps them afloat but allows roots to float freely in the water below. Although plants and fish in a pond can grow simultaneously without human interference, an aquaponics system in a greenhouse first requires a human to feed the fish. The fish then produce ammonium-rich waste; the bacteria convert the ammonium into nitrates that provide food for the plants. They, in turn, filter the water for the fish. In short, by feeding the fish, agriculturalists are able to raise food for themselves.
Aquaponics systems are similar to hydroponic systems in that they are both soilless ways to grow plants. While hydroponic systems require the addition of a carefully-regulated chemical combination to the water, however, the fish and bacteria in an aquaponics system naturally produce all the nutrients plants need to grow. As a result, an aquaponics system can use less water and requires less regulatory testing than a hydroponics system.
The current educational aquaponics system at Huntington University was donated by Fort Wayne Metals. With the capacity to hold 300 gallons of water, this system has an estimated value of $2,600.