Big Fish Comes to HU's Biggest Stage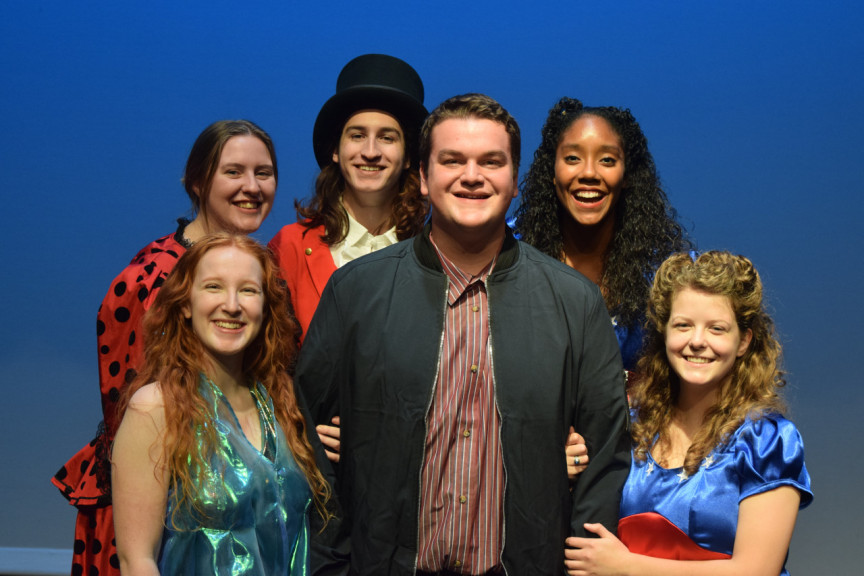 FOR RELEASE: Tuesday, November 16, 2021
A whale of a tale is coming to Huntington University's stage this week! Big Fish will open on November 18, with additional shows on November 18 and 19.
Based on the celebrated novel by Daniel Wallace and the acclaimed film directed by Tim Burton, Big Fish centers on Edward Bloom, a traveling salesman who lives life to its fullest…and then some! Edward's incredible, larger-than-life stories thrill everyone around him—most of all, his devoted wife Sandra. But their son Will, about to have a child of his own, is determined to find the truth behind his father's epic tales. Overflowing with heart, humor and spectacular stagecraft, Big Fish is an extraordinary Broadway musical that reminds us why we love going to the theatre—for an experience that's richer, funnier and BIGGER than life itself.
Cast
Edward Bloom – Carson Cunningham
Will Bloom – Josh Thomas
Sandra Bloom – Emily Kars
Young Will – Jack Hawkins
Josephine Bloom – Julia Till
Karl/Fisherman/US Soldier – Joseph Landon
Amos Callaway/US Soldier – Nick Robinson
Don Price/Dr. Bennett/Male Soldier – Dan Isaacs
The Witch/Sorority Girl/Karl's Girlfriend/Cheerleader – Anna Bowland
Jenny Hill/USO Dancer – CaSaundra Taulton
Girl in the Water/Mermaid/Nurse/Sorority Girl/Alabama Lamb/Witch Ensemble 4/USO Dancer – Rebecca Zorn
Zacky Price/Red Fang – Elias Collier
Witch Ensemble 1/Alabama Lamb 1/USO Dancer/Sorority Girl/Shepard (Line), Cheerleader/Circus Person – Alli Jennings
Amos's Wife/Witch Ensemble 2/Mayor/Circus Person/USO Dancer/Sorority Girl – Augustia Robinson
Witch Ensemble 3/Circus Person/Sorority Girl/Shotgun Totting Cheerleader – Akyra Huguley
School Teacher/Sorority Girl/Circus Person – Christine Niccum
Share Cropper/Soldier/Frat Guy – John Ulery
Little Girl w/Cat/Sorority Girl/Circus Person – Lydia Welch
General/Frat Guy/NY Doctor/Circus Person/Barber – Cody Feisel
Crew
Director – Adam Sahli (adjunct, guest artist)
Music Director – Melanie Carter (adjunct, guest artist)
Choreographer – Desiree Jackson (adjunct, guest artist)
Assistant Director – Augustia Robinson (senior theatre performance major)
Stage Manager – Skye Vadeboncoeur (junior theatre major)
Assistant Stage Managers – Lydia Welch (student) and Rose Watson (freshman theatre major)
Lighting Designer – Alex Koontz (senior theatre technology major)
Costume Designer – Kandra Tenuto
Scenic Designer – Andrew Edmonds
Sound Designer – Victor Fink (senior theatre minor)
Dance captains – ReBecca Zorn (sophomore theatre minor) and Joseph Landon (senior theatre minor)
Producer – Ryan Long
Assistant Producer – Akyra Huguley (sophomore theatre major)
Get your tickets at www.huntington.edu/BigFish.
Big Fish (School Edition) is presented through special arrangement with and all authorized performance materials are supplied by Theatrical Rights Worldwide, 1180 Avenue of the Americas, Suite 640, New York, NY 10036. www.theatricalrights.com