Cinderella On Stage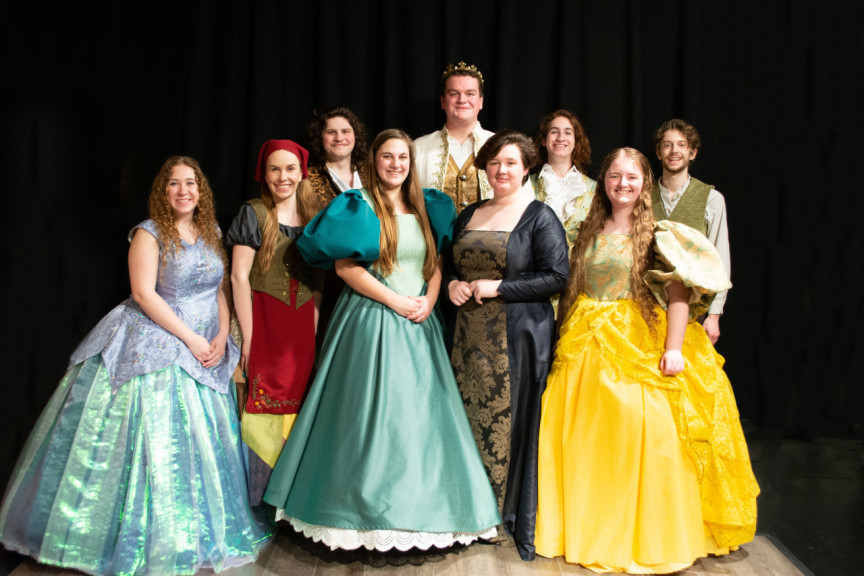 FOR RELEASE: Friday, April 9, 2021
The Huntington University Theatre Company is proud to present Rodgers + Hammerstein's Cinderella. Directed by returning guest director Adam Sahli, this show is the new Broadway adaptation of the classic musical; a contemporary take on the classic tale features Rodgers & Hammerstein's most beloved songs, including "In My Own Little Corner," "Impossible/It's Possible" and "Ten Minutes Ago," alongside an up-to-date, hilarious and romantic libretto by Tony Award-nominee Douglas Carter Beane.
"This show is a joy to me," said Sahli. "I love doing Rodgers + Hammerstein productions because they were so ahead of their time particularly in terms of social issues. This version of Cinderella is with a new script where Ella is the catalyst for change not only in her own life but for the community in which she lives.  This new script paired with the incredible music places Cinderella where it, and she, belongs in the musical theatre cannon."
The characters and crew couldn't agree more.
Rachel Geders (Ella) and Carson Cunningham (Prince Topher) both cited the joy it has been for them to embrace these iconic roles. While Elizabeth Hancock (Madame) is thoroughly enjoying the chance to play the story's villain. Traditionally one to play "softer roles," Hancock is excited to play a role that she says makes her feel "powerful."
For Sahli, this is exactly the type of passion and energy he thrives on when directing a show. "The greatest joy is always when I see an actor lose themselves in the moment. This happens throughout this piece these actors are each so committed to what they are doing that they each have moments where I see them lose themselves in for a second or a minute and they are nothing but joyfully lost in their character. When we have audiences coming to see the show they will be in for a treat watching these incredible young people do something they love in such a meaningful way."
Cinderella will be on stage on April 15, 16, & 17 at 7:30 p.m., and April 17 at 2:00 p.m. in the Merillat Centre for the Arts - Zurcher Auditorium and streamed live via ShowTix4U.com.
Tickets can be purchased at huntington.edu/Cinderella.