Donation provides enhanced ag studies programming at Huntington University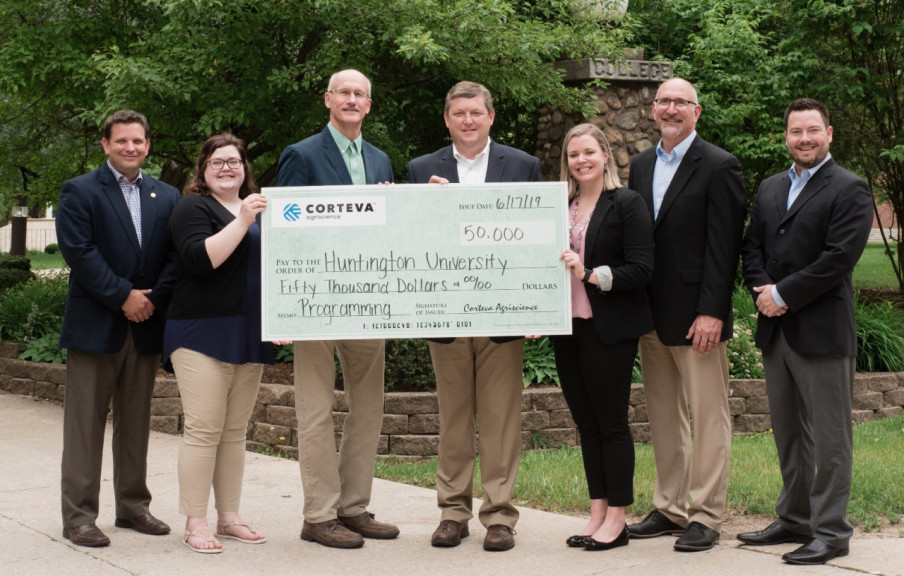 FOR RELEASE: Monday, August 12, 2019
Agricultural studies programs at Huntington University will have access to new equipment and programming in the 2019-20 academic year, thanks to a recent donation from Corteva Agriscience.
The $50,000 gift will directly benefit students and programs in the Huntington University Department of Agriculture through avenues like promoting the continued success of on-campus events that the department hosts each year, including a guest lecture series that will be open to current students, HU graduates and the greater Huntington and agriculture community. Corteva will be named the lead sponsor of the agriculture lecture series, which will take place during such events as the Annual Harvest Celebration, the FFA Leadership Summit and the National Ag Day Breakfast.
The funding was fostered through the relationship between Huntington University and Dairyland Seed, a regional seed brand of Corteva.
"We're excited to help assure the future of agriculture studies for students at Huntington University," said Doug Rice, Multi-Channel Seed sales effectiveness manager, Corteva Agriscience. "We hope the relationship with Corteva Agriscience, Dairyland Seed and Huntington University will continue to develop through the use of this funding."
Corteva is dedicated to enriching lives around the world through innovation, collaboration and leadership in agriculture and across the food system. Similarly, the Huntington University Department of Agriculture is committed to raising the next generation of agricultural leaders who will impact the world through innovation and good stewardship.
"The gift from Corteva greatly impacts the operations of the agricultural studies program," said Nate Perry, coordinator of ag operations and external relations at Huntington University. "These funds will be used to enhance the research opportunities for the students in the labs on a day-to-day basis. Additionally, the annual ag events hosted on campus will reflect the organization's gift as top-notch speakers from across the region and nation are secured to engage our students and ag community in discussion about the good works of agriculture."
Huntington University agricultural studies graduates have immediately and successfully entered the workplace or graduate school with a 100 percent placement rate, and a number of students have graduated in less than four years.