Agriculture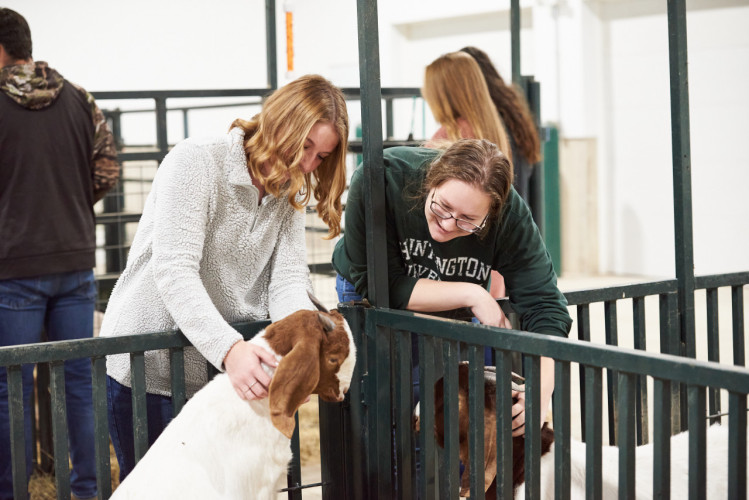 Agriculture can be a family legacy, a global ministry opportunity, or a lifeblood of communities, enabling you to work the land, innovate techniques and technology, or educate the public. Yet agriculture is so much more.
As one of only a handful of evangelical universities in the United States to offer a four-year agriculture program, Huntington University recognizes the unique relationship between opportunities in agriculture and the call to Christian stewardship.
That's why you'll find us at the intersection of faith, family, and farming.
Do you want to see what ag at HU is like? Click the image to see for yourself!
Bachelor of Science in Agribusiness (8 tracks)
The agriculture industry needs a variety of talents to lead the way for food and resources production for the future. With eight tracks in agribusiness, we have focused degrees tailored to your plans for your career:
Animal Production
Communications & Public Policy
Crop Production
Economics & Finance
Entrepreneurial Small Business Management
Management
Marketing
Ministry & Missions
Specialize in the area that suits your gifts and goals, taking major-specific classes like:
Agroecology
Animal Anatomy & Physiology
Animal Health & Disease
Crop Health
Crop Production
Developing an Entrepreneurial Perspective
Food Science
Livestock Production
Marketing of Ag Products
Mission Leadership
Operation Management
Plant Breeding
Salesmanship
Soil Science
Bachelor of Science in Agricultural Education
Inspire the next generation to impact the world for Christ through agriculture in a classroom of your own and a focus on agribusiness, animal science, or crop science. Take agriculture classes like these, along with a collection of education classes that will prepare you for the classroom:
Agricultural Machinery Operation & Safety
Agroecology
Animal Science
Cell Biology
Construction & Maintenance
Crop Health and Pest Management
Crop Science
Food Science
Marketing of Ag Products
Soil Science
Welding
Bachelor of Science in Animal Science
Focus your attention on the science behind animal production, from anatomy to zoology. Take classes like:
Agroecology
Animal Anatomy & Physiology
Animal Growth & Development
Animal Health & Disease
Animal Science
Cell Biology
Comparative Embryology
Livestock Management & Production
Nutrition of Farm Animals
Reproduction & Breeding
Bachelor of Science in Crop Science & Agronomy
Combine courses in natural science with a targeted focus on crops and crop production. Take classes like:
Botany
Cell Biology
Crop Health & Pest Management
Crop Production
Crop Science
Genetics
Microbiology
Plant Breeding
Precision Agriculture Basics
Soil Science
Bachelor of Science in Biology – Pre-Vet
Prepare for graduate school and a career taking care of animals with a curriculum based in medical excellence and agriculture. Take classes like:
Animal Anatomy & Physiology
Animal Science
Cell Biology
Comparative Embryology
Ecology/Agroecology
Environmental Resources
General Microbiology
Genetics
Nutrition of Farm Animals
Zoology
Learn more here.
Bachelor of Science in Animal Health + Associate of Applied Science in Veterinary Nursing
Through this concurrent dual-degree program, you will take in-person classes on Huntington University's home campus and online classes in Purdue University's Veterinary Nursing Distance Learning (VNDL) program. A robust four-year plan enables you to graduate with two degrees at once: a Huntington University bachelor's degree in animal health and a Purdue University associates degree in veterinary nursing.
The dual-degree program combines Purdue's strong VNDL program with HU's Christ-centered approach to agriculture and animal health. You will work alongside a community of peers on HU's campus and have access to a local veterinary nursing advisor. In addition to traditional in-person and online coursework, you will complete mentorship hours.
Purdue University's veterinary nursing program has been American Veterinary Medical Association (AVMA) accredited since 1976 and is one of four AVMA accredited veterinary nursing programs in the country affiliated with a College of Veterinary Medicine.
Indiana and most states require credentialing for Veterinary Technicians. Credentialing requires passing the Veterinary Technician National Examination (VTNE) and registering with the Indiana Professional Licensing Agency. Purdue's veterinary nursing students have a 90-95% first-time pass rate on the VTNE.
Agbioscience Academy
What part will you play in feeding nine billion people by 2050? Do you enjoy working with crops and plants? Are you interested in developing feed rations and learning about animal nutrition? Do you like looking getting your hands dirty identifying soil structures? Does learning about precision agriculture and technology get you excited?
Join us at Huntington University for Agbioscience Academy in July 2023.
Learn More & Register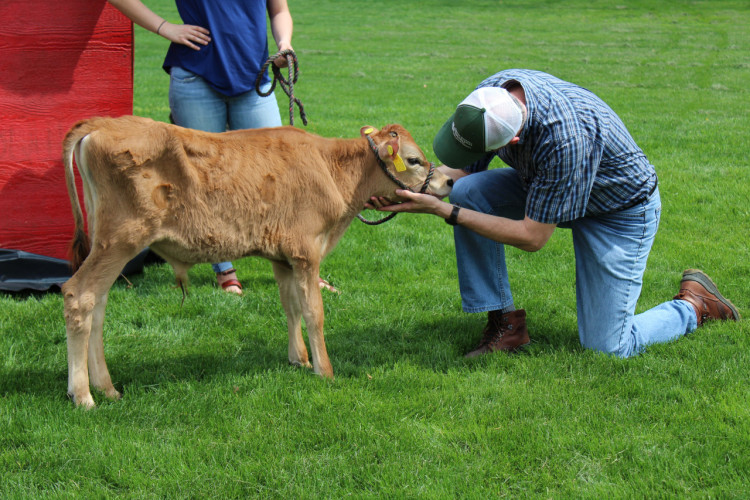 Internships and practical experiences are built into the heart of agriculture at Huntington University. All students complete at least one internship experience, with most completing several. Our students have worked all over the country based on their interest — at farms, ranches, banks, and more — and have even worked overseas.
Closer to home, our agriculture assets integrate experiential learning:
The Ware Plant Science Production Facility, including an aquaponics system
The Outdoor Learning Lab at Thornhill Nature Preserve for
field crop trials and production*
The Don Strauss Animal Science Education Center
The Livestock Learning Lab at Three Rivers Farm*
These assets provide opportunities for research and interaction with the tools and products of the agriculture trade.
*Managed by Huntington University's Forester Farms LLC
Don Strauss Animal Science Education Center
The Don Strauss Animal Science Education Center (DSASEC) opened in November 2020 and serves as an on-campus experiential learning space for students majoring in agribusiness-animal production, animal science, and pre-veterinary medicine. The 10,000-square-foot facility includes a flexible pen space with the ability to adapt to different species of farm animals as well as enclosed pen spaces for animals that require more isolation and/or consistent temperature. Included in the space is a 1,400-square-foot classroom with observation windows overlooking the flexible pens.
The DSASEC serves as a lab experience for those students enrolled in courses such as Animal Anatomy and Physiology, Nutrition of Farm Animals, Animal Health and Disease, and Reproduction and Breeding. Student groups such as the Pre-Vet Club, Collegiate Farm Bureau, and the Livestock Judging Team call the DSASEC home base.
When appropriate, the center also serves as a space for area K-12 schools to visit and learn more about Huntington University and also the animal industry. Area 4-H clubs and FFA chapters have utilized the space as part of their youth programming. Additional community groups such as Ag Plus and Purina Feeds have used the classroom as meeting space for feeding demonstrations.
Ware Plant Science Production Facility
The 2,000-square-foot Ware Plant Science Production Facility sits adjacent to the southeast side of Dowden Science Hall. It features an aluminum frame with clear insulated glass and a multiwall polycarbonate roof for heat retention abilities, impact resistance, and light diffusion. The facility is designed to be split into two independent zones, one for student instruction and one for research and production purposes. Environmental control technology via an advanced digital horticultural controller system allows us to customize settings and maintain environmental conditions per our specific needs. The facility includes a 300-gallon aquaponics system.
Thornhill Nature Preserve
Huntington University has been caring for this property since the late 1970s, when Ms. Mabel Thorne gifted it to the University. Located 10 minutes north of home campus, there are three parcels of land at Thornhill, including tillable acres, common space and buildings, and a nature preserve. Approximately 30 acres are tillable and are divided into four separate tracts. The largest parcel is 14 acres and has become the focal point of field activities and observations for agribusiness crop production and crop science and agronomy students.
Until 2019, the tillable acres were rented to a local farmer. Today, the acres are operated by Huntington University's Forester Farms. Dairyland Seed provided the corn seed for the crop trials in 2019 on the 14-acre parcel. In 2020, we expanded operations to all parcels and once again partnered with Dairyland Seed to conduct a soybean trial and a corn variety trial. Additionally, Direct Enterprises provided sweet corn seed, intended to provide corn for sale to the campus and local communities in 2020.
Crop research has focused on the impact of microbial activity, management practices, and varieties on soil health and yield. In 2021, the University conducted a row-spacing wheat trial for Pioneer. Students compared 7.5" rows seeded with a John Deere no-till drill to 15" rows planted with a Kinze split-row planter. After wheat harvest, we completed a tillage demonstration with TTG Equipment and a John Deere variable tillage tool. Additional partners have included AgPlus (chemcials and fertilizers), BioDyne (microbial products), ForeFront Ag Solutions (agronomy), Elite Ag Solutions (AgLeader Precision components) and the Tri-County New Holland Group (New Holland tractor).
Thornhill complements the Ware Plant Science Production Facility greenhouse on home campus by providing an outdoor learning lab for courses such as Crop Science, Data Management (GIS), Soil and Weather Science, Crop Health and Pest Management, and Crop Production. Future research projects involving faculty and students are being developed in conversation with the above-mentioned partners and others. Some of these future areas may include one or more of the following: microbial products; cover crop management; products and practices affecting pests and diseases as well as crop growth; tillage, planting, and residue management practices; crop rotations; and crop variety comparisons.
Three Rivers Farm
In early 2020, the property owners of this 25-acre facility inquired with Huntington University leadership to gauge the interest in taking over this property. A few months later, the University began operating the farm located 20 minutes north of campus. The facility includes multiple fenced-in pastures and run-outs along with three barns, including a seven-stall animal barn with an attached office space.
Forester Farms currently has three registered Shorthorn cattle and three registered Angus cattle housed at this facility. One of the angus heifers were born at the Three Rivers Farm. Forester Farms is also using this facility to generate additional revenue from producing and selling baled hay.
Three Rivers Farm will serve as a hands-on learning experience for students pursuing degrees in agribusiness animal production, animal science, and pre-veterinary medicine. The farm will serve as a lab experience for courses such as Animal Health and Disease, Livestock Management and Production, and Animal Growth and Development. Additionally, students interested in joining HU's Livestock Judging Team or other competitive agriculture teams will use the space for their practices.
Internships and Outcomes
Our ag students gain practical experience at a variety of internships. Past internship locations have included the Indiana State Department of Agriculture, Pioneer Hi-Bred Int'l, Ag Plus, Farm Credit Mid-America, and Advanced Agrilytics. Those internships have led to some incredible careers at places such as Bayer, Ag Plus, Farmers State Bank, and Nutrien Ag Solutions. (Full List)
Ag Council
Established in 2013, the Agriculture Advisory Council consists of members from the ag industry and from Huntington University.
Officers
President — Mr. Joe Kessie, Senior Vice President of Lake City Bank
Vice-President — Jeff Mize, CEO of Ag Plus
Secretary/Treasurer — Bobby Caley, Owner of Caley Farms
Ag Industry Members
Bob Krouse, CEO of MPS Egg Farms
Doug Rice, Sales Effectiveness Manager - Multi-Channel Seed, Corteva Agriscience
RD Schrader, President of Schrader Real Estate and Auction
Kip Tom, ex officio, Former Ambassador for the United Nations Agencies for Food & Agriculture
Kassi Tom-Rowland, Partner of Tom Farms
Mark Tullis, Past President of North Central Co-Op
Dr. Douglas R.Ware, Founder and Chairman Emeritus of Nutrition Physiology Company, LLC
Founding Members
Steve Platt, Huntington County farmer, alumnus, men's basketball coach (1947 - 2021)
Dr. Dale Haupert, Whitley County farmer, owner, Dale Haupert & Associates, HU Board of Trustee (1933 - 2016)
Huntington University Members
Dr. Sherilyn Emberton, President
Dr. Jessica Bagerman, Associate Professor of Agriculture
Dr. Ann McPherren, Chair of the Business and Economics Department
Nate Perry, Managing Director - Haupert Institute
Dr. Raymie Porter, Associate Professor of Agriculture, Chair and Director of Academic Programs - Haupert Institute
100%
of Huntington University's agriculture grads complete at least one internship.
30+
ag alumni are working in the ag industry or attending graduate/veterinary school.
100+
Forester Farms manages more than 100 acres of tillable land and pasture for outdoor learning.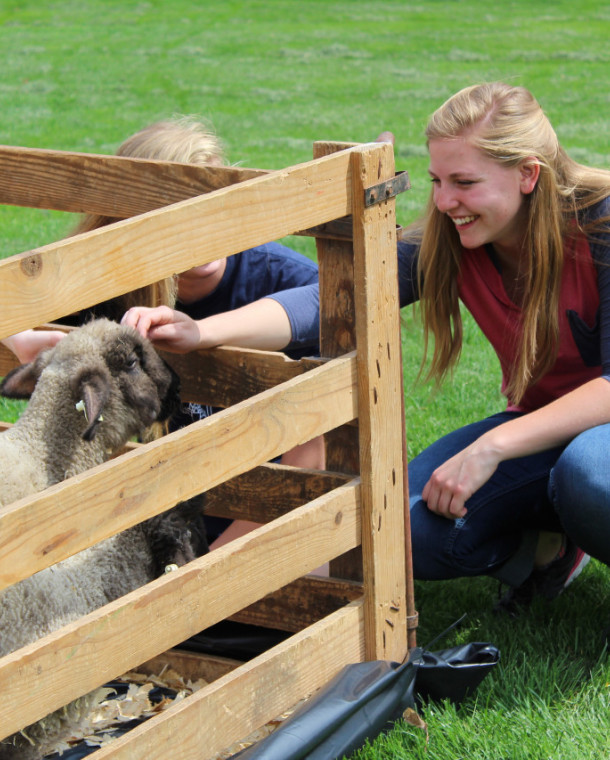 Holly Holton, Agricultural Education (2020)
"I feel ready to learn. I know that I am not going to know everything going into a new job, but I feel equipped to learn how to do the job the way it needs to be done."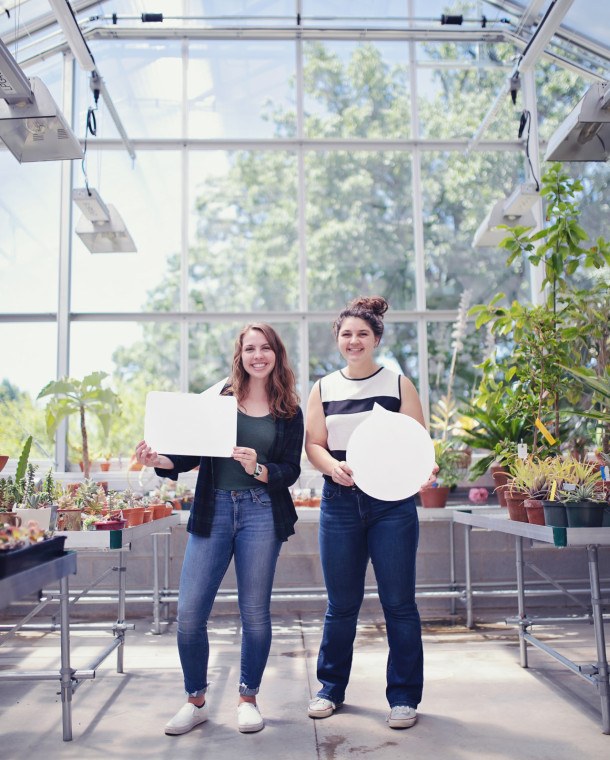 Bailey Rothrock, Agribusiness (2019)
"Huntington University has everything any other program offers. What's different is the attention you'll get when you join the program. We can engage everyone and offer opportunities to everyone. At HU, attention from the professors and other classmates comes standard."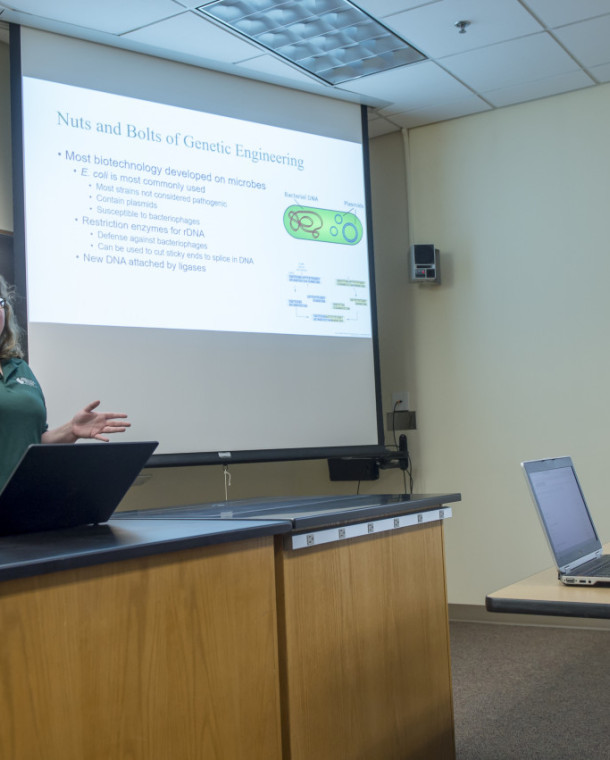 Dr. Jessica Baggerman, Assistant Professor of Agriculture
"Agriculture is an expanding area with countless opportunities, both traditional and cutting-edge. Our graduates have gone on to work for both international and local agriculture companies as well as begin graduate school."
Have you heard these myths?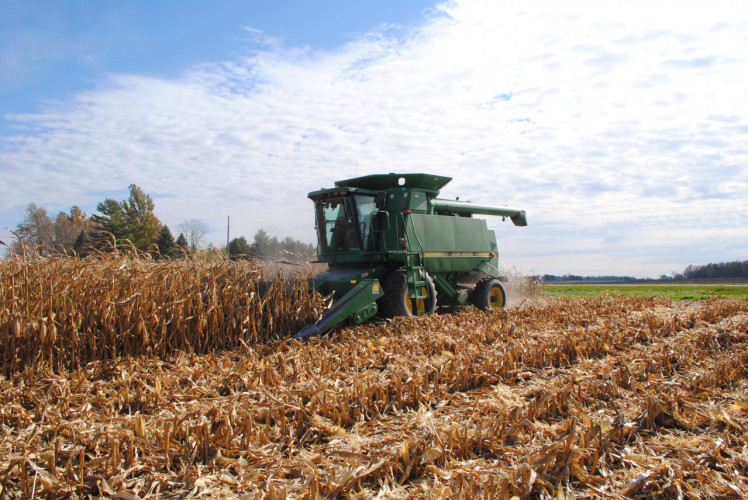 Myth 1: My ag experience will be limited to the classroom if I go to college.
Truth: Our ag program has learning spaces that will literally get you out in the field. From the outdoor learning lab at Thornhill Nature Preserve to the dedicated plant science and animal science spaces on campus, our coursework will enhance your ability to excel in your area of agricultural interest.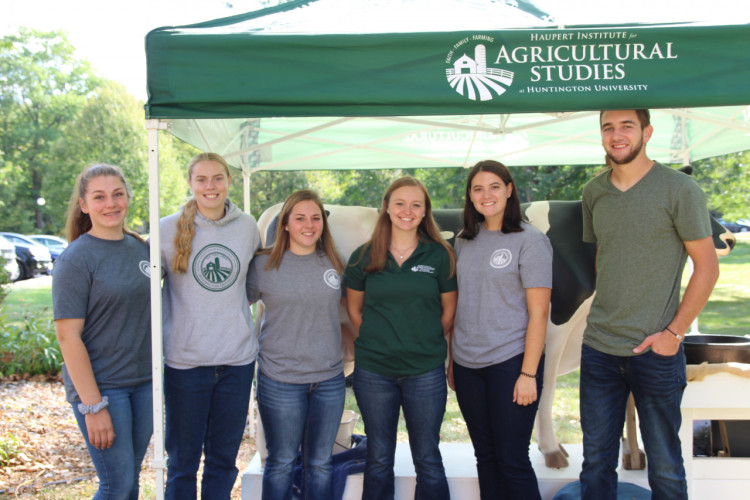 Myth 2: I could get the same experience at a non-Christian school.
Truth: While it's true that you'll graduate with similar credentials from other schools, only a Christian liberal arts university like HU provides a strong community where you'll encounter: :
Faculty and staff who teach through a lens of faith, engage with you on hard questions, and encourage you to grow academically and spiritually
A unique chance to live and study alongside other believers
Opportunities to grow spiritually through chapel, small groups, service, and classes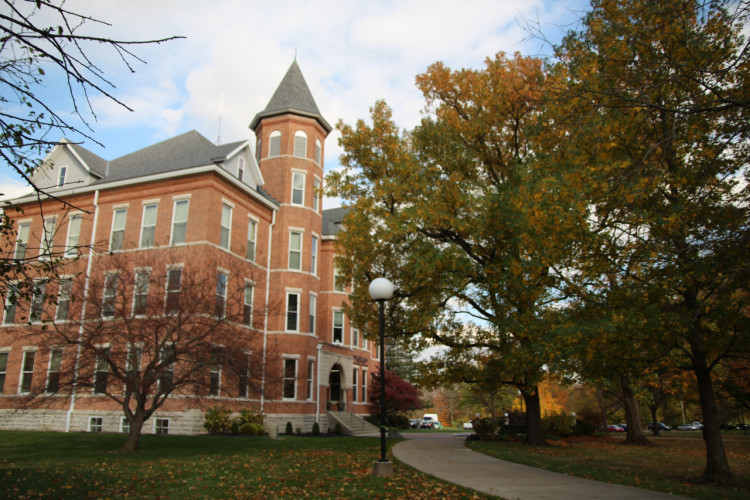 The Agricultural Studies Program at Huntington University honors Dale and Elaine Haupert. Why? Dr. Sherilyn Emberton, president of HU, says it best:
"The Hauperts passionately support the mission of Huntington University and have made strong commitments to ensure the future of all students through their generosity. Their deep commitment to investing in youth and the university has resulted in numerous students receiving a high-quality, Christ-centered education."