Donor Gifts $1 Million to Huntington University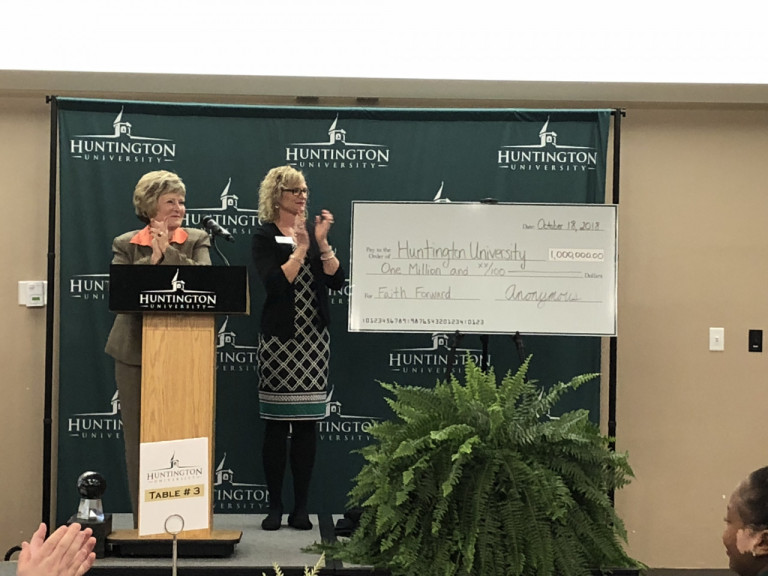 FOR RELEASE: Wednesday, October 24, 2018
Huntington University announced it has received a $1 million gift from an anonymous donor.
"Every gift is significant in the work of the University," said President Sherilyn Emberton. "However, gifts of this size are transformative in nature due to the scope of work that can be accomplished with the resources it provides. We continue to be amazingly grateful from members of our HU community who support the mission and work of the initiatives laid out in Faith Forward 2022."
Faith Forward 2022, which debuted in June of 2014, was part of a visioning process for Huntington University leadership. It launches a strengthened focus for the University and highlights its legacy of commitment to Christ, Scholarship and Service. Faith Forward 2022 highlights an intentional pathway to accomplishing new goals for program growth, intellectual engagement and spiritual formation in anticipation of the University's 125th year celebration in the year 2022.
Additionally, this gift underlines the strong relationships Huntington University has with its students, faculty/staff, alums, donors, community, partners and friends. This can be credited in part to the diligent work and faithful service the HU Office of Advancement.
"I am extremely pleased with the work the advancement team is doing to move the university forward," said Kay Schwob, interim director of advancement. "We have great momentum and are excited to see what God continues to do for Huntington University. This is an incredible gift the university has received and are honored to receive a gift of this magnitude."
To learn more about Faith Forward 2022, visit www.huntington.edu/faithforward.