First Federal Savings Bank and Zahn Family donate $40,000 to Huntington University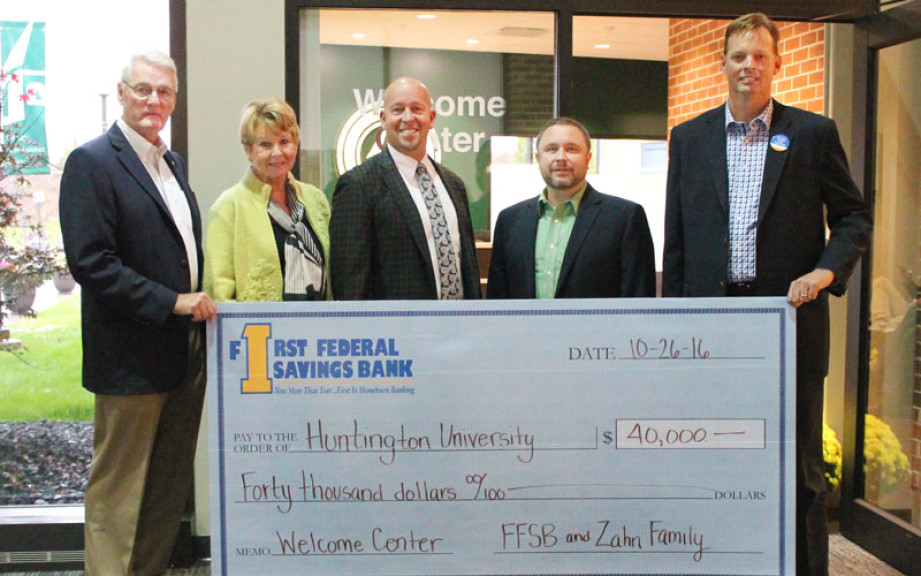 FOR RELEASE: Wednesday, November 9, 2016
Huntington University announced it has received a $40,000 donation from First Federal Savings Bank and Steve and Alyce Zahn of Huntington, Indiana. The funds will be allocated to the university's recently completed Welcome Center.
"We are so thankful to the Zahn family, First Federal Savings Bank and its shareholders for this impactful gift. This new space will provide the type of first impression to our guests that truly represents the excellence we pursue at Huntington University," stated Vince Haupert, vice president for advancement.
Officially opened with a ribbon-cutting ceremony in October, the 3,000-square foot Welcome Center is part of the Merillat Centre for the Arts and houses both undergraduate and graduate admissions offices, as well as meeting spaces for prospective students and campus visitors.
"The development of the new Welcome Center has transformed the work of the admissions team," said Daniel Solms, vice president of enrollment management & marketing. "The new space allows us to focus on our visitors and their experience while they are on campus, helping us to better connect as we share the legacy of Huntington University."
First Federal Savings Bank and the Zahn family have been a long-time supporters of Huntington University and both are members of the Milton Wright Fellowship. Stephen Zahn was a director on the Huntington University Foundation, Board of Trustees and received Huntington University's Distinguished Service Award in 2004. Michael Zahn, Steve's son, currently serves as vice president of finance for the Huntington University Foundation board of directors.