Forester Basketball Scoring and Coaching Legend Dies at 73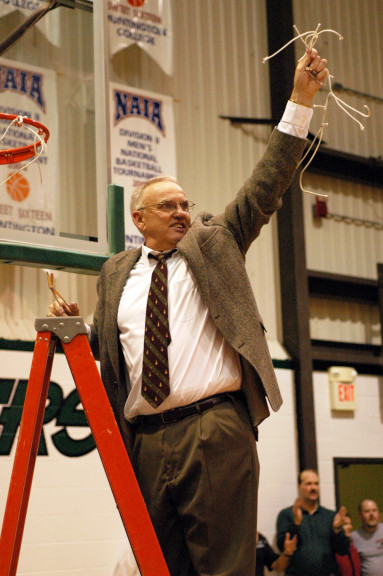 FOR RELEASE: Monday, February 15, 2021
Faith. Family. Foresters. You could say that Steve Platt lived his life in that order. For nearly 75 years, Coach Platt saw the world around him not as a collection of events but as a series of opportunities. He set a standard for himself and those around him, and that standard was simple: "Use the God-given talents [you] have to their fullest ability." He lived that very standard in every area of his life, and because of that dedication to excellence, he left this world a little better than he found it.
A Forester in spirit long before he became a Forester by graduation (1974), Coach Platt exemplified the characteristics that Foresters hold dear and passed them on to all his players. He lauded truth and honesty and couldn't stomach complacency or inaction; he encouraged passions; he cared — completely; he understood the importance of the community of a team; he knew that sometimes the only way to make something happen was to get dirt on your hands and mud on your boots; and he focused his creativity on areas he knew he could change.
And change things he did. Hoosiers have always loved basketball and been pretty good at it, but Coach Platt stepped it up a notch. As a player for Huntington College from 1970-1974, Platt led the Foresters to a record of 78-38. In the process of that achievement, Platt was a four-time selection as All-District Player of the Year and an NAIA All-American. Platt continues to hold several records for the Foresters and remains the state of Indiana's all-time collegiate leader in scoring with 3,700 points, placing him seventh on the all-time list of collegiate scorers at any level, including NCAA Division I. Platt twice led the nation in scoring, averaging 36 points per game in 1972-1973 and 38 points per game in 1973-1974.

Among many other records Coach Platt still holds, he continues to lead Huntington University in career rebounds (1,917), career field goals made (1,463), and career free throws made (774).

Coach Platt was recognized in the Fort Wayne News-Sentinel as one of Northeast Indiana's Top 50 Athletes of the Century. He was inducted into the Indiana Basketball Hall of Fame in 1996, the NAIA Basketball Hall of Fame in 1987, and was the first inductee to the Huntington University Hall of Fame in 1974.
If he could accomplish all that in four years as a player, imagine the impact he could have in 14 years as a coach.
As the head coach of men's basketball at Huntington, Coach Platt's accomplishments were incredible: five MCC Tournament Championships, one NAIA National Runner-Up, two Final Four appearances, 23 All-American Honors, 42 All-Conference Honors, eight MCC Players of the Year, 300+ wins (Platt's winning percentage was .697 which is the highest in school history), MCC Coach of the Year twice (1999-2000, 2007-2008), a best single-season overall record of 34-5 in 1999-2000, an overall conference record of 141-63, and a best single-season conference record of 14-2 in 2006-2007. All of that is incredible and worthy of accolades, but it pales in comparison to his impact on his players.
"Coach Platt instilled in his players the importance of a relationship with Christ, a love for family, and the necessity of hard work," said Lori Culler, athletic director and women's basketball coach. "He was an outstanding role model for the young men he coached and a father figure to many who were away from family for the first time. His impact on Huntington University and his legacy will continue on through the many lives of those he mentored."
Coach Platt understood that resistance leads to growth and that iron truly does sharpen iron. Never one to let poor practice slide, he pushed his team to grow as players and as men.
"I am thankful for the life and legacy of Coach Steve Platt. Playing under his coaching and developing under his leadership changed the trajectory of my life," said former men's basketball player Jeff Shepherd (1999). "He used his coaching platform as a ministry to shape and mold his players into the best version of themselves on and off the basketball court. He was a true Hall of Famer in life."
"Coach Platt was a great basketball player and coach, but he was highly regarded by his players because of his character," said former men's basketball player Alex Kock (2007). "He was a fierce competitor on the court, and off the court he was all about family. His players knew that he considered us part of his family. He positively impacted the lives of countless players that were fortunate enough to be a part of the Forester basketball program and call Steve Platt their coach."
Even after retirement, Coach Platt continued to invest his time and talents into those things that mattered to him, including serving on the President's Advisory Council on Excellence and HU's Ag Advisory Council. In a recent article in the Indianapolis Star, reporter Dana Hunsinger Benbow came to realize what so many of us knew years ago: "Coach Platt loved talking hardwood courts and cattle. Basketball and babies." His passion for his passions was so focused that "the liver cancer he was fighting was a brief mention in between the game he scored 57 points against Goshen and the game he played — and won — while his baby Polly was being born."
"Coach Platt's legacy will live on in the lives of the students he influenced throughout the years at Huntington University. He integrated a love for sport with Christian character that was evident to all who knew him," said Dr. Sherilyn Emberton, president of Huntington University. "Coach Platt will be remembered as a leader of integrity who pursued excellence through hard work and commitment to faith and family."
Coach Platt gave an interview in 2004 where he summed himself up pretty well: "I look at myself as a father figure, someone to rely on … when times get tough. My goals are to help young men grow individually, spiritually, and socially. When they leave Huntington [University] with a degree, I want them to have a huge impact wherever they go."
Mission accomplished, Coach. The Forester Family is stronger because of you.