Forester Night Live a Stunning Success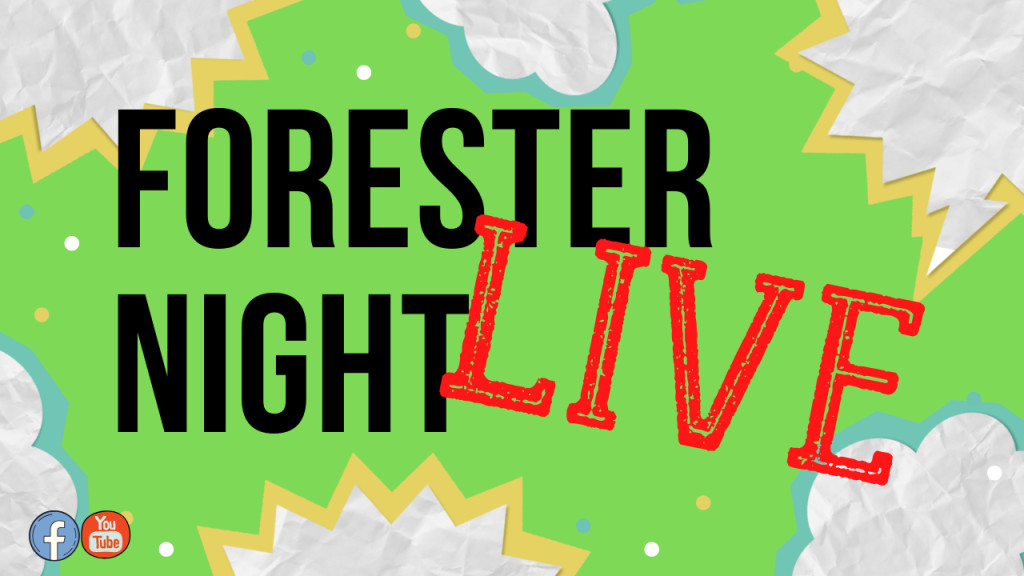 FOR RELEASE: Wednesday, May 13, 2020
HUNTINGTON, Ind. — On Tuesday, May 5, the Huntington University Student Government Association held its annual Forester Night, but in an unconventional fashion. Due to the COVID-19 restrictions placed on gatherings, this year's Forester Night was streamed via Facebook Live and christened Forester Night LIVE! With Huntington University graduate Jonathon Kane, Class of 2018, hosting the event all the way from Hollywood, California, the unique Forester Night experience was met with incredibly positive feedback, underlining the indominable Forester Spirit.
Although faculty and staff chose most of the evening's awards recipients (see below), graduating undergraduates had the opportunity to select the winners of the night's three final awards: 2020 Male Forester of the Year, 2020 Female Forester of the Year and 2020 Professor of the Year.
This spring, students nominated and then voted on their choices for the male and female student who truly represent the Forester spirit and are stellar examples of the Class of 2020. Ultimately, as Forester Night revealed, the students named Joelle Beals as Female Forester of the Year and Isaac Sponseller as Male Forester of the Year.
Students also selected one of their favorite faculty members as the 2020 Professor of the Year. The title went to Dr. Mary Ruthi, professor of sociology and Department of Sociology chair. This is the second time Dr. Ruthi has received this coveted award.
Each year, Huntington University faculty give awards to those seniors whom department faculty deem stellar examples of that department's values. The 2020 department award winners are:
Social Work – Marissa Barber
Psychology – SangJin Woo
Sociology – Miquel Anderson
Criminal Justice – Alyssa Kochel
OTA – Bailey Funkhouser
Theatre Arts – Karissa Monson
Philosophy – Juliet Wilson
Biology – Stephen Brown
Political Science – Juliet Wilson
History – Ellie Lawson
International Development Studies – Quintin Graves-Thomas
Customized Academic Program – Claire Harvey
Education – Makayla James
Ministry and Missions – Megan Schnurr
Communications – Michael Lehman
Mathematics – Jacob Allred
Computer Science – Landon Baer
Agriculture – Joelle Beals
Marketing – Sarah Fryman
Economics, Finance and Management – Meg Dolde
Entrepreneurial Small Business Management – Luke Unger
Nursing – Hannah Van Sloten
Broadcast Media – Emma Hall
Animation – Bronson Dye
Film – Mary Devore
Exercise & Movement Science – Brody Worl
Art – Kara Mounsey
TESOL – Lauren Zimmerman
Forester Night LIVE culminated in the awarding of three special honors, the Servant Leadership Award, the Impact Initiative Scholarship Award, and the Paul and Jean Michelson Outstanding Scholar Award.
The Impact Initiative Scholarship Award is a $1,000 scholarship given to a sophomore for use during their junior year and renewable for their senior year. Selection is based on financial need, current and planned involvements both on and off-campus, and a minimum grade point average of 2.7. This year's recipient was Grace Arndt.
The Servant Leadership Award recognizes students who have demonstrated leadership both on campus and in the surrounding community. This award comes with a $1,000 scholarship and $250 awarded to a local nonprofit of the honorees' choice. The 2020 honorees are Rebecca Allen and Josiah Bout.
Elected by members of Alpha Chi and awarded on the basis of academic excellence and leadership, the Paul and Jean Michelson Outstanding Scholar Award was awarded to SangJin Woo.
Since it aired, Forester Night LIVE has reached nearly 12,500 people, most during the live broadcast. With nearly 1,000 comments happening in real-time during the two-and-a-half-hour production and nearly 5,000 views since the broadcast (directed by Professor Adam Widener, assistant professor of digital media arts/broadcast media), the success of the event is clear.
Huntington University is a comprehensive Christian college of the liberal arts offering graduate and undergraduate programs in more than 70 academic concentrations. U.S. News & World Report ranks Huntington among the best colleges in the Midwest, and Forbes.com has listed the university as one of America's Best Colleges. Additionally, Princeton Review has named the institution a "Best Midwestern College." Founded in 1897 by the Church of the United Brethren in Christ, Huntington University is located on a contemporary, lakeside campus in northeast Indiana. The non-profit university is a member of the Council for Christian Colleges and Universities (CCCU).