Front Line Foresters to Begin Seventh Year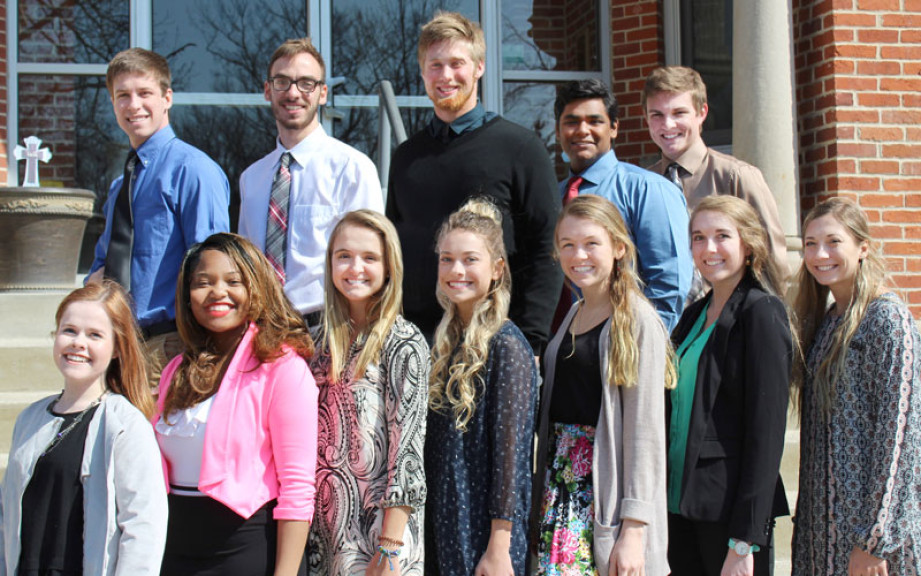 FOR RELEASE: Wednesday, May 9, 2018
Huntington University is pleased to announce the names of the 12 student ambassadors named to the Front Line Forester program for the 2018-2019 academic year. The Front Line Forester program began in 2012 as a way to represent the student body to alumni, family and friends of the institution. With the success of the program over the past six years, the university has hired 12 student ambassadors to continue the mission of the program.

The new Front Line Foresters are:
Stephen Brown, a biology/pre-med major from Mansfield, Ohio;
Brad Buckley, a Christian ministries/AgriBusiness major from Reedsville, Ohio;
Jaron Dean, an economics & finance major from Pakistan;
Abigail Matovich, a health science/OTA major from Fort Wayne, Indiana;
Adrianna McNab, a biology/pre-med major from Fort Wayne, Indiana Indiana;
Molly Mitchell a social work and psychology double major from Cicero, Indiana;
Bailey O'Dell, a health science/OTA major from Goshen, Indiana;
Travis Rippe an exercise science major from Fort Wayne, Indiana;
Bailey Testerman, a DMA film major from Manteno, Illinios
Kathleen Morrical, a psychology/sociology major from Goshen, Indiana; Matea Knispel, a biology/pre-med major from Churubusco, Indiana; and Jacob Hansen, a math/actuarial major from Fort Wayne, Indiana, are returning for their second year with the program.
"The Front Line Foresters represent the HU student body as they serve as 'agents of gratitude' to our nearly 3,000 annual donors," said Kay Schwob, senior director of advancement operations. "They are a great representation of the quality of our student population."
The students will serve by hosting Huntington University Foundation Breakfasts, participating in prayer ministry luncheons, hosting Homecoming Weekend events, welcoming the Board of Trustees to meetings, and showing appreciation to donors with thank you calls and letters. The goal is to have these Front Line Foresters grow in character through interactions with various professionals as they fulfill their duties as student ambassadors. They will develop leadership skills, gratitude and interpersonal skills as well as gain a basic knowledge of philanthropy and the workings of the Advancement Office at the university.