Green Ribbon Committee Launches Season with Tailgate Party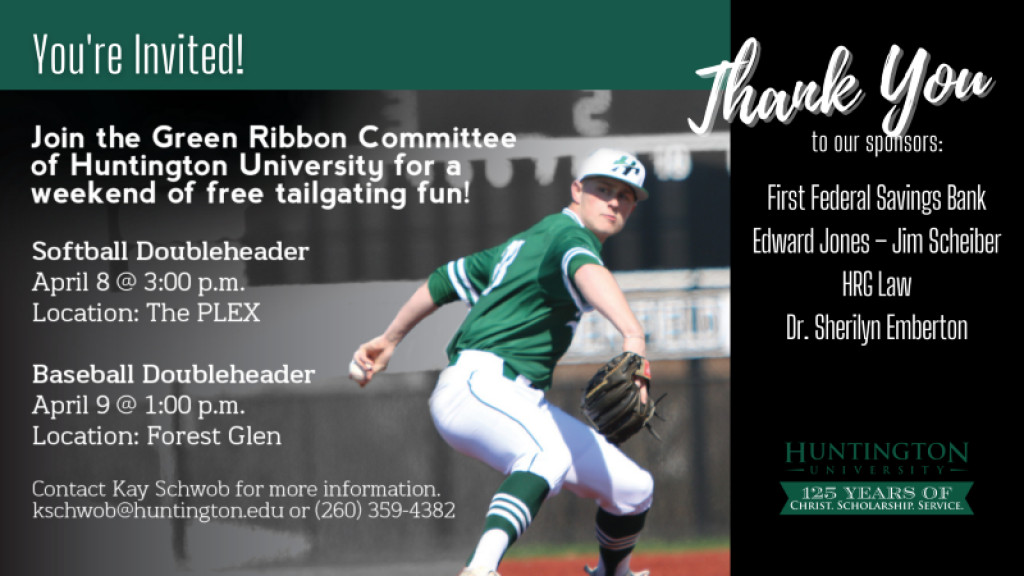 FOR RELEASE: Thursday, March 31, 2022
You're invited to join the Green Ribbon Committee and Huntington University for a tailgating weekend, the first event of the Summer Series season.
Kicking off on Friday, April 8 at 3:00 p.m. in the parking lot of the PLEX, the Green Ribbon Committee will provide pulled pork sandwiches from Nick's Kitchen, hot dogs, free drinks and door prizes during the Forester softball team's doubleheader against the University of Saint Francis Cougars. Then on Saturday, April 9, the committee will be at it again with a tailgating party at Forest Glen Park while cheering on the Forester baseball team in a doubleheader against the Indiana Wesleyan University Wildcats.
"We know it's not summer quite yet, but we're kicking off the Summer Series season right with a free tailgating event for the community," said Kay Schwob, senior director of development at Huntington University. "For both baseball and softball, these games are some of the last home games of the season, and we want a crowd there to cheer them on!"
All of the tailgating events are free and open to the public. Contact Kay Schwob for more information: kschwob@huntington.edu or (260) 359-4382.
The tailgating is sponsored by First Federal Savings Bank, Edward Jones – Jim Scheiber, HRG Law, and Dr. Sherilyn Emberton.