Hendryx Wins Barlow Book Prize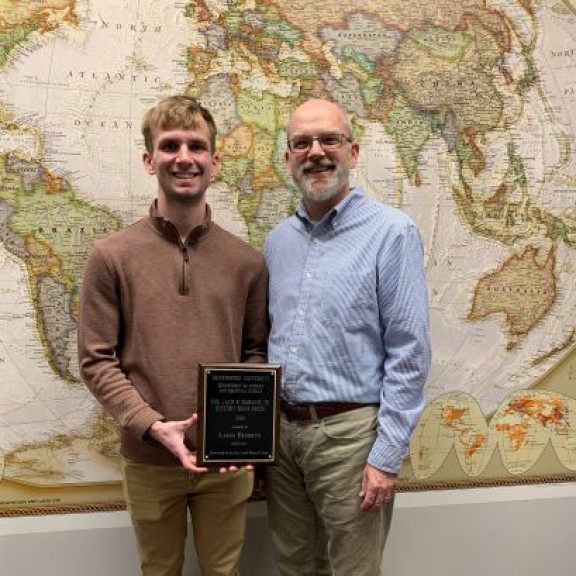 FOR RELEASE: Wednesday, April 13, 2022
The Department of History and Political Science at Huntington University has announced that Aaron Hendryx is the winner of the fall 2021 Jack P. Barlow, Sr., History Book Prize. Hendryx is from Huntington, Indiana, and is pursuing a bachelor's degree with two majors, history and political science. He intends to graduate in May, 2022 and plans to pursue a career in the legal profession.
The award is given to an outstanding student in the department's advanced research seminar. Hendryx's award-winning performance was recognized by course instructor Dr. Jeffrey Webb, professor of history at Huntington University.
"Aaron worked incredibly hard to understand a complex subject — contemporary American politics — and his work testifies to a commitment to perform consistently at the highest level of his ability," said Webb. "He's respected by peers and faculty for his thorough preparation and critical engagement with his studies."
The Jack P. Barlow, Sr., Book Prize honors the memory of Professor Barlow, who served for over three decades as professor of American history at Huntington University, and carries a cash award. It is funded by the Ron Frank Fund, which rewards academic achievement and student participation at professional academic conferences. The fund was established in 1973 in honor of Ron Frank, who passed away unexpectedly in the spring semester of his senior year at Huntington University.