HU Announces 2019-20 Front Line Foresters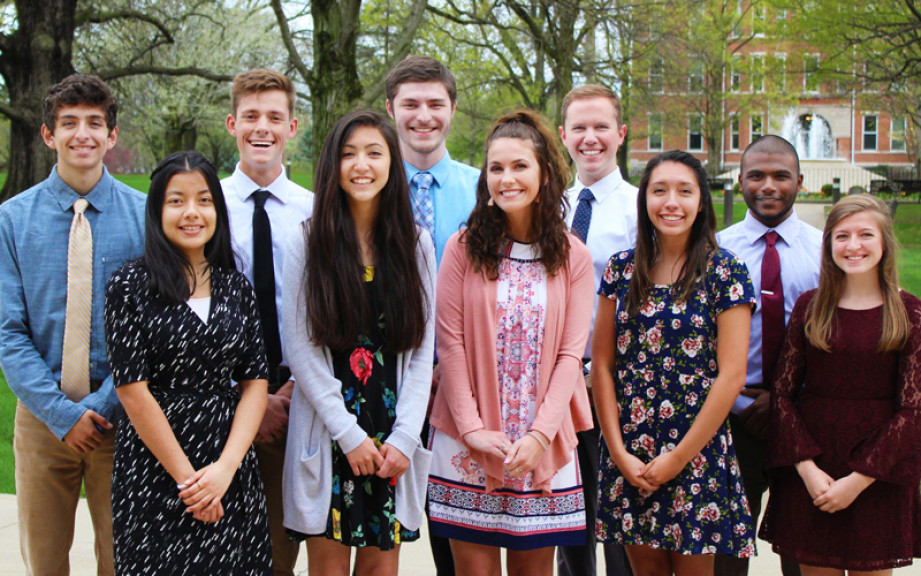 FOR RELEASE: Wednesday, June 12, 2019
Huntington University is pleased to announce the names of the ten students who will serve as Front Line Foresters in 2019-2020. The upcoming academic year will mark the eighth anniversary of the Front Line Forester program, which began in 2012 as a way to represent the student body and what it means to be a Forester.
"I am very excited to be announcing this new group of Front Line Foresters," said Kay Schwob, director of development. "They are the student ambassadors to our trustees, alumni and friends of the university. The students serve by hosting and showing appreciation to donors with thank you calls and letters."
Incumbent Front Line Foresters include:
Rebecca Allen, a health science/OTA major from Mattawan, Michigan
Justin Ayres, a broadcasting major from Goshen, Indiana
Keila Funez, a nursing major from Honduras
Jesse Grimm, an art and graphic design major from Goshen, Indiana
Alessandra Haraguchi, a missions and international development studies major from Fort Wayne, Indiana
Connor O'Malley, a Christian ministries and agribusiness major from Morgantown, Indiana
Matthew Raman, an animation major from Tipton, Indiana
Ashley Spirek, a history and philosophy major from Arvada, Colorado
Brooks Walker, a history and political science major from Columbia City, Indiana
Megan Weirrick, a social work and psychology major from Rockford, Ohio
The goal of the Front Line Forester program is that the Front Line Foresters would grow in character and professional and leadership skills as they interact with various professionals and fulfill their duties as student ambassadors. They will have opportunities to develop gratitude and interpersonal skills and gain an introductory understanding of philanthropy and the workings of the Advancement Office and the university.
"This vibrant group of students will act as hosts and hostesses at events such as HU Foundation breakfasts, participating in prayer ministry luncheons, hosting Homecoming and donor dinners and welcoming the Board of Trustees to meetings," said Schwob. "They are a very vibrant and talented group of young men and women."