HU Announces Staff Member of the Year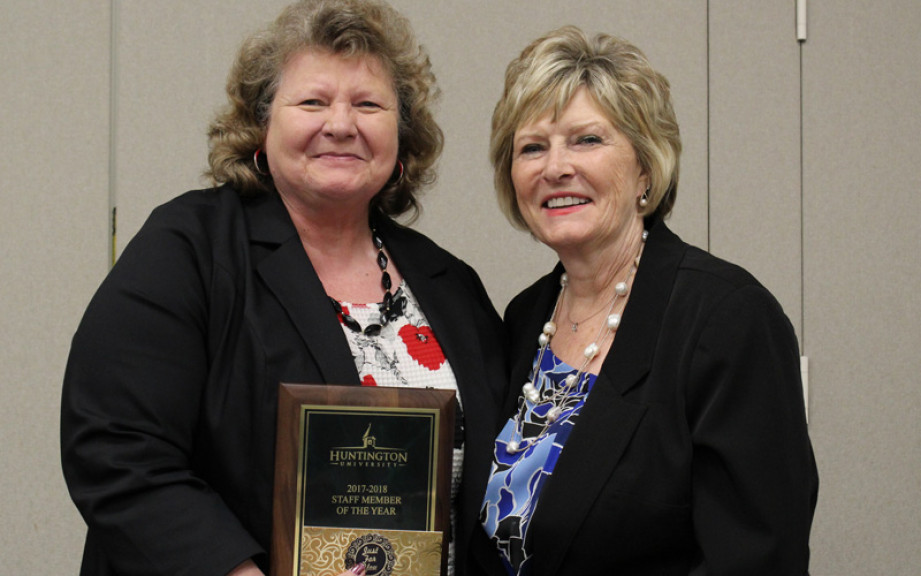 FOR RELEASE: Tuesday, June 11, 2019
During the annual Celebration of Service luncheon on May 28, Huntington University President Sherilyn Emberton announced the 2018-19 Staff Member of the Year: Kay Schwob, director of development.
"Kay is a true example of what it means to be a Forester. She excels at everything she tackles," said Stephen Weingart, vice president for University Advancement. "She played a major role in helping me get up to speed and learn what it means to be a Forester."
Schwob has been a member of the Huntington University staff for 18 years. Her time as a staff member has encompassed various roles, including director of the Enterprise Resource Center for 14 years, senior director of advancement operations and interim director of advancement. In each role, Schwob has demonstrated strong leadership abilities as well as a willingness to serve others.
Choosing the annual staff member of the year is a joint effort of Huntington University faculty, staff and the senior leadership team. Faculty and staff nominate the recipients who they feel are deserving of the distinction, then the senior leadership team selects the recipient from the list of recommended nominees.