HU Arizona Faculty Wins Emmy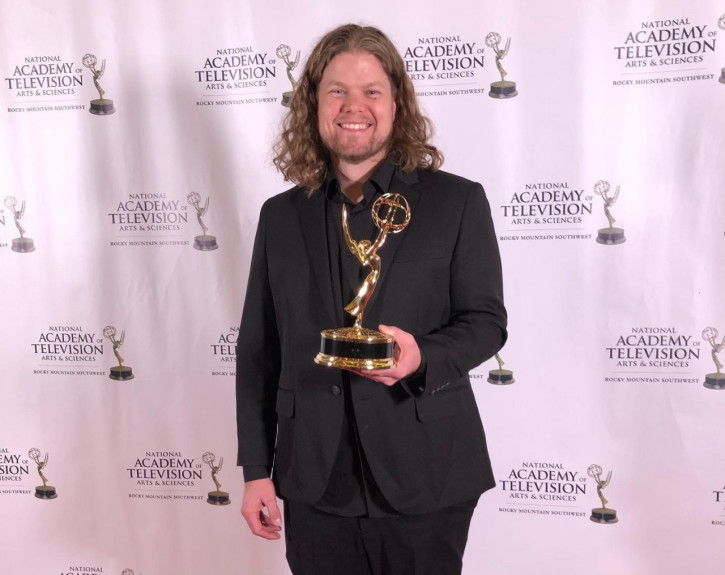 FOR RELEASE: Monday, October 10, 2022
Phil Wilson, program director and assistant professor of film at Huntington University Arizona, is the recipient of an Emmy for his work as cinematographer for "An Ode to John Keating." His Emmy was in the Lighting Location or Studio Category at the 2022 Rocky Mountain Emmy Awards.
"I feel blessed and fortunate to represent Huntington University Arizona in this way," said Wilson. "Two years ago, I set a goal for myself to create an Emmy award-winning piece. I submitted multiple entries over the span of two years, and finally had one hit. What I learned through the process is to set goals, work hard and let God take care of the rest."
Wilson pointed out that this project wouldn't have been possible without leveraging HU Arizona as the production company.
"This was a zero budget project," said Wilson. "This project just wouldn't have been possible without the ample access I have at HU Arizona to equipment, studio spaces, and talented film students."
Two specific HU Arizona students cited by Wilson were Cameron Taylor and Taylor Kos.
"To have an Emmy award winning faculty member on our faculty is just one more feather in the cap demonstrating the high level of teaching and instruction that our students are receiving at our Arizona center," said Dr. Lance Clark, dean of the arts and professor of digital media arts at Huntington University.
To view the "Ode to John Keating" project, visit https://www.youtube.com/watch?v=m4ni4LmAFow.
The Rocky Mountain Emmy Awards are "a membership organization dedicated to excellence in television by honoring exceptional work with the prestigious Emmy® Award." This year they received over 850 entries from media producers from all over their multi-state region of Utah, Arizona, New Mexico and El Centro, California.
All Emmy winners can be found online at https://rockymountainemmy.org/emmy-awards/emmy-awards-archives/2022-emmy-awards-nominees-and-recipients/.
Huntington University Arizona opened its doors in 2016, welcoming students seeking a degree in digital media arts. Since that time, students have created regionally and nationally awarded work, including ADDY awards, BEA Best of Fest awards, and Emmy Student Production Awards. The 30,000-square-foot building houses bachelor's degree programs in animation, film production, broadcast media, and graphic design. The facility features film and TV studios, high-end computer classroom/labs, private editing suites, a state-of-the-art TV control room, a Foley pit, a host of EFP and cinema cameras, and lighting gear for student production work.
Huntington University is a comprehensive Christian college of the liberal arts offering graduate and undergraduate programs in more than 70 academic concentrations. U.S. News & World Report ranks Huntington among the best colleges in the Midwest, and Forbes.com has listed the university as one of America's Best Colleges. Founded in 1897 by the Church of the United Brethren in Christ, Huntington University is located on a contemporary lakeside campus in northeast Indiana. The nonprofit university is a member of the Council for Christian Colleges and Universities (CCCU).