HU Arizona students collaborate on Theater Works production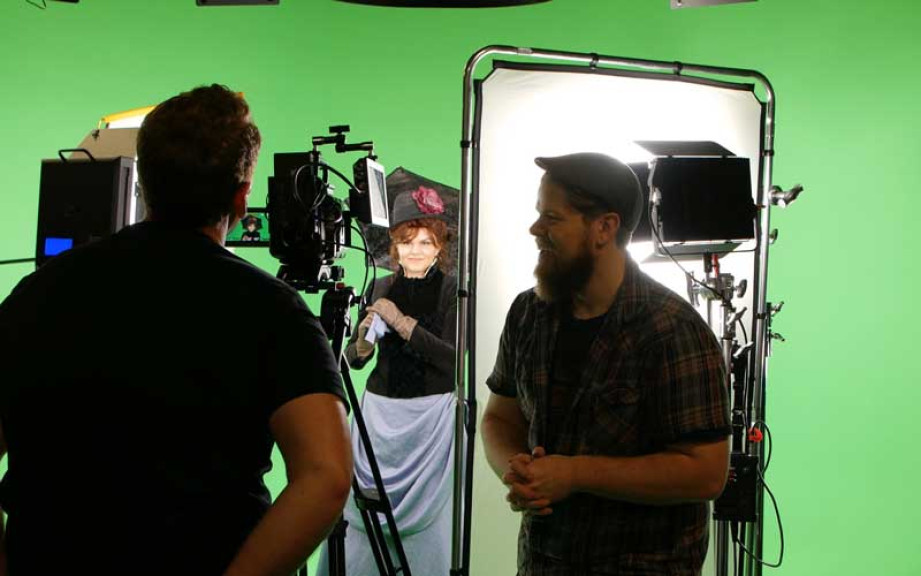 FOR RELEASE: Monday, March 20, 2017
Josiah Duka (North Phoenix, AZ), Sarah Wickenhauser (Sun City West, AZ) and Joe Stone (Glendale, AZ) were selected to work on Theater Work's production of Sunday in the Park with George. The first-year film and graphic design students at Huntington University's Arizona Center for Digital Media Arts created video projections of Seurat's work to be used as part of the play.
"Theatre Works needed digital content, our students needed real-world experience, it was a win-win and exactly how we would like to be seen as a university in the community," stated Phil Wilson, Arizona Digital Media Arts Program Director. "We are here to use our talents and creativity to serve others." Both Wilson and Dan Sidler, Huntington University's Adjunct Professor of Graphic Design, supervised the student's work.
HU's Arizona Center for Digital Media Arts has been collaborating with Theater Works since the university opened its doors last August. Chris Hamby, Theater Works' Producing Artistic Director, contacted Huntington University to inquire if they had an interest in forming a partnership on certain creative projects. Along with Sunday in the Park with George, HUAZ has used Theater Works and its orchestra pit as a location for the short film The Amazing Mortimer. Huntington University also commissioned a Theater Works designer to help build the set in Studio A, a film and broadcasting production stage.
In a February 23 review of the play, Kerry Lengel of The Arizona Republic stated, "In a new production from Theater Works in Peoria, director Phillip Fazio renders Sondheim's work with painstaking craftsmanship animated by a genuine passion for the material. It is a triumph of both the mind and the heart, with affecting performances and vibrant video projections that are integral, and absolutely essential, to the storytelling."