HU Arizona Students Receive 17 Student Production Award Nominations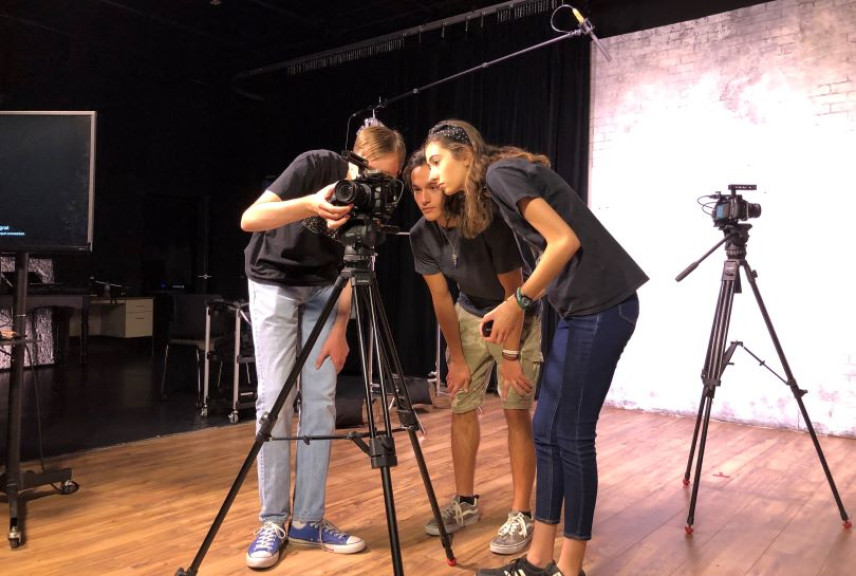 FOR RELEASE: Wednesday, September 14, 2022
Huntington University Arizona once again made their presence known in the Rocky Mountain Southwest Chapter of the National Academy of Television Arts & Sciences Student Production Award nominees list for 2022. With 17 nominations, HU Arizona's nominees are hoping for a strong showing at the awards ceremony on October 1.
Additionally, two freshmen at HU Arizona received nominations in the high school category. Brandon Zukas and Ian Allen attended high schools in the Peoria Unified School District.
Students weren't the only ones to receive nominations this fall. Phil Wilson, digital media arts program director at Huntington University Arizona, also received two professional Emmy nominations, one for his work as director and the other for his skills in lighting.
Student Production Award nominations connected to HU Arizona are as follows:
COLLEGE NON-FICTION SHORT FORM
Becoming
Jose Sifuentes, director
Snapshot
Xander Martin, director
COLLEGE MUSIC VIDEO
What Would You Do?
Tommy Pascale, director
Cheyanne Glazier, producer/editor
Chloe Cosette, producer/director of photography
COLLEGE FICTION LONG FORM
Upside Down
Mathew Molyneux, writer
Anika Sorum, writer/editor
Blagodarnyy
Alex Kennedy, producer/editor
Speechless
Tatyana Keller, director
COLLEGE ANIMATION/GRAPHICS/SPECIAL EFFECTS
Heart Broke
Shanon Mcneil, director
Waves of Emotion
Sabrina Hirsch, producer
COLLEGE AUDIO/SOUND
Upside Down
Mathew "Smallz" Molyneux, sound mixer
COLLEGE DIRECTOR
Waves of Emotion
Sabrina Hirsch, director
Upside Down
Anika Sorum, director
Blagodarnyy
Alex Kennedy, director
COLLEGE EDITOR
Oblivion
Cheyanne Glazier, editor
Upside Down
Mathew Molyneux, editor
COLLEGE PHOTOGRAPHER
Blagodarnyy
Alex Kennedy, cinematographer
Upside Down
Mathew "Smallz" Molyneux, cinematographer
Oblivion
Chloe Cosette, cinematographer
HIGH SCHOOL ANIMATION/GRAPHICS/SPECIAL EFFECTS

Liberty High School Ian Allen Lightsaber Dual Liberty High School PSBN
Ian Allen, editor/director/producer
HIGH SCHOOL VIDEO ESSAY

Daktronics Dream Come True
Peoria Unified School District
Brandon Zukas, producer/editor
Huntington University Arizona opened its doors in 2016, welcoming students seeking a degree in digital media arts. Since that time, students have created regionally and nationally awarded work, including ADDY awards, BEA Best of Fest awards, and Emmy Student Production Awards. The 30,000-square-foot building houses bachelor's degree programs in animation, film production, broadcast media, and graphic design. The facility features film and TV studios, high-end computer classroom/labs, private editing suites, a state-of-the-art TV control room, a Foley pit, a host of EFP and cinema cameras, and lighting gear for student production work.
Huntington University is a comprehensive Christian college of the liberal arts offering graduate and undergraduate programs in more than 70 academic concentrations. U.S. News & World Report ranks Huntington among the best colleges in the Midwest, and Forbes.com has listed the university as one of America's Best Colleges. Founded in 1897 by the Church of the United Brethren in Christ, Huntington University is located on a contemporary lakeside campus in northeast Indiana. The nonprofit university is a member of the Council for Christian Colleges and Universities (CCCU).